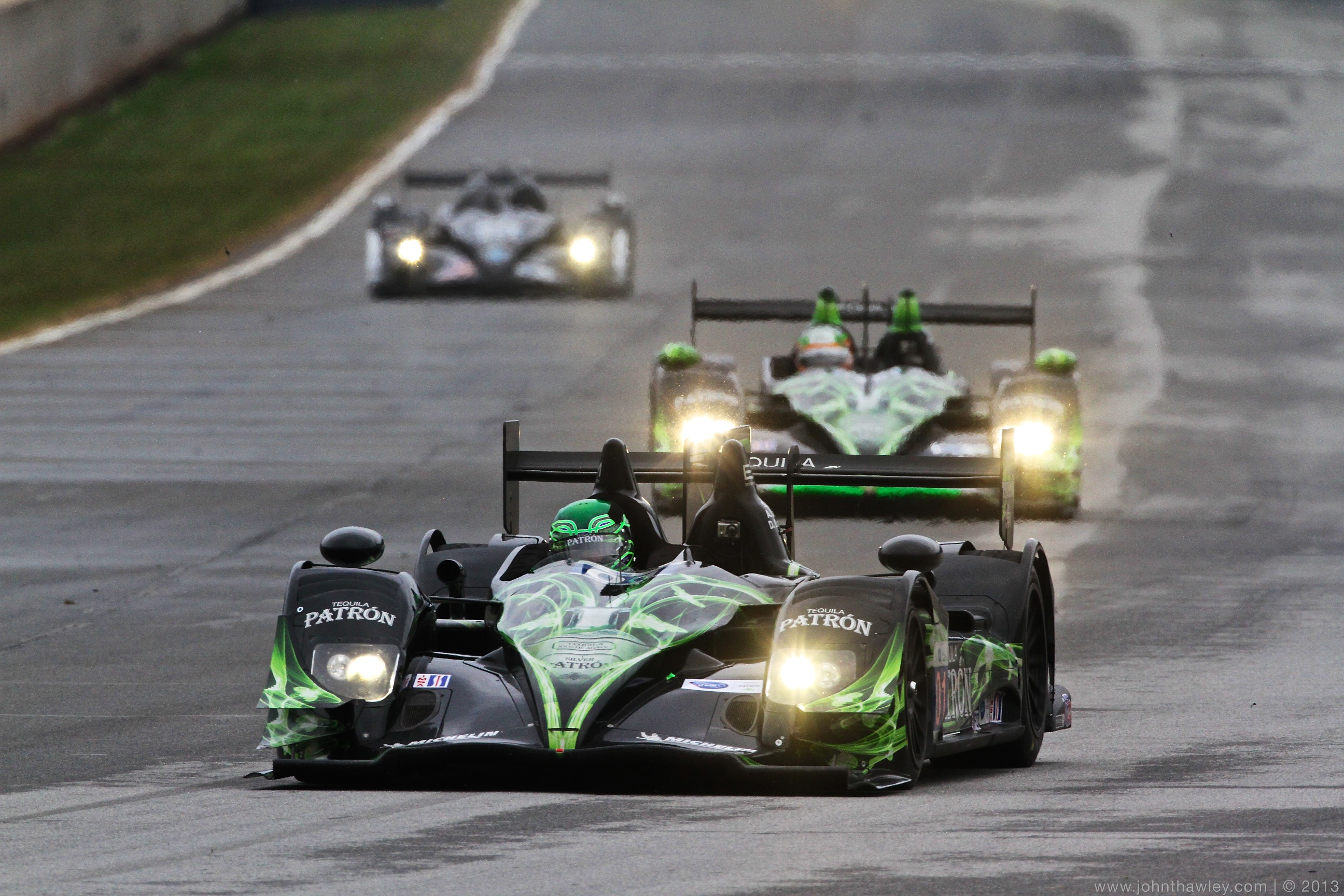 Brabham, Lazzaro and Pagenaud added for endurance races
STUART, Fla., Nov., 14, 2013 – The Extreme Speed Motorsports team continues to ramp up for the 2014 TUDOR United SportsCar Championship season. In the latest development from the Florida-based team, owner/driver Scott Sharp enlists three additional world-class, championship-winning drivers for the TUDOR Championship North American Endurance Championship (NAEC) races.
David Brabham will co-drive in the No. 1 Tequila Patrón-sponsored prototype with Sharp and Ryan Dalziel for three of the four NAEC events. Brabham is slated to compete for the team at the Rolex 24 At Daytona, Mobil 1 Twelve Hours of Sebring and Petit Le Mans.
This will mark Brabham's second season as a co-pilot with ESM. In March 2013, Brabham co-drove at Sebring where he assisted the No. 01 team in a fifth-place class finish. Then in October, Brabham earned the P2 class pole position for the No. 01 team, and earned a second-place class finish.
Simon Pagenaud and Anthony Lazzaro are slated to co-drive with Ed Brown and Johannes van Overbeek in the No. 2 HPD prototype. Pagenaud will co-drive at the Rolex 24 At Daytona, Mobil 1 Twelve Hours of Sebring and Petit Le Mans. Lazzaro will co-drive at Daytona and at Sahlen's Six Hours of The Glen.
Pagenaud is fresh off a third-place championship run in the IndyCar Series. The Frenchman has competed in Formula Renault, the American Le Mans Series, V8 Supercars and finished second at the 24 Hours of Le Mans. Pagenaud won the Champ Car Atlantic Championship title in 2006 – his rookie season. In 2010, the driving duo of Pagenaud and Brabham, behind the wheel of a Tequila Patrón-sponsored HPD prototype, won the ALMS championship after accumulating four race wins and four runner-up finishes.
Lazzaro returns to ESM and the No. 2 racing machine with Brown and van Overbeek after competing in the last half of 2013 with Sharp. This will mark Lazzaro's third season working with ESM in the endurance events.  He co-drove with Brown and van Overbeek to a fourth-place finish at the 2013 Sebring race. The 1999 24 Hours of Daytona winner also competed with ESM in 2012 at Sebring and Road Atlanta and helped earn a ninth-place class finish in both races.
The 12-race 2014 TUDOR United SportsCar Championship begins with the 52nd running of the Rolex 24 At Daytona on Jan. 25-26.
Scott Sharp
"Now that I have finally had the chance to take a breath and look at our driver lineup for next season, I am hugely thrilled!
"To be able to add David, Simon and Anthony to our repertoire for 2014 is tremendous. All three are super-fast drivers, smart, and they all are very proficient in the HPD P2 car. I could not be more excited. Where we stand with our four core drivers and then to add this talent to the lineup for the endurance races should show that Patrón ESM is serious about dominating in 2014!"
David Brabham
"It wasn't a hard decision to say 'yes' to ESM for these races, I really enjoyed my time with the team at Sebring and Petit this year, and next year is a new beginning.
"With a new series being born, there is a lot optimism that this will become a great series, so it will be pretty cool to do the first race in this new chapter.
"It is nice for me to be able to compete at Daytona again, as the last time I raced there was 2003 where I won the first DP race with Multimatic.
"I look forward to continuing to work with Scott, as we seem to do pretty well together, plus to work Ryan for the first time is exciting. He knows these cars well and is a proven winner, so the three of us will be very strong.
The ESM/Patrón team is awesome to work with and I look forward to getting some wins and the early points haul for a strong start to the season."
Anthony Lazzaro
"This will be the third year I get to race at the endurance events with ESM/Patrón, so there is a sense of family now. Late last year, I had the opportunity to race with Ed and Johannes in the No. 02 at Sebring and then with Scott for the last few races of the year.
"I'm looking forward to returning to the No. 2 race car with Johannes and Ed. I'm really looking forward to racing with Simon as well. Simon and I have a few things in common; I used to drive for Sam Schmidt and that's who Simon drove for in 2012 in IndyCar. We're both Atlantic Series champions as well, so there's another connection – but we've never met.
"It has always been an honor and a privilege to race with ESM and represent Tequila Patrón. I'm excited to get back to the team and work with Ed and Johannes. This is the start of a new era of sportscar racing and I can't wait to get things rolling in 2014.
"ESM made huge advances in 2013 by switching to the P2 cars, they will be a powerhouse in the TUDOR series.  I'm glad they asked me to be part of the endurance team."
Simon Pagenaud
"I'm ecstatic to be joining ESM and Tequila Patrón for the 2014 season alongside my IndyCar program. ESM has proven to be a winning team in both the GT and prototype classes.
"I've been chatting with Scott and the opportunity to drive with Ed and Johannes in the prototype car was an offer that I could not refuse. Sportscar racing means sharing, and I'm looking forward to team up with Ed, Johannes and Anthony.
"Tequila Patrón is a great ambassador of the sport. They have shown so much involvement and dedication, we share a similar ethic toward racing.  It feels very special to represent them again as I won the 2010 ALMS championship in a Patrón LMP2 prototype.
"Of course I couldn't thank Honda enough for their commitment to my career in sportscar and IndyCar. Since 2008 I have been able to drive and participate in the development of every single prototype and engine they have made. It is an honor to race another Honda-powered machine, especially with the ESM team.
"We have a strong lineup, a great team behind us and a reliable fast car. The 2014 TUDOR United SportsCar Championship season cannot start soon enough!"