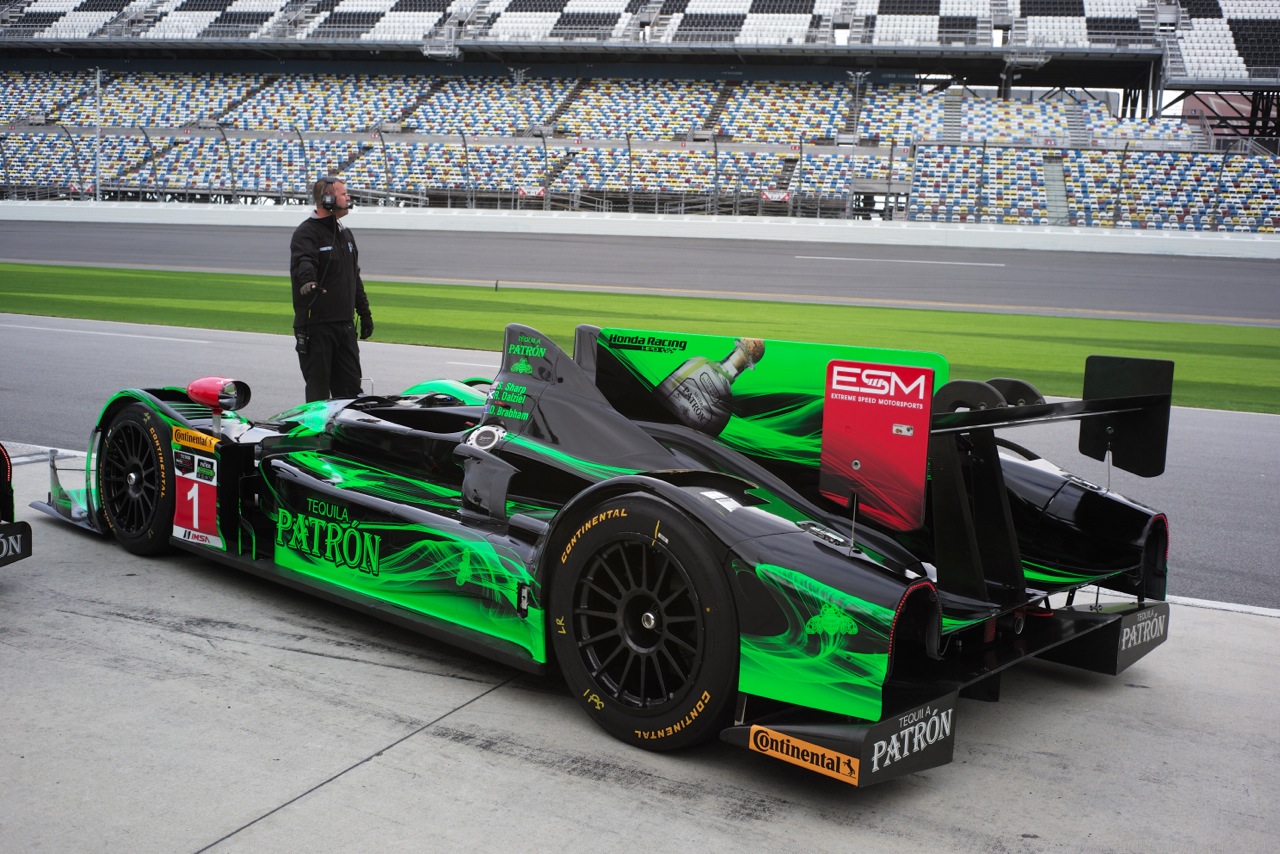 DAYTONA BEACH, Fla. (Jan. 3, 2014) – The Extreme Speed Motorsports team was the fifth quickest prototype team on Friday's opening day of the Roar Before the Rolex 24, the three-day test at Daytona International Speedway.  This weekend's test session is the precursor event to The 52nd Rolex 24 At Daytona on Jan. 25-26, the inaugural race of the 2014 TUDOR United SportsCar Championship season.
Ryan Dalziel, co-driver of the No. 1 Tequila Patrón Honda Performance Development (HPD) ARX-03b, talked about the opening day of the test. Dalziel is the full-season co-driver of the No. 1 machine alongside ESM team owner Scott Sharp.  David Brabham joins the team for the Rolex 24 At Daytona, the Mobil 1 Twelve Hours of Sebring and Petit Le Mans.
Q:  YOU'VE SPENT SOME TIME IN THE RACE CAR THE LAST FEW MONTHS, BUT TODAY WAS THE FIRST OFFICIAL TEST SESSION FOR THE NEW SEASON. HOW WAS YOUR TIME IN THE CAR TODAY?
Ryan Dalziel: "It has been good.  It might be the first official day, but I've been lucky enough to be able to drive the car a couple of times now.  It is good to see so many cars here.  Of all the years that I've been coming to Daytona, this is definitely the most cars I've seen.
"This is a new beginning for me.  I've spent many years with the same team and made the switch to ESM and Tequila Patrón for this season, and everything is good so far.  We have a little bit of work to do, but it was encouraging today.  This is the closest we've been to the DP speeds.  There's some work to do on everyone's part, but all in all, we're in good shape."
Q: THE NO. 1 CAR WAS FIFTH QUICKEST OVERALL. THAT'S A GOOD STEP IN THE RIGHT DIRECTION.
Ryan Dalziel: "Yes, we've been working with IMSA and their direction of what they want us to be trying and I think between us and them, we're getting the P2 cars closer (to the DP chassis).  It looks like all the P2 cars made a little bit of a step-up today.  But there's still some work to be done.  Unfortunately, so much at Daytona is top speed and that's not going to be the strength of a P2 car.  We understand what the situation is and we're just trying to get as close as we can.  If we can make the cars race well, that's what everybody wants to see."
Q: WHAT IS THE STRENGTH OF THE P2 CAR AT DAYTONA?
Ryan Dalziel: "The number one strength of the HPD is the reliability.  It is usually pretty bulletproof.  Endurance racing is what it was built for, but I think Daytona is not necessarily suited to a P2 just because of the straight-line speed. But the way the rules are going, it brings things a lot closer together.  It is still early.  If we go back to where we were in November and where we are now on January 3rd, they've made massive gains on IMSA's package.  We're pretty confident that when we come back for the race, we're where we need to be to contend for the win."
Q: WHAT ARE YOU LOOKING FORWARD TO MOST THIS SEASON?
Ryan Dalziel: "I'm looking forward to everything.  It is nice to have a fresh start joining Extreme Speed Motorsports and representing Tequila Patrón. I've been with the same people for so many years and have been fortunate to have been in some great situations with Starworks.  I think the first thing for me is just being excited about a new chapter in my career.  I feel lucky to be with such a great team, have teammates like Scott, Ed and Johannes, and the support of the engineering staff and crew."
Q: TALK ABOUT HOW THE TEMPERATURE TODAY AND HOW THAT AFFECTED THE TEST.
Ryan Dalziel: "I don't know where this weather came from.  I live in Orlando, and over the past month it has been up and down and everyday has been a bit different.  It is also expected at Daytona, that at some point during the week, we have one of these cold days.  It is good to have a mixture of everything here at the Roar.  We expect warmer conditions in the next couple of days.  I think our car will be a bit better in our own package as it gets hotter, but there is also the chance that everyone else will too."
Testing continues on Saturday beginning at 9 a.m. ET, and includes an evening session from 6:30-8 p.m.