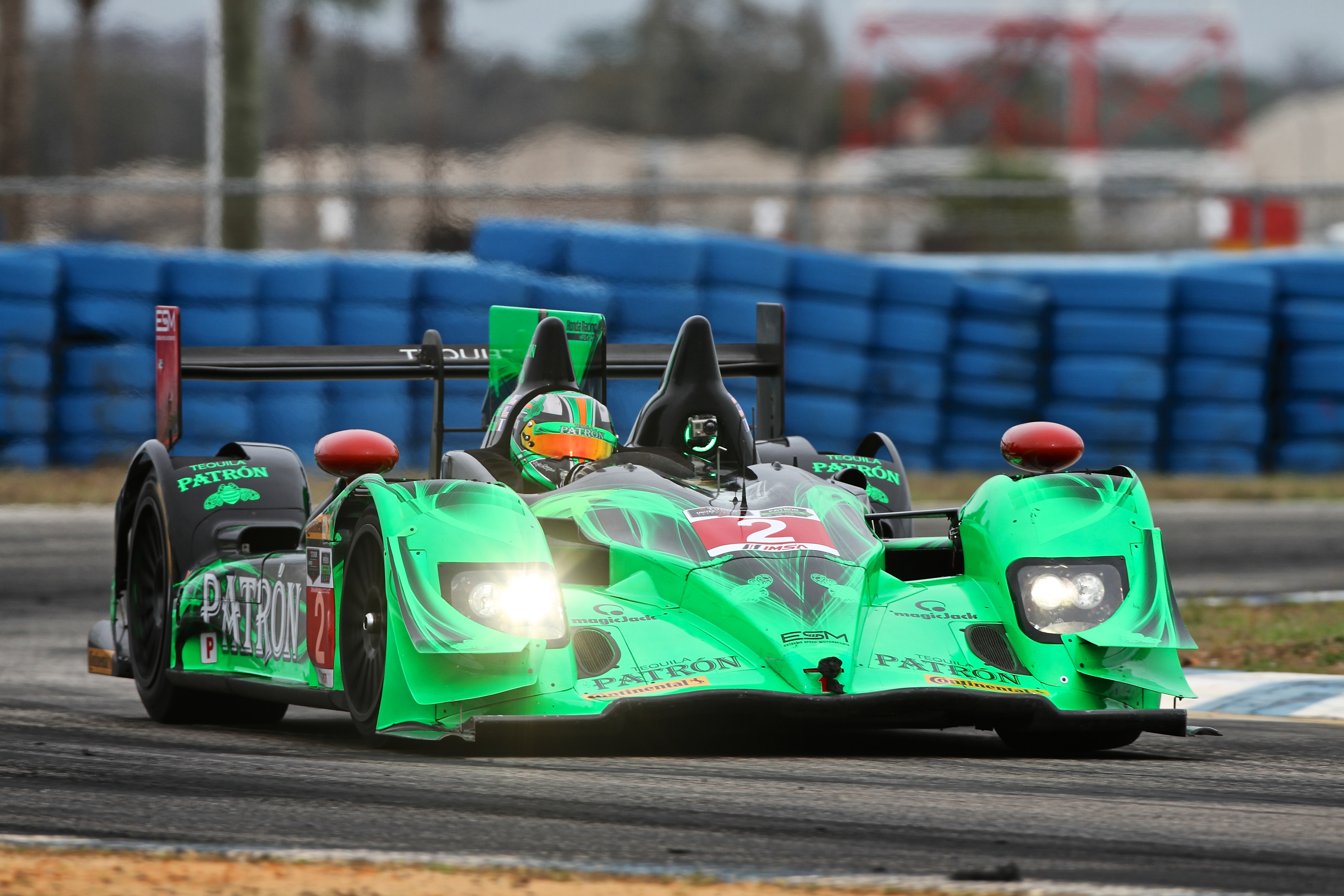 Brabham joins Sharp/Dalziel and Pagenaud teams with Brown/van Overbeek
STUART, Fla., – Mar. 11, 2014 – The 12 Hours of Sebring is a celebration of endurance racing at one of the most historic sports car venues on the TUDOR United SportsCar Championship calendar: Sebring International Raceway and home track of Extreme Speed Motorsports (ESM).    The second round of the TUDOR Championship takes place this week with the 62nd Mobil 1 Twelve Hours of Sebring Fueled by Fresh from Florida.
Looking for a Sebring win and valuable points in the TUDOR Championship and the Tequila Patrón North American Endurance Cup (NAEC), ESM is determined to hoist the Sebring winner's trophy late Saturday night.  It would be fitting to see Sebring's home team stand atop the podium, especially since event this marks the second race of the four-race Tequila Patrón-sponsored NAEC. Sebring is approximately a two-hour drive for the Stuart-based team.
One year ago, ESM raced the Honda Performance Development ARX-03b (HPD) machines for the first time at the 3.74-mile track.  This March, the team has one year of prototype competition under its belts and is confident in the machinery, the ability of the drivers and crew, and optimistic about its chances in the 12-hour event.
As a former Sebring 12 Hours winner, Ryan Dalziel knows what it takes to race to victory at Sebring.  Following a mid-race mechanical issue at the Rolex 24, the trio piloting the No. 1 Tequila Patrón HPD – Dalziel, ESM owner/driver Scott Sharp and Australian sports car star David Brabham – expect a better result at Sebring.
Finishing fourth at the 2012 Sebring race makes No. 2 Tequila Patrón HPD racers Ed Brown and Johannes van Overbeek even more determined to finish on the podium this weekend.  IndyCar star Simon Pagenaud makes his second appearance with ESM and Tequila Patrón this season with Brown and van Overbeek.  During the Rolex 24, Pagenaud was the final driver to pilot the No. 2 machine on Sunday afternoon and finish in seventh place.
Carrying some race-winning momentum with him this weekend is Pagenaud.  Last weekend, Pagenaud raced to victory in the 22nd Rally de la Vienne in France, a race he considers his hometown event. Pagenaud and co-driver Emmanuel Dechatre dominated the eight stage, day-long national event in an European Championship Peugeot 207 Super 2000.
Since the opening round of the TUDOR Championship, the two ESM machines have undergone a few changes.  For Sebring and the remainder season, the ESM HPDs are running a high-downforce configuration, with front dive planes and rear wicker. Additional small modifications have been made to the louvers on the front fenders.  The sanctioning body, International Motor Sports Association (IMSA), has increased the amount of fuel by three liters for a total fuel capacity of 75 liters.  The team will also have a slightly larger restrictor in the fueling hose.
On Friday, fans have the opportunity to meet the 2014 ESM driver lineup during the TUDOR United SportsCar Championship Autograph Session beginning at 11:15 a.m.  Following the autograph session ESM will be holding a live auction in the paddock area benefiting the Austin Hatcher Foundation for Pediatric Cancer, with many exclusive team items for bid.  The auction starts at 11:45 a.m. (ET).
The second race of 2014 TUDOR United SportsCar Championship is the 62ndMobil 1 Twelve Hours of Sebring Fueled by Fresh from Florida on March 12-15. Qualifying for prototype cars takes place at 5:15 p.m. ET on Friday, March 14. Green flag for the 12 Hours of Sebring is 10:15 a.m. ET on Saturday, March 15. FOX Sports 1 live coverage runs from 10 a.m. – 1 p.m. (ET).  The race will be streamed on www.IMSA.com from 1 p.m. until 10:30 p.m.
Scott Sharp
"This is the second race of the Tequila Patrón North American Endurance championship and a critical race for ESM/Patrón to score the maximum amount of points!  The race will be incredibly challenging and exciting.  The car count is huge – one of the biggest in Sebring history.  There will be non-stop action.  Sebring is a grueling track for the drivers, the race cars and the team but the very rewarding to finish first.
"The entire ESM/Patrón team has been working non-stop to ensure our HPDs can handle the competition and withstand the harsh racing surface.  It would be rewarding for ESM to win at Sebring because it is our home track and we're hungry for another win.
"It has been a year since our switch to the HPDs and that year of racing and development should prove to be a big advantage.  Our testing sessions went well and everyone on the team has worked so hard to get us prepared."
Ed Brown
"We're headed back to our home track this week, Sebring International Raceway, and I can't wait! I'm really looking forward to the race because we've made some big strides in testing.  This is a tough event and we've done just about everything we can to ensure we are ready.  I'd like to think one of ESM's strengths is that we know Sebring better than some of the other teams, especially since this is our home track.
"Daytona was a tough race for both cars, but we've had plenty of time to get ready for the 12-hour race.  I'd really like to see one of the ESM Patrón HPDs to win at Sebring especially since it is the second race of the Tequila Patrón North American Endurance Cup.  It would be awesome to have a 1-2 finish, with the No. 2 car on that top podium step.
"We have a great lineup of drivers with Johannes and Simon.  I'm looking forward to the race this weekend.  We're more than prepared.  We're ready to win.  The 12 Hours of Sebring is our race."
Ryan Dalziel
"Sebring is definitely like a home track for me since my wife and her family are from the area.
"Looking back at Daytona, especially with it being the first race of the new series, there were things we did well and some things that didn't go as planned.  Since then, we have worked hard as a team to make big improvements and I can't wait to get to the track and show what we've done since January.
"We believe that Sebring is a great track for our Tequila Patrón HPD Prototype.  I was part of the winning team in 2012 and 2013, so we will accept nothing other than victory at ESM.
"This is also the second round of the Tequila Patrón North American Endurance Cup and we are looking to win the race. We took a big NAEC points hit at Daytona, so winning is our best chance to get our assault back on track."
Johannes van Overbeek
"Even though this is our second year with a Prototype car, we still have plenty of 'new' to contend with this season and at Sebring. This year we're on Continental Tires, we're facing much more traffic and we'll be racing against DP cars for the first time at Sebring.
"Everyone is a bit unsure how it all will play out, but one thing is for sure; the fans will have an absolutely terrific race to watch. My guess is that the DPs will be better in traffic due to the torque of their V8s, but we'll likely be better in clear air. In the end, we're hoping and planning on having a better team outcome at Sebring for the ESM/Patrón HPD cars. I'm really looking forward to the race on Saturday!"

David Brabham
"Sebring is a race that I always look forward to because the 12 Hours is a great challenge for drivers and machines.  The event itself, the crowd that attends is always big and enthusiastic and it is a fantastic atmosphere.
"From the team's point of view, we did Daytona and it was a solid start.  We didn't get the result from car No. 1 that we wanted. The guys have been testing between the races and we're in great shape at a track that will be a little bit more suited to our car, which will make it a little bit more even.
"The track is very challenging to the machinery because we're talking about bits of track that have been around since my father raced there in 1959 and won his first Formula 1 World Championship.  We race on some parts, Turn 17 and Turn 1, that are the bits of concrete that he did.  Over time the concrete moves which means the bumps can be quite severe and make quick corners.  You really get a hammering inside the car.  Getting the setup right where the car is quick everywhere but also over the bumps is an engineering challenge.
"I've won in GT2, GT1, LMP2, but never won overall.  So for me, I'm going for the win. I don't know if it has been done before and that's my challenge for the weekend.  With my father, my brothers and nephew, Matthew, all achieving notable victories at Sebring, it is safe to say that Sebring has a successful family connection.  If I can get there and we can win the race, in some way it seals some history for me."
"I'm looking forward to helping ESM with at its home track.  I remember when Highcroft won at Lime Rock and how much it meant to the team to win that race so close to home.  For ESM to win the Sebring race, it would mean a lot to the team and would give them some great momentum for the championship."
Simon Pagenaud
"I'm really looking forward to getting back to racing with ESM and Tequila Patrón.  Since our race in Daytona, I've spent plenty of time in other race cars to keep my skills sharp.  Over the weekend, I raced in the national championship race in my home state in France – the Rally de la Vienne.  Rally is a huge passion of mine and I try to compete in it as often as I can.  It was a rewarding weekend racing in front of my hometown and winning the event.  I'm bringing that winning mentality with me because I want to be part of the team that helps ESM win at its home track.
"Sebring is always an interesting event.  It is one of the toughest races for the mechanical components of the race car, for the drivers and crew.  It is a tough event, but fun and rewarding at the end.  There's always a big party in the camping areas at Sebring.  As drivers, it is great to see the fans out there all over Sebring enjoying the race.  I love Sebring and have been racing there since 2008.  I'm glad to be back with ESM and Tequila Patrón for this event. The balance of performance should be better for us at this track. I'm really hoping we can contend for the win. We have a good strategy of what we're going to do for the race.  Ed and Johannes were very comfortable in the car, so was I, and I think we have a very good package for the race.
"We had a great and productive time at the test session in February.  Testing is something I really enjoying.  During the test sessions, I get to understand more of what the engineers think about, what the car is like and that's fascinating to me."
####