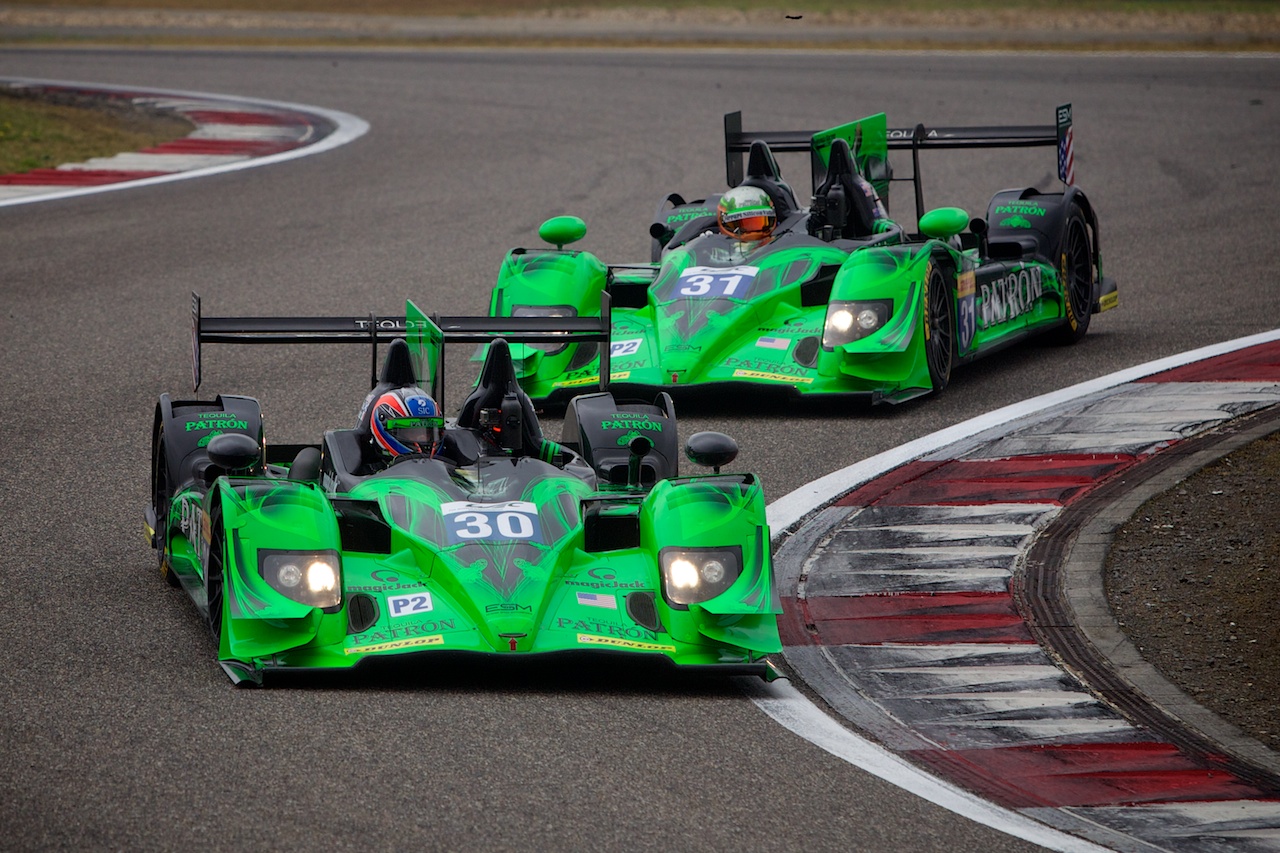 Shanghai, China – Nov. 1, 2014 – In its first overseas FIA World Endurance Championship (FIA WEC) qualifying session, Extreme Speed Motorsports (ESM) averaged the fifth and sixth quickest times in the LMP2 class. As a result, ESM will start fifth and sixth in Sunday's 6 Hours of Shanghai race.
Per the FIA WEC rules, the two best lap times from each team's qualifying drivers are averaged together in order to determine the starting position.
Johannes van Overbeek and David Brabham qualified the No. 31 Tequila Patrón Honda Performance Development ARX-03b in fifth. Van Overbeek's best lap was 1:57.114. Brabham's best lap was 1:56.587. Ed Brown is the third driver of the No. 30 Tequila Patrón HPD.
Scott Sharp and Ryan Dalziel qualified the No. 30 Tequila Patrón Honda Performance Development ARX-03b in sixth. Sharp's best lap was 1:58.559. Dalziel's best lap was 1:55.189. Ricardo Gonzalez co-drives with Sharp and Dalziel this weekend.
Rain plagued Friday's two practice sessions. The first session would eventually dry with the No. 30 team of Sharp, Dalziel and Gonzalez posted the second quickest time of the session, less than one second behind the leader.
In the second practice, the No. 30 team was again second quickest, a mere fourth-tenths behind the leaders. The No. 31 team of Brown, van Overbeek and Brabham were third quickest in class.
The 6 Hours of Shanghai on October 31-November 2 is the sixth of eight races in the FIA World Endurance Championship. Green flag drops at 11:00 a.m. local time on Sunday, November 2 (11 p.m. ET on Saturday, November 1).
The 6 Hours of Shanghai can be heard on Radio Le Mans. Timing and scoring is available on the FIA WEC website.
Ride along with Extreme Speed Motorsports
Viewers will be able to watch the entire race from on-board cameras mounted to both of the ESM Tequila Patrón-sponsored HPDs via the FIA WEC second screen app or online at www.fiawec.com
The cameras are mounted to the race cars so viewers can watch the race from the drivers' point of view. To ride along with Sharp, Dalziel and Gonzalez, select the No. 30 camera, or to ride along with Brown, van Overbeek and Brabham, select the No. 31 camera.
Download the FIA WEC second screen app online at www.fiawec.com.
Ed Brown
"We didn't get a lot of laps because of the weather conditions. I've never seen a race won in qualifying and there's a six hour race ahead of us. We need to stay clean, do our jobs and we'll be in good shape for the race.
"I'm proud of the qualifying effort of Johannes and David. This is the first time Johannes and I have been here. The track is interesting and challenging. Then when you add that the mixture of weather – wet and dry. The conditions keep changing and we keep adapting.
"The Tequila Patrón ESM team has worked hard to get us here. We have a great engineering team, pit crew and driver lineup. We'll be competitive for the race. Six hours is a long time and we're looking forward to seeing both ESM Patrón Hondas on the podium Sunday evening."
Johannes van Overbeek
"After all the rain and little track time, qualifying was the first time I felt like we were learning about the ESM Patrón Honda and what it needed. We still have lots to learn about how to drive this track, but we'll have six hours tomorrow to get it sorted out.
"Running in China has been a great experience this far and I hope tomorrow will be no different." 
David Brabham
"It was a challenging qualifying session. We haven't had many laps here this weekend. I did about six or seven laps on Friday and no laps this morning. I haven't driven since March and I have a bit of catching up to do. I left some on the table during my laps. The car balance isn't where we'd like it. This is a tricky track and surface. We're getting a lot of information and this will help us for the race.
"Our strategy is to have a clean race. We might not have the fastest car but we know if we have a clean, smart and keep a good, fast and consistent pace, the result should come to us."
Scott Sharp
"It is an incredible experience to drive the Tequila Patrón Honda prototypes at Shanghai International Circuit. The track surface is very challenging which makes it difficult to adjust the Dunlop tires and setup. We're continuing to learn and make the necessary adjustments now and throughout the race tomorrow.
"We have a strong ESM Patrón crew and they've put a lot of work into these cars just to get to China. We're here to race, be competitive and we're aiming for that podium."
Ryan Dalziel
"It looked dark at the start of qualifying. I thought it was going to be raining pretty hard by the end of the lap. Luckily the rain held off all day. We're still learning and missed it a little bit in qualifying. That's why we're here and doing this – to learn and get the Tequila Patrón cars further up the grid. We've got some work to do. At Austin, we had the same feeling where we really don't have the best qualifying car, but we have a good race car.
"We have some work to do tonight to get better for tomorrow and try to get both Patrón cars on the podium. We do exactly what we did after Austin qualifying. We'll continue to work and make changes. We're still learning about the combination of Dunlop tires on the Honda chassis. There are a lot of smart guys here at Patrón ESM, so I'm confident we'll be fine tomorrow."
####