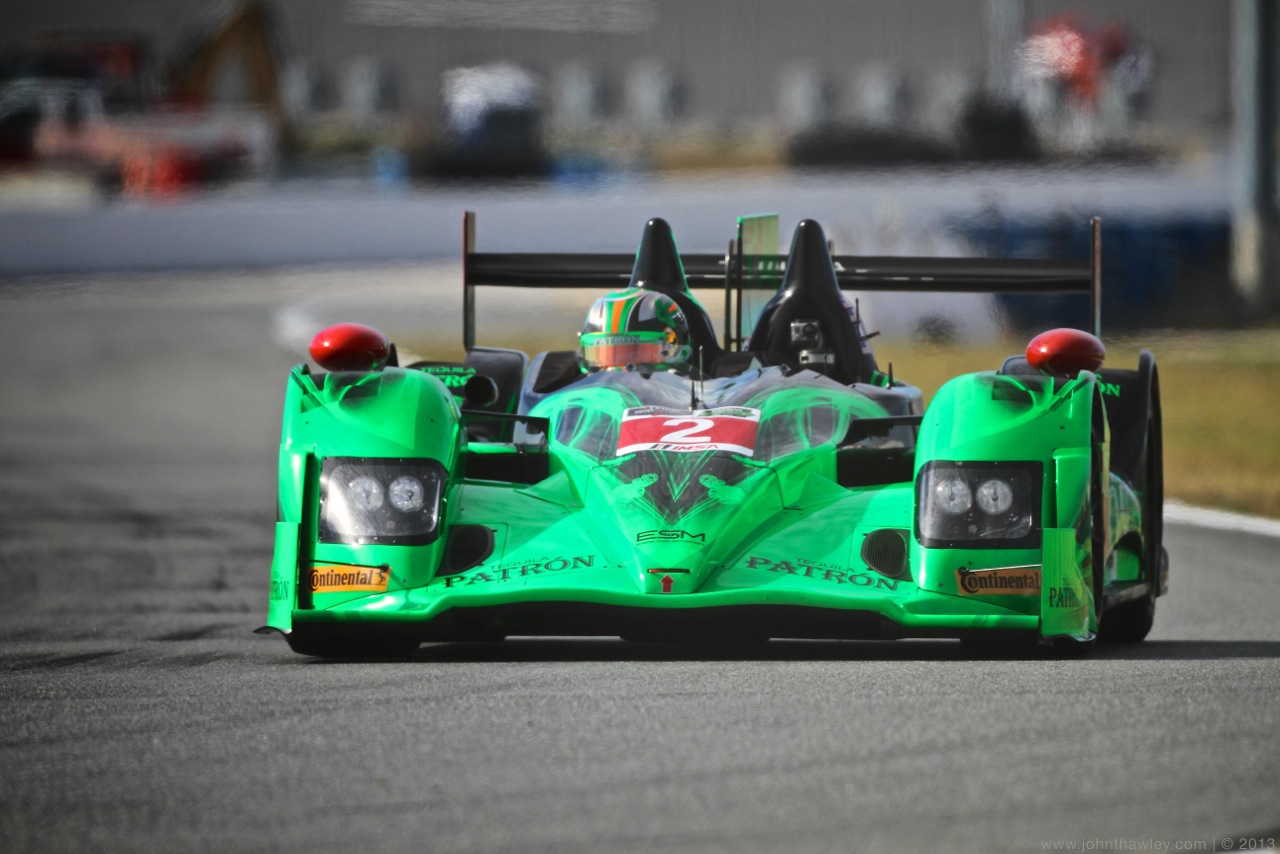 DAYTONA BEACH, Fla., – Jan. 23, 2014 – Extreme Speed Motorsports took to Daytona International Speedway in qualifying today for the 52nd Annual Rolex 24 At Daytona, the opening race of the 2014 TUDOR United SportsCar Championship and the first round of the Tequila Patrón North American Endurance Cup (NAEC).
For the start of a new season, in a new series, the Florida-based team expects a challenging and competitive year.
Thursday's opening day included one morning and one afternoon practice session totaling 90 minutes of on-track time.  As the sunset, the two-car team took to the track for the 15-minute qualifying session.
David Brabham qualified the No. 1 Tequila Patrón Honda Performance Development (HPD) ARX-03b, while Johannes van Overbeek was tasked with wheeling the No. 2 Tequila Patrón HPD.
The brief qualifying session was significantly shorter for ESM as it experienced minor problems that prevented both cars from getting to full power.  In the end, ESM was ranked 14th and 15th in the prototype class.
On-track action resumed with night practice on Thursday, followed by a single practice session on Friday morning from 11:30 a.m. – 12:30 p.m.
Green flag for the 52nd Rolex 24 At Daytona is scheduled for 2:10 p.m. ET on Jan 25.
The Rolex 24 – a twice-around-the-clock-classic – takes place on the 3.56-mile road course at Daytona International Speedway on Jan. 25-26.  The 12-turn circuit utilizes portions of the track's tri-oval and infield road course and is the first round of the TUDOR Championship.
The FOX family of channels will provide complete live coverage of the Rolex 24 At Daytona, beginning at 2 p.m.
Saturday, Jan. 25
2-4 p.m. ET on FOX
4-9 p.m. ET on FOX Sports 2
Overnight (Jan. 25-26)
9 p.m. – 7 a.m. ET on www.IMSA.com
Sunday, Jan. 26
7 a.m. – 3 p.m. on FOX Sports 1
Johannes van Overbeek
"It has been a frustrating day for the ESM Patrón No. 2 HPD.  The car was feeling great. My predicted lap was going well and then coming out of the Bus Stop, something wasn't right with the race car. I'm not sure that's what the problem was.  Rather than damage it further, we decided to pit and take a look at it.
"It is a shame. This is a hard way to go into a 24-hour race.  I was feeling good about the lap and we had a problem with the car that prevented us from doing anything with it.  ESM and (Honda) HPD have some of best guys in the business working on these race cars.  They'll dig into it, figure out with the problem is and make sure it doesn't happen again.
"At the end of the day, where you qualify for the 24-hour race doesn't make a difference in where you finish.  Where it does make a difference is traffic.  My job will be a little harder because we'll have more traffic to contend with, and what we had anticipated.  It is 24 hours and a lot can happen."
David Brabham
"I never really did a lap, so that was a bit unfortunate.  That is a shame because we're further down the grid than where I thought we could have been.
"The guys are going to figure out why we had that problem in qualifying.  We thought everything was fine and then it was fine for about two to three laps.  We were building up temperature in the tire, started to go a bit quicker and then I started experiencing problems.
"The good thing is that we've had this problem now and not during the race.  We need to maximize our track time tonight and tomorrow because there has been very little running so far.  Once we have more laps, we'll have a bit more confidence leading into the race."