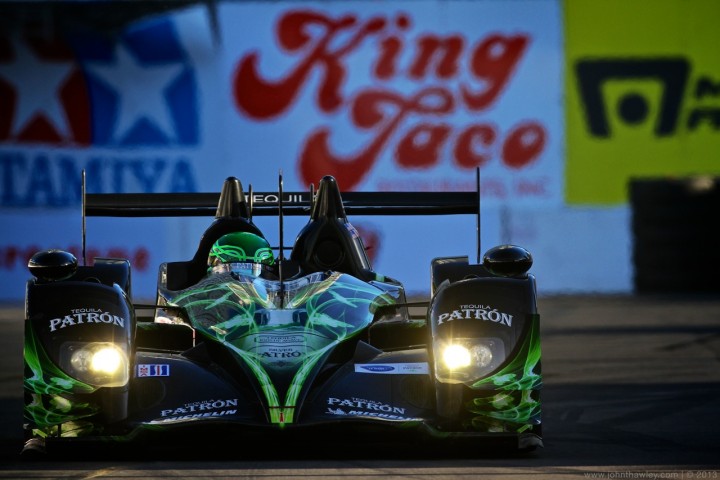 LONG BEACH, Calif., Friday, April 19, 2013 – The Extreme Speed Motorsports (ESM) team, armed with two Tequila Patrón-sponsored Honda Performance Development (HPD) ARX-03bs, roared through the streets of Long Beach today for the first challenging street course of the season.  When the clocks stopped, the ESM machines were locked into the second and third positions for tomorrow's Tequila Patrón American Le Mans Series at Long Beach.
Flying through the temporary street course, Scott Sharp, co-driver of the No. 01 Tequila Patrón HPD, lapped the 11-turn, 1.968-mile temporary street course with a best time of 1:17.390, which ranked him second in the P2 class.  Sharp's co-driver Guy Cosmo will start the race and Sharp will drive second.
For the first time this season, Johannes van Overbeek qualified the No. 02 Tequila Patrón HPD.  During the quick 15-minute qualifying session, van Overbeek was a fraction behind the No. 01 sister machine with a best lap time of 1:17.432, which places the No. 02 machine third in the P2 class.
Saturday's Tequila Patrón American Le Mans Series at Long Beach is a two-hour sprint race and is the second round of the 10-race ALMS championship. Green flag is set for 4:30 p.m. PT on Saturday, April 20.
ABC's coverage begins at 1 p.m. ET on Sunday, April 21, and live coverage is available on ESPN3 starting at 7:15 p.m. ET on Saturday, April 20.
Scott Sharp
"We're continuing to learn and make progress. Long Beach is such crapshoot for everybody because the track changes immensely, you're taking guesses about which way the track is going to go and which way the balance is going to go.
"We had, as everybody probably did, a loose-in, push-off type car this morning.  The guys did a great job getting the rear really good. Unfortunately, we still struggled with a slight understeer in qualifying.  I think a lot of our little issues we had today, the team nailed.  I'm pleased with it.  We made good progress today and will start second and third.  I think we are going to have very good race pace. We typically qualify real close to our race pace.  I'm sure we'll catch-up to the Tucker car in the race and we'll be in good shape.
"During the race tomorrow, we've got to take any opportunity that goes your way here.  At the same time, you need to get through traffic, not make any mistakes and keeping the car off the walls is half the battle."
Johannes van Overbeek
"ESM Patrón qualified two-three today.  Qualifying in the P2 car is definitely different experience than qualifying the GT car, from how the motor runs.  ESM Patrón guys did a great job. Our cars ran flawlessly and I'm looking forward to a good race tomorrow.
"The track conditions should be different tomorrow compared to today's early practice and late qualifying.  You don't want to make a lot of changes first thing in the morning, which we didn't, and now we have a little too much understeer in the car, which the guys will resolve, so we can be quicker.  The crew is working hard this weekend as always and they'll have us ready to go."