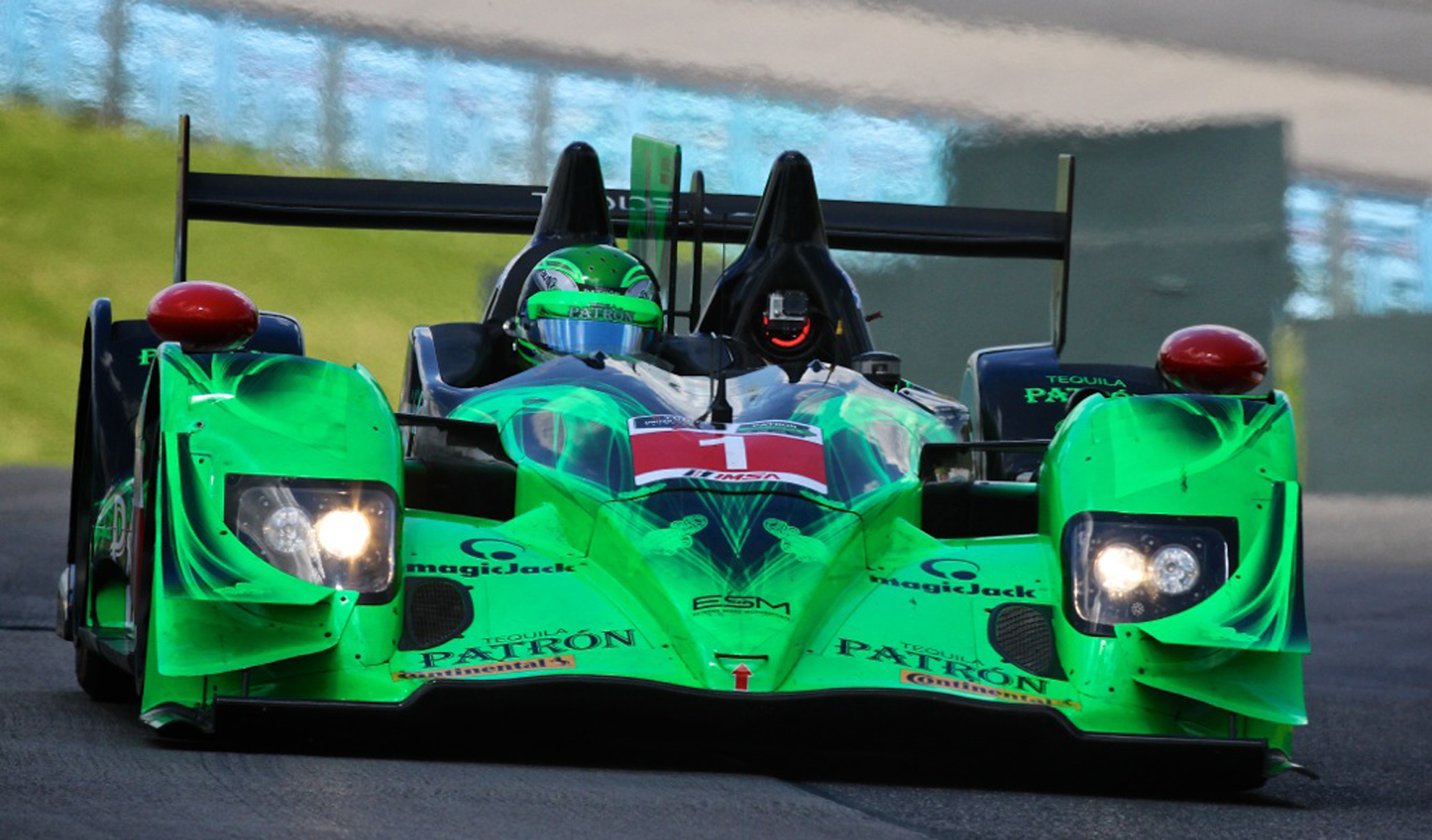 ESM HPDs make Indianapolis debut
STUART, Fla. – July 22, 2014 – The Extreme Speed Motorsports (ESM) makes its Indianapolis debut this week as the TUDOR United SportsCar Championship heads to the hallowed ground of Midwest motorsports – Indianapolis Motor Speedway (IMS). More than 100 years of motorsports history echoes through the track at 16th and Georgetown, and ESM looks to make its mark during Friday's Brickyard Grand Prix.
Scott Sharp, ESM owner/driver, has 14 Indianapolis 500 starts on his résumé including a pole position in 2001 and five top-10 finishes. In his last four appearances (2005-2007, 2009), Sharp ran a Honda-powered machine. The 2007 season was the first time Sharp drove a Tequila Patrón-sponsored Honda race car.
Sharp now leads the Extreme Speed Motorsports Tequila Patrón-sponsored Honda Performance Development ARX-03b (HPD) team into another chapter of IMS history. This weekend marks the first time Sharp, Ed Brown, Ryan Dalziel and Johannes van Overbeek will race as a team at IMS.
Sharp and Dalziel, co-drivers of the No. 1 Tequila Patrón HPD, have turned plenty of laps at IMS. Sharp made his IMS debut in 1994 and competed in the 2002-2003 International Race of Champions (IROC) events. At the 2003 IROC race, Sharp qualified on the outside pole. Dalziel has two previous starts at the Indianapolis Grand Prix under the GRAND AM Rolex Sports Car Series banner. In 2013, Dalziel and Starworks DP co-driver Alex Popow won the Indianapolis Grand Prix on the former 2.534-mile circuit.
Shortly after Dalziel's win, the IMS road course was reconfigured to a 2.439-mile, 14-turn circuit.  The only race on the road course in the new configuration this year was the IndyCar road race in May. ESM's Tequila Patrón North American Endurance Cup driver Simon Pagenaud was the race winner.
The only other speedway/road course circuit on the TUDOR Championship calendar was the Rolex 24 At Daytona in January. This marks the second time this season for ESM to compete on the combined speedway/road course circuit.
Brown and van Overbeek, co-drivers of the No. 2 Tequila Patrón HPD, finished eighth at the season-opening race at Daytona. The combination of confidence from that race along with the mid-June test at IMS, should bode well for the Mazda Raceway Laguna Seca race winners.
Following the last two rounds of competition and seeking a balance of power within the premier racing class, officials from the TUDOR Championship's sanctioning body – International Motor Sports Association (IMSA) – announced last week that ESM's Honda HPDs will receive a 0.3mm larger air restrictor. The change results in a greater airflow to the HPD engine for more horsepower.
The two-hour, 45-minute TUDOR United SportsCar Championship Brickyard Grand Prix on July 24-25 is the eighth race of 2014 TUDOR United SportsCar Championship. Qualifying for prototype cars takes place at 5:05 p.m. ET on Thursday, July 24. Green flag is 5:45 p.m. ET on Friday, July 25.
Television coverage of the Brickyard Grand Prix starts at 5:30 p.m. ET on FOX Sports 1.
Scott Sharp
"There is no track that has the heritage and atmosphere as Indianapolis! I've been fortunate to have great memories from the many Mays that I have spent at the track.
"Every time I drive under the tunnel to enter the track I get a tingling and an excitement I just don't feel elsewhere!
"It's exciting for our ESM Tequila Patrón HPDs to be racing on the newly configured road course. It will be our first time! It looks like the new layout will be racier and provide some exciting passing opportunities. The whole team is going to press extra hard this weekend – it's time for a couple of strong finishes!"
Ed Brown
"We tested the new Indy road course circuit earlier this year, and it's impressive. This is Indianapolis – the true American racing venue, and definitely one on the 'must win' list for any driver. Few tracks in the world have the history and mystique Indianapolis does, and we're ready to set our place in IMS history.
"Last time Johannes and I raced on a speedway road course, we finished eighth. We've had some success and difficulties since, but we've definitely learned more about the HPDs. We know we are quick and have shown it in practice and qualifying. If we can have a clean race and escape the mid-race obstacles, we'll be in great shape to make a run for the podium. The crews have given us cars deserving of podium finishes, and that's our goal on Friday."
Ryan Dalziel
"Indy is one of those venues you grow up as a driver and dream about kissing the bricks. I was lucky enough to win there last year and it was the turning point in my championship challenge. So I'm hoping it will have the same fortune this year.
"It's hard to predict right now how the HPD will race against the DPs. We have been very competitive recently but lacked a little top speed. With IMSA's latest balance of power giving our Honda a little more horsepower, I think we will be strong.
"We need both cars to have a solid, trouble free weekend. If we do that I think we can see both Tequila Patrón cars on the podium."
Johannes van Overbeek
"As an American racing driver, racing at Indianapolis is on the bucket list. Granted, it's not the 500 but we're there and we're looking forward to putting on a good show. I'm glad we tested at Indy which gave us a direction to pursue.
"We'll unload the No. 2 car with our best guess based on data from both cars. I'm looking forward to the race. Ed has been driving very well and we've been working hard on our internal processes which will only benefit us going forward. With a bit of luck we'll be in the hunt Friday night for our second victory this year."
####