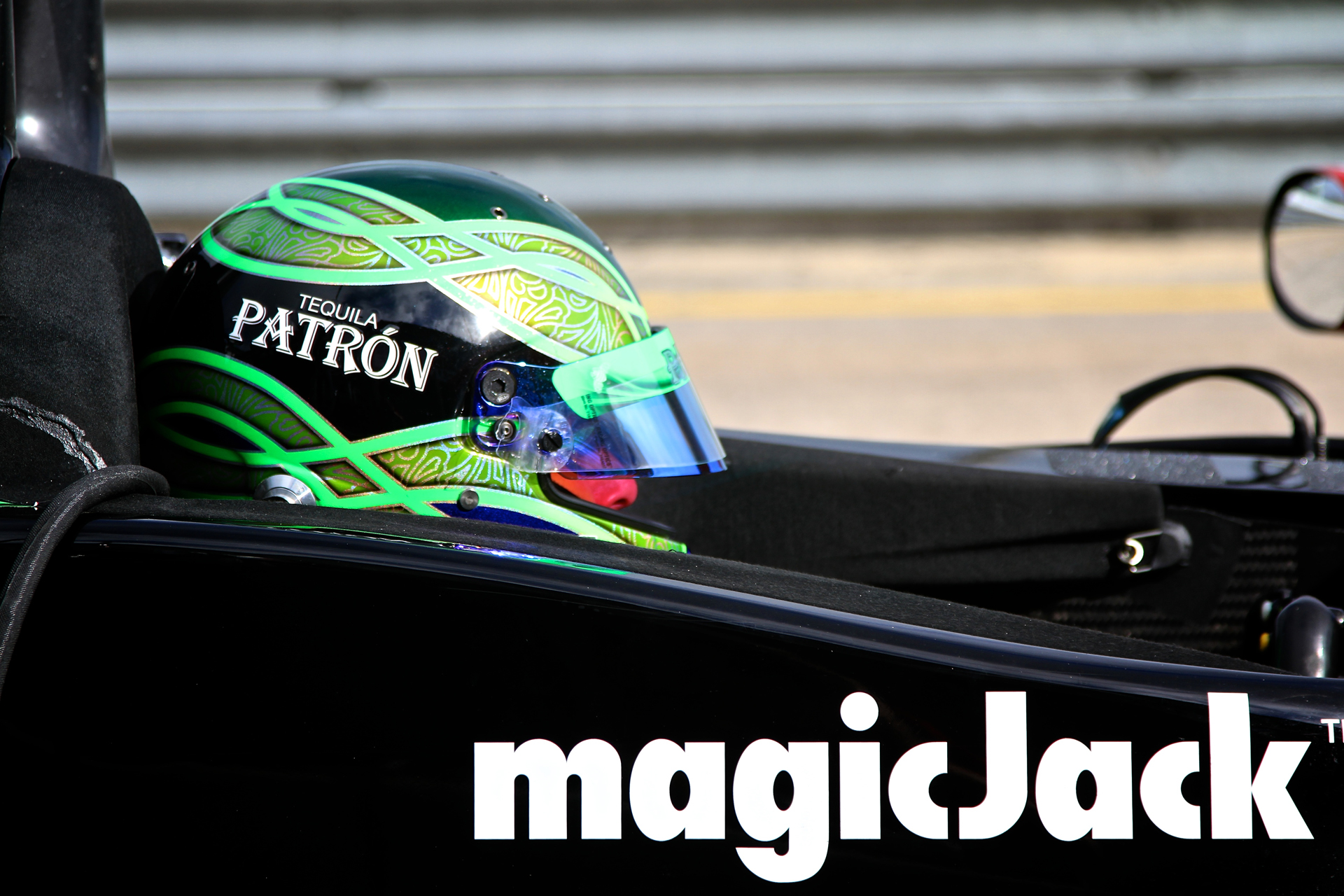 magicJack app keeps team connected
STUART, Fla. – July 8, 2014 – Two years ago at Canadian Tire Motorsport Park (CTMP), a hard-charging Johannes van Overbeek made a late-race pass that put Extreme Speed Motorsports in a position to take its first GT class win. It was a memorable day for ESM and Tequila Patrón – and a finish the team would like to repeat this weekend for the Mobil 1 SportsCar Grand Prix, the seventh round of TUDOR United SportsCar Championship.
A few things have changed since that 2012 win: ESM switched to the Honda Performance Development (HPD) ARX-03b racing machines, Ed Brown and van Overbeek co-drive the No. 2 prototype and Ryan Dalziel is co-driver with Scott Sharp. This year, ESM added magicJack as an associate sponsor on the black and green Tequila Patrón-sponsored cars. ESM drivers and crew have downloaded the magicApp to their phones and can now call friends and family and avoid roaming charges.
As a result, ESM can focus on the task at hand – winning.  Sharp, co-driver of the No. 1 Tequila Patrón HPD has six wins at Mosport – three in Trans Am (1992, 1993, 1994), two in prototypes with co-driver David Brabham (2008, 2009), and one GT win (2012) with van Overbeek. Dalziel has two podium finishes at CTMP, one in the PC class and another in GTC. The Scot looks to add an ESM prototype win to that list of achievements.
The daunting 2.459-mile, 10-turn permanent road course will be challenging this weekend with three classes of cars competing. An entry list that includes 12 Prototypes, 19 GT Daytona (GTD) and 10 GT Le Mans (GTLM) race cars will provide an interesting mix in traffic. The ESM Tequila Patrón Honda HPDs should prove their prowess on the fast corners. Patience and managing traffic are two keys to any race, especially this weekend.
Last year, Brown made gains in the Prototype car at CTMP by posting some of his quickest laps ever at the circuit. Now with more than a year of prototype seat time, Brown's expectations of his race have soared. He and van Overbeek are seeking their second win of the season. The duo last appeared on the podium at Mazda Raceway Laguna Seca in early May as race winners.
The two-hour, 45-minute TUDOR United SportsCar Championship Mobil 1 SportsCar Grand Prix Presented by Hawk Performance on July 11-13 is the seventh race of 2014 TUDOR United SportsCar Championship. Qualifying for prototype cars takes place at 6:05 p.m. ET on Saturday, July 12. Green flag is 2:05 p.m. ET on Sunday, July 13.
Television coverage of the Mobil 1 SportsCar Grand Prix starts at 2 p.m. ET on FOX Sports 1.
Scott Sharp
"Canadian Tire Motorsport Park is one of my favorite tracks. Early in my career, I won three Trans Am races there in three consecutive years. This is a race track that has classic sports car racing characteristics. They just don't build tracks like that anymore. It is super-fast and you're carrying huge speed. You have to go to Mosport with a completely different mindset because to go fast, you've got to lay it on the line.
"When you look at the schedule, there's always a few that stand out as great places and Canadian Tire Motorsport Park is one of mine. We've run well there every year, back in the Ferrari days and with these HPDs. We won in 2012 and we're ready to go back to the track and be on the podium. We're excited. We're pumped up because the Honda prototype produces so much downforce, it should be unbelievable around Turns 1, 2, 3; it's pretty breathtaking.
"One of the things we were missing in 2012 was the ability to call anyone and tell them about the win since we have little to no cell phone coverage in Canada. We've got that covered this year. We'll launch the magicJack app and call our friends for free and tell them we won again this year."
Ed Brown
"We're ready for this weekend's race at Canadian Tire Motorsport Park. Last year it was new to us in these Tequila Patrón HPD prototypes, but we know what we need to do to get things rolling in the right direction.
"My teammate Johannes and I had a bit of bad luck last race at Watkins Glen, but things have been reviewed, inspected and hopefully gremlin-free. The longer we're away from winning and that podium, the more driven we are to get back there. Johannes and Scott won in 2012 and it is time that we get both cars on the podium this weekend.
"It will be a tricky race. Traffic is always a factor. Plus we're back to the two-hour, 45-minute race. The No. 2 guys always have a great strategy; we'll be smooth in our pit stops and driver changes. We'll do everything we can on our end; we just need a little luck to fall our way."
Ryan Dalziel
"Canadian Tire Motorsport Park is one of those tracks a driver looks forward to racing on each year. It's so fast, with no room for errors. I've been fortunate to have raced there a number of times and stood on the podium twice, but never on the top step. Hopefully we fix that this year in the No. 1 ESM Tequila Patrón Honda Prototype.
"We really need to get our season turned around and I'm hoping Mosport can do that for Scott and I. We're going back to the two-hour and 45-minute race and I couldn't be happier. There is one thing that's guaranteed and that is Mosport will be a lot of fun."
Johannes van Overbeek
"Canadian Tire Motorsport Park should be a great track for the ESM Tequila Patrón Honda prototype. The team knows how to make cars quick there and the prototype likes quick corners, which make up more than half of Mosport. Racing with the GTD class will an add additional challenge as they are very fast in the straight but less in the corners. If we prepare and work on all the things in our control, Ed and I will have a good outcome; there's nothing more I'd like than to have another win with Ed."
####