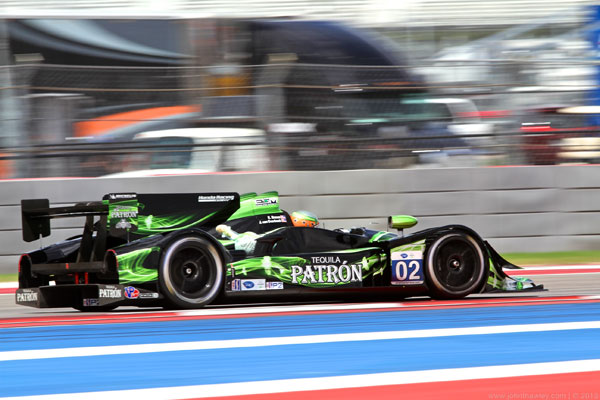 No. 02 HPD prototype seeks third straight podium finish of season
STUART, Fla. – Oct. 2, 2013 – One year ago at the inaugural American Le Mans Series (ALMS) presented by Tequila Patrón race at Virginia International Raceway, Johannes van Overbeek earned his and Extreme Speed Motorsports' (ESM) first pole in ALMS GT competition. In the last two rounds of competition this season, van Overbeek achieved back-to-back podium finishes with co-driver Ed Brown.
As a team, ESM is on a quest for its first P2 pole and another 1-2 class finish. It looks to accomplish that feat at Virginia International Raceway (VIR) at the Oak Tree Grand Prix, the ninth round of ALMS competition.
During the June break this year, ESM tested the P2 racing machines at VIR. The 3.27-mile, 17-turn track with high-speed straights, challenging turns and 130 feet of elevation changes should prove to be an exciting race. Now in its second year on the ALMS calendar, the race has been shortened to a two-hour and 45-minute sprint compared to last year's four-hour event.
Last year, Scott Sharp and then co-driver van Overbeek started from the front of the GT class and earned a third-place finish. Now in the P2 class, ESM driver/owner Sharp and Anthony Lazzaro, aboard the No. 01 Tequila Patrón Honda Performance Development (HPD) ARX-03b, look to repeat and improve upon that finish from last season. Sharp has finished on the podium in all but two races this season. His last podium was at Baltimore, where he and Lazzaro finished second.
The No. 02 Tequila Patrón Honda Performance Development (HPD) ARX-03b team has been on a steady streak recently.  Van Overbeek and Brown qualified second and finished third in the last two races, in addition to both drivers leading laps at the inaugural ALMS race at Circuit of The Americas less than two weeks ago.
The two-hour, 45-minute American Le Mans Series presented by Tequila Patrón race at Virginia International Raceway is the ninth round of the 10-race ALMS championship and takes place on Oct. 3-5. Qualifying for P2 cars is scheduled for 4:50 p.m. ET on Friday, Oct. 4. Live coverage of qualifying begins at 3:35 p.m. ET on Friday, Oct. 4 on ESPN3.
The race will be streamed live starting at 2 p.m. ET on Saturday, Oct. 5 on ESPN3. The race will be televised at 5:30 p.m. ET on Sunday, Oct. 6 on ESPN2.
Scott Sharp
"I'm excited for VIR! We had a great test there a couple of months ago. We didn't test at COTA and I think we were behind all weekend. We are expecting the reverse of that for VIR.
"VIR has been a great track for ESM – we were on the pole there last year and finished on the podium. It is a pretty thrilling track to drive with so many high-speed corners, but in our P2 car it is even better. VIR is a type of track where a high downforce car really shine.
"The No. 02 is really coming on strong and had a very solid podium finish at Austin. Ed drove amazing and it was his best drive so far in his career! So I think we will have a very strong one-two punch to deliver this weekend."
Ed Brown
"We're looking forward to racing at VIR this weekend. This circuit is challenging and throws a lot of different corners at you. But we tested there in the summer and I think we're ready to continue our podium streak.
"Johannes and I look forward to getting back on track to try and improve on our third-place finish in Austin and his third-place last year at VIR.
"There have been plenty of changes to races this year, and the main change to VIR is that it is not the four-hour format that it was last year. I think we're all a little disappointed that the race isn't four hours. Regardless of the race length, we'll race hard from start to finish."
Johannes van Overbeek
"I'm really looking forward to getting back to VIR this year. It was one of my favorite tracks to drive.  After last year's pole position in the Patrón Ferrari, I feel confident about driving the circuit in the P2 car.
"The No. 02 car has picked up some momentum in the last few races. Ed and I are definitely getting quicker in the P2 car.  We've started second and finished on the third at the last two races. I think VIR is a good place to take another step up on that podium.
"Ed gets better with every race and VIR won't be any different. I can't wait!"
Anthony Lazzaro
"I have some experience at VIR and I'm really looking forward to getting back in our ESM Patrón prototype.  During last year's IMSA Prototype Lites, I was on pole and set a new qualifying lap record, so it is still fresh in my mind.  Back in 2002, I won in a prototype car and then in 2007, I raced in a GS BMW.
"VIR is one of the classic road courses in the U.S. It is very old school. I love driving there.
"The ESM Patrón team tested at VIR earlier in the summer, and with the development that has taken place since the test I am confident our car will be competitive."