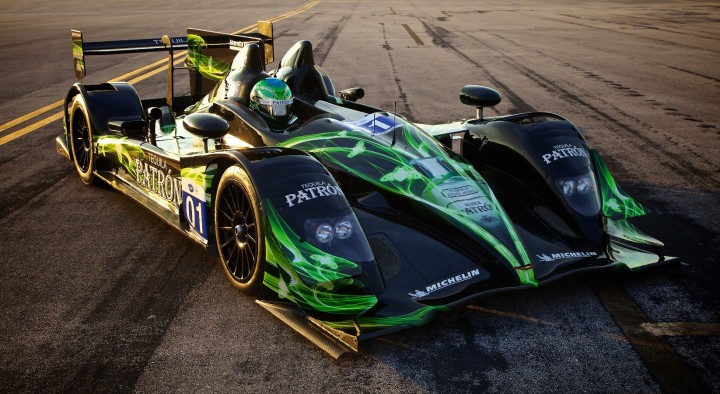 STUART, Fla., Monday, March 4, 2013 – Black, lime green, a bottle of Tequila Patrón and swirling Patrón Bees.
Extreme Speed Motorsports (ESM) driver/owner Scott Sharp commissioned ESBG Design to create liveries for the Tequila Patrón-sponsored HPD ARX-03b race cars to run in the 2013 American Le Mans Series (ALMS) presented by Tequila Patrón season.
A longtime partner of ESM, ESBG Design willingly accepted the challenge to create a dynamic livery for the Florida-based race team. Both the ESM Honda Performance Development ARX-03b P2 cars are black and feature the Tequila Patrón bottle on the nose.  Emerging from the Tequila Patrón are several Patrón Bees swirling about the cars with a trail of lime green. The lime green paint on the car is reflective, so both racing machines will pop under the lights at the Mobil 1 Twelve Hours of Sebring Fueled by Fresh from Florida next week.
In mid-February, ESM announced it will campaign two purpose-built prototypes beginning at Sebring.
Last week, ESM announced the new driver lineups for the 2013 season included Scott Sharp and Guy Cosmo as co-drivers of the No. 01 machine, and Ed Brown and Johannes van Overbeek in the No. 02 machine. David Brabham and Anthony Lazzaro were added to ESM's driver roster for the Sebring race.
The 2013 American Le Mans Series presented by Tequila Patrón begins with the 61st Mobil 1 Twelve Hours of Sebring Fueled by Fresh from Florida on March 11-16. Qualifying for P2 cars takes place at 2:20 p.m. ET on Friday, March 15. Green flag for the 12 Hours of Sebring is 10:45 a.m. ET on Saturday, March 16. SPEED's live coverage begins at 10:30 a.m. ET.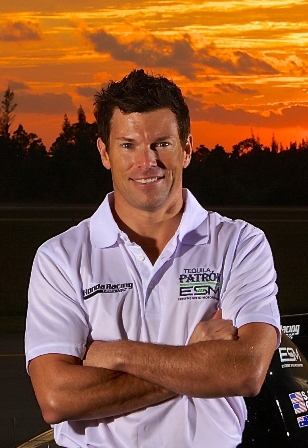 Scott Sharp
"Our Tequila Patrón livery has excited all of us the last few years… but I can't put into words the new ARX-03b P2 car!
"Shocking, electrifying, stunning… are just a few words that come to mind.
"I want to thank the guys at ESBG Design for their efforts. Each year we challenge them to create a livery that represents both ESM and Patrón. They've out-done themselves this year in showcasing the Patrón brand in new and bold ways."