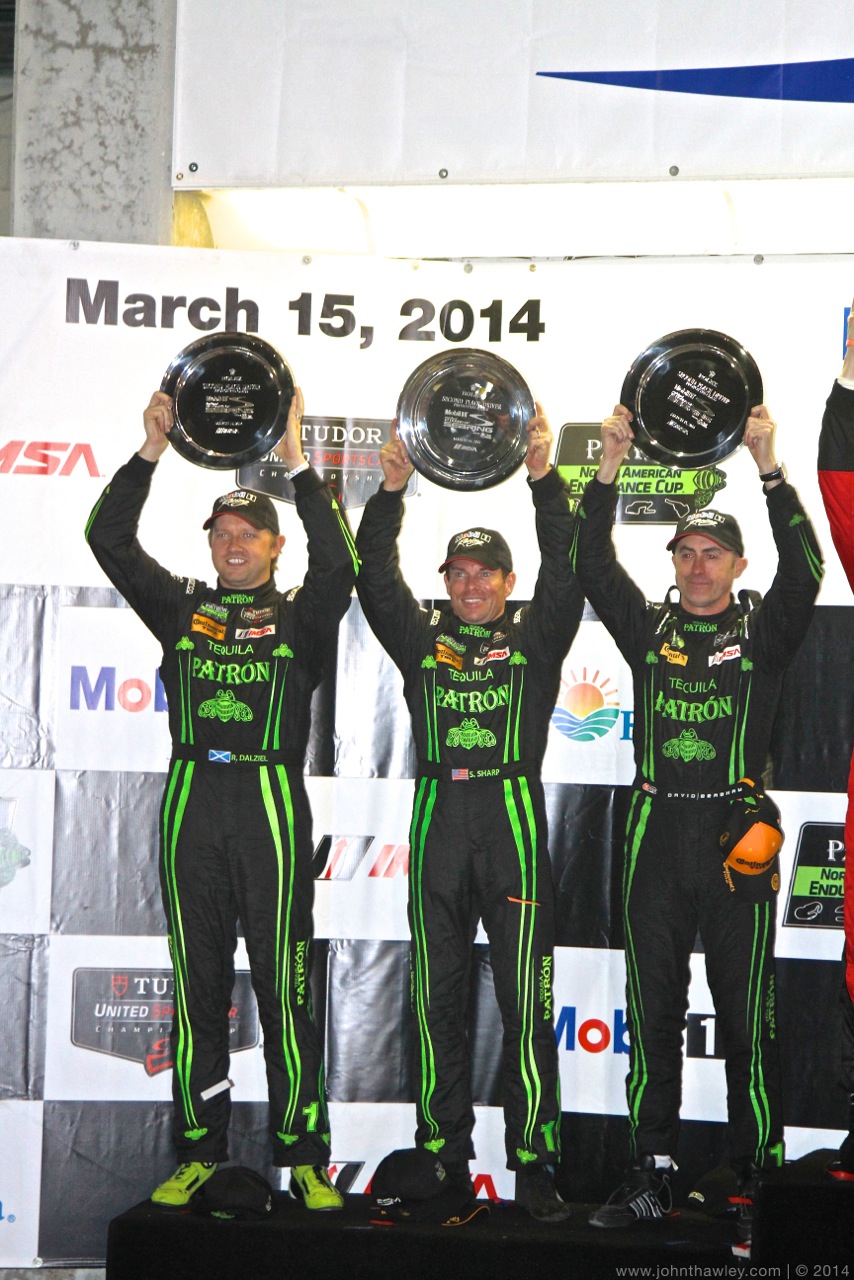 Best ESM result at Sebring with second and fifth place finishes
SEBRING, Fla., March 15, 2014 – Extreme Speed Motorsports (ESM) set a new team record at the 62nd Mobil 1 Twelve Hours of Sebring Fueled by Fresh from Florida as both of the Tequila Patrón-sponsored teams and drivers finished in the top-five at Sebring.
Scott Sharp, Ryan Dalziel and David Brabham, co-drivers of the No. 1 Tequila Patrón Honda Performance Development ARX-03b (HPD) finished second.
Ed Brown, Johannes van Overbeek and Simon Pagenaud, co-drivers of the No. 2 Tequila Patrón Honda Performance Development ARX-03b (HPD) finished fifth.
At the six hour mark of the event, Dalziel was leading the race. He led for the majority of the stint and turned the car over to Sharp for his second stint of the race.
Sharp battled the traffic following his driver change pit stop sequence and was shuffled back in the standings. As the afternoon turned to evening, Sharp turned the car over to Brabham.
Brabham charged to the front of the field to lead the race during his stint. As the cooler evening hours progressed, the No. 1 machine was improving with each lap turned. With less than two hours to go, the final driver change was made and Dalziel would complete the race.
Dalziel reclaimed the race lead at 8:49 p.m. and led for 30 minutes before the caution flag was shown for a prototype car that was off track. While under caution, Dalziel pitted and relinquished the race lead to Marino Franchitti in a Daytona Prototype. The caution lasted slightly longer than 30 minutes.
Once the race was back to green and with 18 minutes remaining on the race clock, Dalziel was running second. Despite running faster lap times than Franchitti, traffic prevented Dalziel from catching the first place car before the checkered flag.
The No. 2 car also battled traffic and had a rollercoaster ride up and down the leaderboard.  Pagenaud took the overall race lead near the seven hours completed mark (5:30 p.m.).  Similar to the No. 1 machine, as evening drew near, the No. 2 Tequila Patrón race car was showing better speed than the competitors.  Pagenaud completed his stint and turned the car back to van Overbeek.
In his second stint, van Overbeek led for nearly 40 minutes, and then around 6:30 p.m., he tangled with a GTD car.  That contact dropped van Overbeek from first to eighth.  Van Overbeek pitted for the team to inspect the HPD and determined the only damage was to the side pod. A quick bit of repair and he was returned to the track.
Pagenaud returned to the No. 2 machine with approximately two and a half hours remaining.  He continued to battle traffic and reached as high as third place.  Pit stop sequences and traffic prevented Pagenaud from advancing further than fifth position.
This marks the second consecutive top-10 finish for the No. 2 team.  In Daytona, Pagenaud, van Overbeek, Brown and Anthony Lazzaro finished in seventh place.
Next on the schedule for Extreme Speed Motorsports is the Tequila Patrón Sports Car Showcase at Long Beach scheduled for April 11-12.
Scott Sharp
"We finished second and fifth and we are happy about that.  The entire ESM Patrón team did a fantastic job.  The No. 2 car had a great day and unfortunately had a little bit of contact and they would have been right there shooting it out for the win.  David and Ryan raced the No. 1 car to the front and did an incredible job.
"We just were very unfortunate with the yellow.  If the Ganassi No. 01 car was two-thirds of a lap down and or the yellow never came, they wouldn't have been able to gain the ground and catch us, so we would have won.  Unfortunately the yellow came.  They pitted before the yellow and it was a good move on their part and everyone pitted behind them. Once that No. 01 car was in the lead, they turned it up and flew.
"This is great for us.  It was a rebound off our Daytona finish.  We gained valuable points in the Tequila Patrón North American Endurance Cup, so all good.  The cars, for the most part, are in one piece.  That's all good news looking ahead at Long Beach."
Ed Brown
"The team did great today.  It is a little frustrating because I felt like both cars were strong all day long.  The outcome wasn't what we wanted.  To get second and fifth is a good thing at a 12 hour race.  We would have liked to see both cars podium, but it just wasn't in the cards today.
"I think we showed what kind of team ESM is today and how good we really are.  We'll just keep on fighting.
"One of the best things about today was that I learned it is fun to drive in heavy traffic at speed but it takes immense concentration."
Ryan Dalziel
"Scott, David and I were on a mission to win that race.  Every time we got into the car, we seemed to get to the front.  It was just one of those weird races where I definitely thought going into the last stint that we were going to be the car to beat and stay up front.  Just the way the yellow fell and the No. 01 was in front of us, it didn't quite go the way we wanted it to go on the restart.
"I have to thank and give massive credit to the ESM Patrón team for their hard work.  As the second race of the Tequila Patrón North American Endurance Cup, it is good that we got some points back and we're in the hunt for that championship.  This is the home track for ESM, so I'm glad to be on podium, but sometimes you just feel robbed when you have a second place finish like this.  We're happy about it and it is good to get things back on track here.
"On the restart, we were so far behind with the race traffic that it took a good bit of time getting beyond the other competitors.  That car was fast and Marino was doing a great job.  I'm sure at some point we could have reeled him in, we were chipping away at it.  I think we were the better car, but that's the way it goes.  We did everything we could do in our power as a team.  Everybody did a fantastic job and I'm very happy to be part of it."
Johannes van Overbeek
"The No. 2 car had a really good 12 Hours of Sebring; we were racy all day.  Ed did a fantastic job during his stint and kept us in the mix.  Simon drove the wheels of the car during his stint.  My opening stint was great before turning over to Ed.  Then in my second stint I was able to lead the race.
"It is too bad we tangled a bit with that GTD Audi; that set us back a little bit, but we were able to stay on the lead lap and recovered to finish fifth. All in all, it was a good event, not a great event for us.  But at least it proves that we're a solid team and in this series to win.
"To finish in the top five at Sebring is an achievement and it is just a little disappointing because both the ESM cars led the race today.  To finish, as a team, second and fifth is kind of a letdown.  The series is doing its job of balancing the performance.  We know we have the equipment and driver talent to win races and that's what we plan on doing."
David Brabham
"We can't be too disappointed with a second and fifth place at Sebring.  This was a really strong effort. We're obviously a little bit disappointed because we really felt we had a chance to win.  We all wanted to win this one, but that Ganassi car was just too quick at the end.  There wasn't much we could do.  We gave it everything that we had.  It was a great race.
"As the cooler conditions came, the car seemed to respond quite nicely to it; it was fast and that's why we could race so hard at the end.  We got caught out with the yellow right at the end, which allowed the Ganassi car to get in front.  Whoever was going to lead the last stretch to the flag was probably going to win it.  We were in a really good spot to win because we were running up front the last hour or two.  Then that yellow came out and put behind and there was nothing we could do.
"I think it is great that we had a fantastic crowd this race.  We put on a show for them.  Let's hope the come back next year and we'll have another go at it."
"For the fans watching, there was some awesome dicing going on out there and it was great to be part of it.  We earned good solid points.  This helps kick start the season for the No. 1 car since we didn't get many points at Daytona.  This gives them good momentum for Long Beach."
Simon Pagenaud
"It was good.  The car was the best it has been for us.  The ESM Patrón team prepared the car really well. We were strong and competitive.  We didn't have any mechanical issues or anything seriously damaging to the car.  It was a strong performance from the team with both cars.  I'm really happy to see the No. 1 car finish on the podium.  We thought they had that win locked it, but the strategy and unlucky yellow changed it.
"We were competitive and ran up front all day and we finished fifth overall, so that's a really good result for the team and HPD."
####