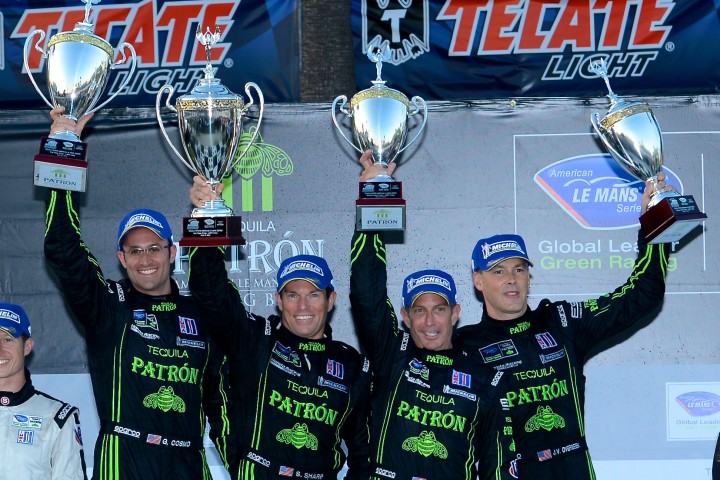 LONG BEACH, Calif. – Saturday, April 20, 2013 – A short two months after transitioning into the purpose-built Honda Performance Development (HPD) ARX-03b racing machines, Extreme Speed Motorsports (ESM) earned its first P2 victory and first team 1-2 finish today.
Scott Sharp and Guy Cosmo, co-drivers of the No. 01 Tequila Patrón HPD ARX-03b won Saturday's Tequila Patrón American Le Mans Series at Long Beach.  Ed Brown and Johannes van Overbeek, co-drivers of the No. 02 Tequila Patrón HPD ARX-03b finished second.
The 1-2 result was the first in ESM history, Guy Cosmo earned his first ESM win and Ed Brown and Johannes van Overbeek scored their first ALMS P2 podium finish.
The quick two-hour sprint race was a challenging yet manageable task for the Florida-based sports car team.  Guy Cosmo started the race for the No. 01 Tequila Patrón HPD from the second position.  Within 15 minutes of the green flag, Cosmo had taken the lead in the P2 class.  Shortly after the 40 minute mark and during the first caution period of the race, the No. 01 team radioed for Cosmo make a full pit stop including the driver change.
During a yellow flag pit stop, Scott Sharp climbed aboard the No. 01 machine and had an issue with the car re-starting.  A slight delay in the pits, followed by some quick thinking and Sharp was able to re-fire the car and return to the race.
Sharp completed two laps before the caution flag was shown for the second time in the race.  Based on the team's fuel calculations, the No. 01 machine needed to save fuel or pit a second time in order to make it to the checkered flag.  Sharp pitted for a splash of fuel, which was enough to ensure the HPD entry would reach the end of the race and claim victory.
Ed Brown had a strong opening stint in the No. 02 Tequila Patrón HPD.  Brown started the race in fourth and gained a position before turning the car over to co-driver Johannes van Overbeek, just after the 40 minute mark in the race.
During his stint, van Overbeek worked his way from third to first and led the P2 class at one point, but when the checked flag flew, the No. 02 crossed the finish line in second place, just behind the No. 01.
Tune into to ABC on 1 p.m. ET on Sunday, April 21 to watch ESM battle for the P2 win during the Tequila Patrón American Le Mans Series at Long Beach.
Next on the schedule for the Extreme Speed Motorsports is the American Le Mans Monterey scheduled for May 9-11, 2013.
Scott Sharp
"It felt great taking the checkered flag today.  Honestly, this win came a little quicker than I thought it was going to.  But this is the race for us to win with Tequila Patrón sponsoring it and being Long Beach, it is probably one of the biggest and highest profile races of the year.
"This is huge.  The team has done an amazing job with the transition to P2.  The team has been flat out, so huge thanks and accolades to the team for their efforts.
"The No. 02 car made some really good moves.  They were able to get their car working better overnight from qualifying.
"Guy did a great job during his stint and took the lead.  He was strong.  Leigh Pettipas (No. 01 engineer) had a great strategy call in that we were the only team to top off (fuel) under yellow and that ended up being a really good move.  From there, we rode to the checkered flag.
"When I first climbed into the car, we had a little issue.  The wheel wouldn't quite get on, so we couldn't start the car with the start button on the wheel. I then went to the back-up starter on chassis and it started with that.  We couldn't figure out what was going on, so there was a little bit of confusion.
"History shows with our team that we're going to get better and better.  We've got to get some solid testing under our belt which won't happen until after Laguna. It is important for us to stay close to Level 5, bring both cars home in one piece, learn as much as we can and we accomplished all of that.
"Racing against Johannes was great.  I knew we'd treat each other fairly on the track. He was cool and it was way early in the race.  We were both conserving fuel.  I knew I had stopped and he hadn't, so he probably needed to be really conservative or needed to stop.  It was fun because we haven't gone wheel-to-wheel before in a race."
Ed Brown
"It was hard to know what to expect this week because we didn't get much track time.  We haven't really been in the cars very much.  I did a pretty good job; I got up to speed pretty quick.
"When the first caution flew when I was in the car, I knew I was good as long as I concentrated and didn't make any mistakes so we were going to be on the lead lap when I came out of the car.
"I'm happy for the No. 01.  I wish the fuel was a little bit different because my teammate was reeling in the No. 01 car pretty good.  I think we had a chance to win the race.  A 1-2 at Long Beach, we'll take 1-2s all day.
"I learned a lot today in the car from a street course standpoint. We'll carry that knowledge onto Laguna and see what we can do from here.
"We're still on a long term plan. We're getting ready for next year and things that we can do in the new series.  But at the same time we want to win as many races as we can.  The plan for the No. 02 is to stay clean and out of trouble and we could be right there for the championship at the end of the year."
Johannes van Overbeek
"I'm thrilled. Obviously, you want to win because once you get to second you think about the things that you could have done different to get to first.  Ultimately, it is about the team and to have ESM Patrón on the 1-2 on the podium, the first time this has happened, it was a great job by all.
"Congratulations to Scott and Guy.  To finish on the podium at such a hard short race says volumes about the team.  Ed did a great job and this is his first podium in ALMS.  I'm glad to be a part of it.
"My stint was a little frustrating. We had a different strategy than the No. 01.  We led for a while and I had to go to a fuel conservation map and we ran much slower than we wanted.  We decided we couldn't race on the slow map, so we went to the fast map and had to stop for fuel.  We finished second, but had the pace to win.
"Racing against Scott was different today. He is one of the best in the business.  I knew no matter what, if I didn't have to stop it wouldn't have been an easy pass for sure.  Of all people you don't want to take out, it is the boss man.  I knew we had to stop, so I was letting him know I was sporty, but I wasn't going to take any chances.
"Long Beach has always been good to me, as has Laguna.  I'm happy with the result and looking forward to racing at my home track next month."
Guy Cosmo
"I said I wanted to win this race and we did!  Plus, I did what I said I was going to do – I drove it to the front and I handed it off to Scott in first place.  I love when things go according to plan.
"It was a great race.  Scott Tucker in the Level 5 car did a great job and fought me hard for that position.  We were in traffic and I just got a better run on him coming out of the hairpin.  We moved around some GTC cars and I was in his draft and was able to get by.  He pinched me pretty tight, like a driver should, but he was really clean and fair. From there I was able to set the pace, we had a few more yellows and my fun was over pretty quickly.
"It was fun to pass through the pack and get up into the lead and hand the car off to Scott nice and clean. He did a great job finishing and here we are celebrating our first win in the P2 class.
"I still love Long Beach.  Next year I want to finish the race and take the checkered flag.
"This is our second race in the P2 cars.  We have a lot more to learn with these cars.  If we can just get through Laguna unscathed, then we have a big break.  We're going to do some testing and really learn these cars and keep improving."
####