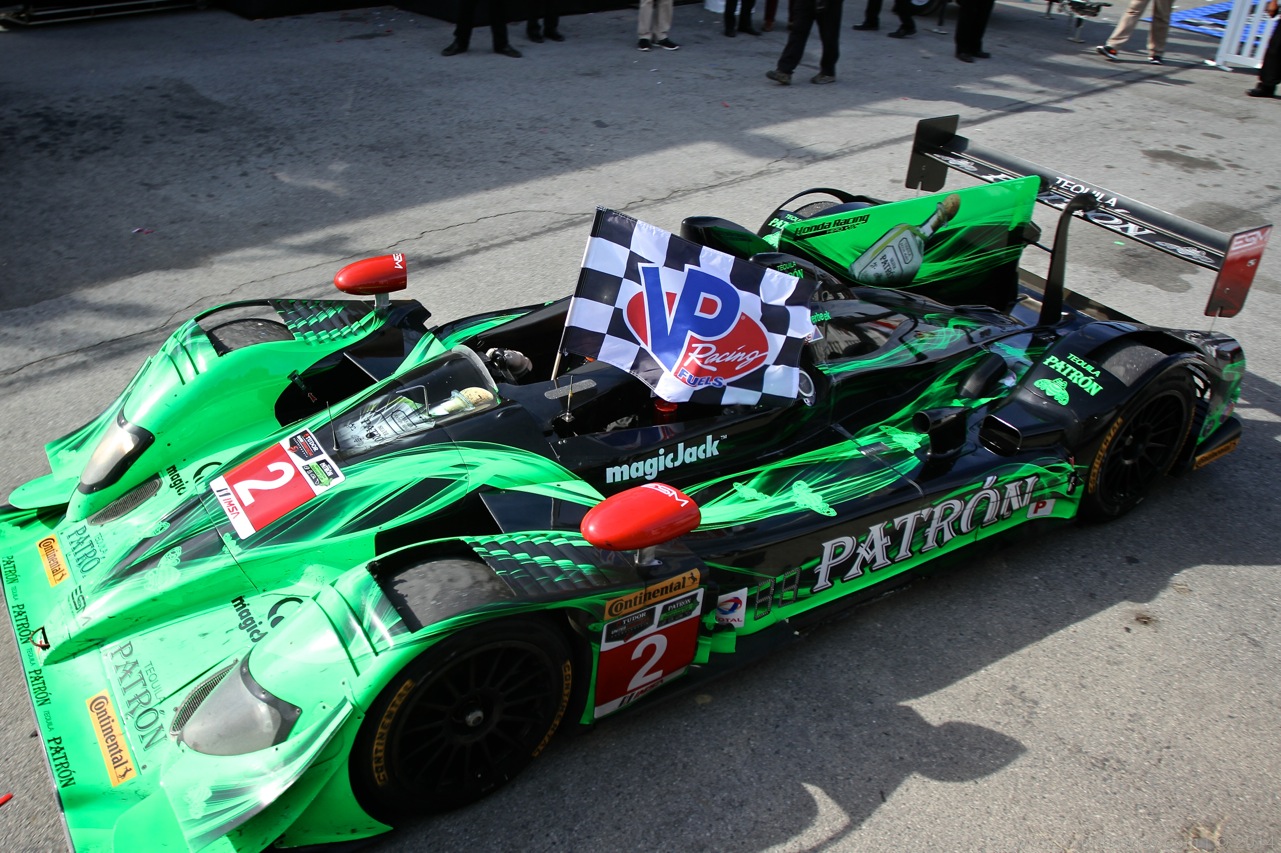 First overall win for Extreme Speed Motorsports; First career win for Brown
MONTEREY, Calif., May 4, 2014 – Extreme Speed Motorsports (ESM) won today's Grand Prix of Monterey at Mazda Raceway Laguna Seca and set a number of historical marks in the process. The No. 2 Tequila Patrón Honda Performance Development ARX-03b (HPD) of Ed Brown and pole-winner Johannes van Overbeek claimed the first overall victory for ESM in the TUDOR United SportsCar Championship.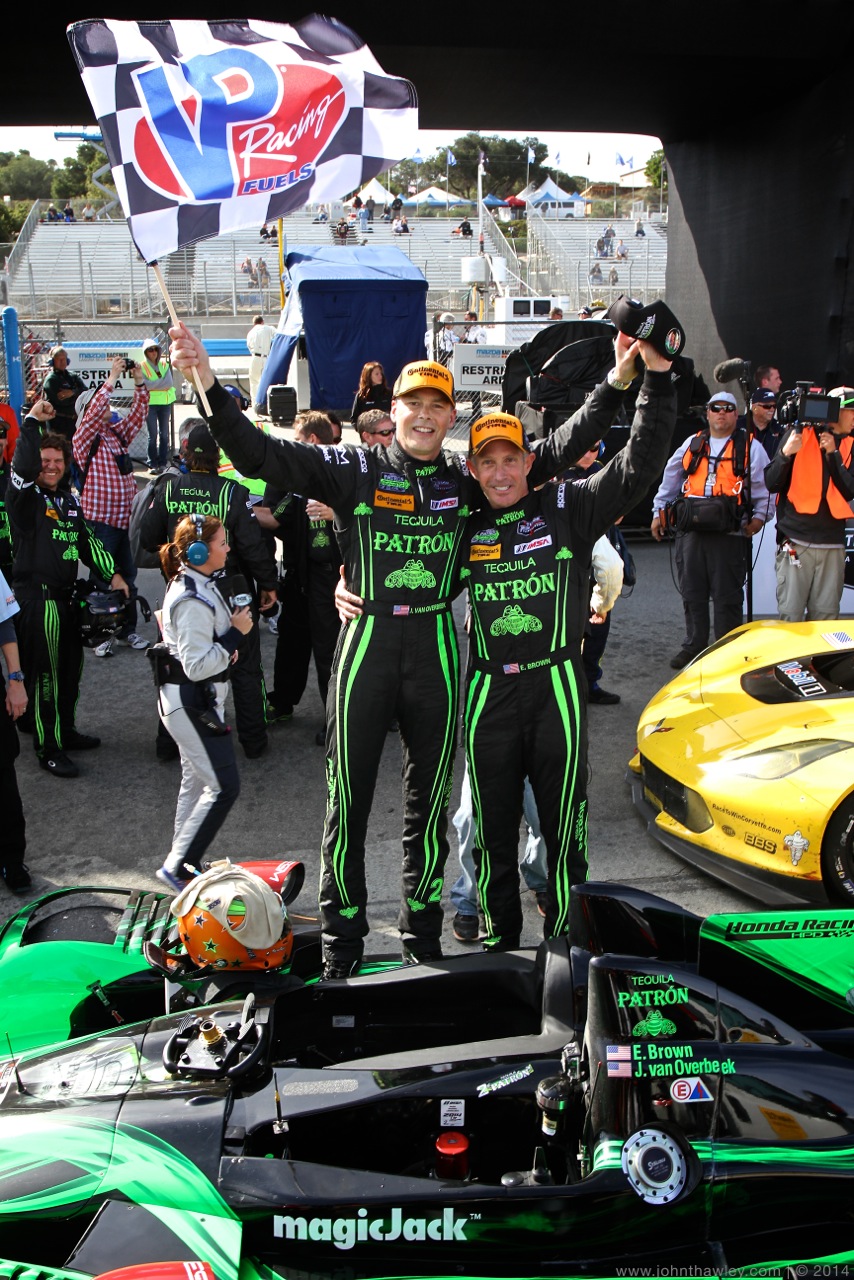 It was the first win for the duo of Brown and van Overbeek. On Saturday, van Overbeek, from Oakland, Calif., won his first overall pole position and brought home the win on Sunday afternoon in a caution-free event. He made the winning pass with 15 minutes to go.
Brown was the starting driver for the No. 2 machine. In a career-best run, Brown was competitive and kept a top-10 position throughout his 22-minute stint before turning the car over to van Overbeek. The team pitted under green and was shuffled back in the field.
At the start of his stint, van Overbeek was scored 12th and improved his position with each lap. In 13 laps, he was running fifth. Then 16 laps later, van Overbeek was the race leader.
Looking to out-strategize the competition, the team called van Overbeek to pit for fuel at Lap 50, shortly after the race's mid-point. Following the pit stop, the No. 2 machine fell to third with 50 minutes remaining on the race clock. That's when van Overbeek began his second charge to the front.
In a battle with a DP car, van Overbeek planned his move. By Lap 76, he was back in the lead with less than 15 minutes to go. Once in the lead, van Overbeek never looked back and went on to win the two-hour event.
Scott Sharp started the day for the No. 1 Tequila Patrón HPD. At Lap 25, Sharp moved into third and was the race leader by Lap 28. He pitted for a scheduled driver change on Lap 30 and turned the car over to Ryan Dalziel.
Dalziel posted some of the quickest times of the race and reached the second position. On Lap 45, he was experience mechanical issues. By the time he reached Turn 7, Dalziel identified the problem was in the gearbox. He stopped and was unable to complete the race.  Despite not finishing the event, the No. 1 team was scored in 11th place.
Next on the schedule for Extreme Speed Motorsports is The Raceway at Belle Isle Park in Detroit, Mich., on May 30-31.
Scott Sharp
"This was a fantastic day for the ESM Patrón team. It was a fantastic weekend for us to qualify first and third, then for Ed and Johannes to win. This is tremendous. They did a great job and checked all the boxes. The crew did a great job preparing the car; pit stops and everything went to plan. Ed did the best driving stint he's ever done in his career. Then Johannes made some great moves and brought the win home. Congratulations to them.
"As far as our car, I don't know what to say. This is our third gearbox problem this year.  It is putting a damper on our points totals. It would have been nice to be 1-2."
Ed Brown
"I had a good stint. We tried to analyze what I was going to do on the start. I basically hit the throttle and go as hard as I could coming out of Turn 11. Whatever happened down in Turn 2, my instincts would kick in at that point.
"My confidence grows every time I get in the car and I start to prove to myself that I can run with these guys. When I settled in and a few of them got by me, then I decide no other cars will pass me. I felt comfortable. We had a great car; the crew did a terrific job all weekend. We were in really good position.
"It was a tough weekend for the No. 1 car. They had one of the fastest cars out there. It is unfortunate that they keep having these gearbox issues. Their day will come this year. Great work by both crews, they keep digging.
"This is my first win and I don't think it has sunk in yet. To beat the best drivers in the world, I'll take that.
"When Johannes and I win, it is big. This is our first win as teammates and the first overall ESM and Tequila Patrón win. It is hard driving the car, but it is really hard not being in the car because it is more nerve-wracking. At least when you are in the car, you are in control of things and when I'm sitting there, waiting and hoping that my teammate is doing his job. Then the other factors, as fuel and traffic, but it all worked out perfect."
Ryan Dalziel
"This was not the result we wanted for the No. 1 car. But it was rewarding to be competitive and run up front all weekend. I couldn't be happier for Johannes and Ed and the No. 2 crew.
"It was great day for Tequila Patrón and ESM since this was the team's first win of the year, first overall win and first win for Ed. I'm already looking forward to rebounding at Detroit."
Johannes van Overbeek
"From the outside, it probably looked pretty easy, but inside is another story. I was more nervous when Ed was in the car. He did a great job and put us in a great spot, and then I got in.  I tried to be clean and knock off good laps and I figured if I kept doing that and stay clean, we'd be toward the front when it was near the end. There were no yellows; my hat is off to all the drivers out there.
"I could not be happier. This is my home race. I thought I was cursed at Mazda Raceway Laguna Seca because I've come so close to winning so many times. To win with Ed, Tequila Patrón and ESM, it is just fantastic.
"I'm proud of Ed for starting from pole and fending off the field. He's the one that put us in a position for the win. Thanks to the crew as well; our pit stop and driver change was flawless.  All of our practice is paying off."