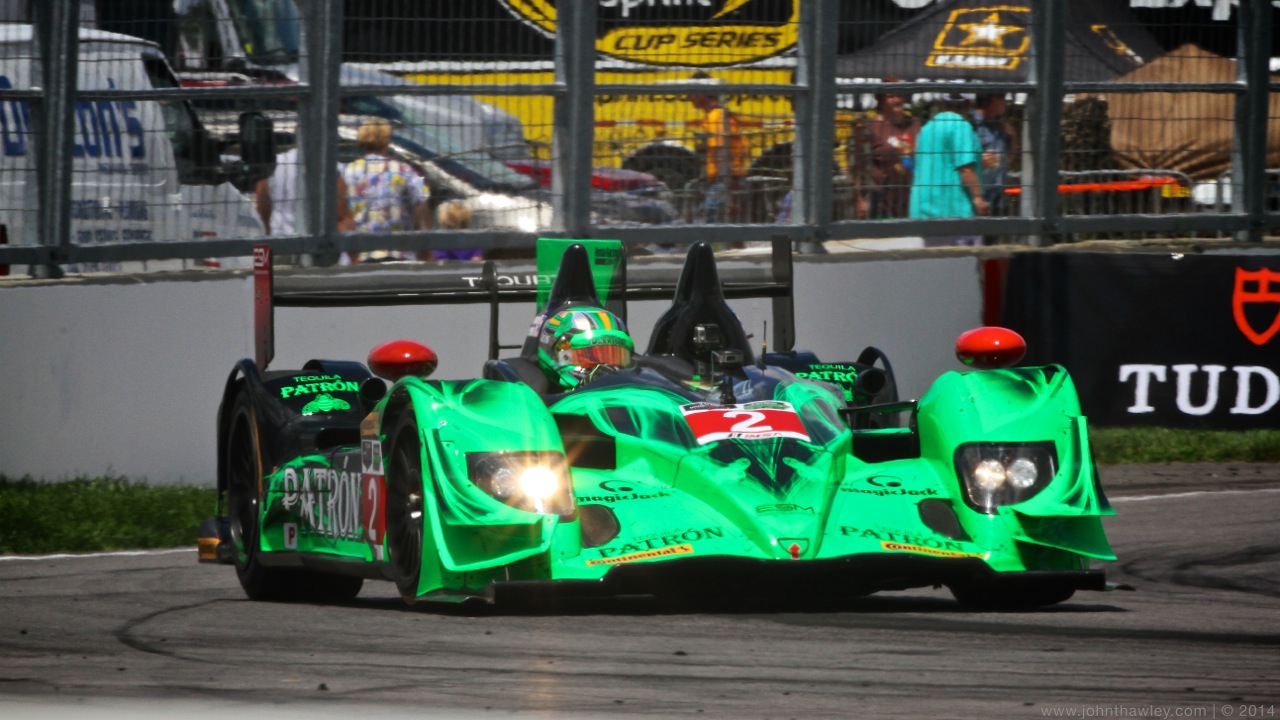 INDIANAPOLIS – July 25, 2014 – Following a promising start to the weekend as the two fastest cars in opening practice and sweeping the front row in qualifying, Extreme Speed Motorsports' (ESM) Brickyard Grand Prix proved to be challenging. With less than 10 laps to go, both Tequila Patrón-sponsored Honda Performance Development ARX-03b (HPD) pitted for a splash of fuel to reach the scheduled race distance. In the end, the ESM machines finished fifth and seventh.
In its Indianapolis Motor Speedway debut, ESM earned its first front row sweep in TUDOR United SportsCar Championship competition, appropriately on National Patrón Tequila Day. The team was confident it had exorcised the mechanical and electrical gremlins that arose in the two previous rounds of the TUDOR Championship. The front row start was a step in the right direction.
From the pole position, Scott Sharp led the field to green in the No. 1 Tequila Patrón HPD. Sharp battled with the leaders and settled into a steady second place pace. The second caution flag of the race took place on Lap 24, which started as a debris caution and turned into an extended caution in order to repair the race track from an earlier incident. Taking advantage of the caution, Sharp pitted for fuel, tires and a driver change to Ryan Dalziel. This stop was earlier than the team anticipated and altered fuel strategy for the balance of the race.
Dalziel began running lap times quicker than the leaders and reached a race-high of third place. He pitted again on Lap 65 and Lap 98, both for fuel and tires. The third and final pit stop, for seven seconds of fuel, took place with less than 10 minutes left. Dalziel was running fourth at the time of the stop and returned in seventh position. In the end he was able to improve two positions and finish fifth.
Ed Brown took the opening stint for the No. 2 Tequila Patrón HPD. Brown held his ground on the front row against the hard-charging field. In a similar strategy to the No. 1 machine, Brown pitted on Lap 26 for tires, fuel and a driver change to Johannes van Overbeek  in hopes of setting a different fuel strategy from the rest of the field, yet similar to the sister No. 1 machine.
During his stint, van Overbeek also needed to pit twice – on Lap 68 and then again on Lap 106. The last stop came with two laps to go and van Overbeek running second. Four seconds of fuel later, he returned to the track and finished seventh.
Next up for Extreme Speed Motorsports is the Continental Tire Road Race Showcase at Road America in Elkhart Lake, Wisc. on Aug. 8-10.
Video: Johannes van Overbeek on-board turn-by-turn description of Brickyard Grand Prix.
Scott Sharp
"We had a really good car; we had a great weekend. We had great practice sessions and the front row for the start. We were a little bit worried. The long straightaways and the power advantage the DPs have, as usual, enables them get through traffic better. Somehow we used a lot of fuel on the No. 1 HPD in the middle of the race and made us have to pit early and take on more. A couple of the DPs didn't pit and those that did, pitted later and took less fuel, which made for a shorter pit stop. Fifth was the best we could do in that kind of scenario.
"We were hoping for a late yellow; we wouldn't have had to pit. We could have gone to the end. We were running third and quicker than the second-place car. It could have made for a big shootout but there was never a yellow.
"I'm proud of the ESM Tequila Patrón team. We put both cars on the front row. We didn't have to battle any gremlins this weekend and it looks like we have two damage-free race cars. We can learn from this and have a better weekend at Elkhart Lake."
Ed Brown
"The start was intense. I got lucky because I went to the outside; it was open and that got everybody off kilter a little bit, but we settled in. I kept the leaders in sight.
"It was a frustrating day. The team did a great job on both cars. We had a problem-free race, nerve-wracking because when you're playing the fuel game that makes it even more intense. Both cars did really well. It is a hard fight out there on track.
"We wanted a green finish to the race, which we had, but we needed to avoid that late splash of fuel. We were in fourth place until we had to pit for fuel. If we didn't have to pit, it would have worked out like we wanted and we could have been on podium."
Ryan Dalziel
"We were faster than the leaders, but unfortunately we can't overtake them. It was a very frustrating day. I had to take too many risks to keep up with the leaders and it caught me out. I feel bad for the guys.
"This makes for a couple of races now where we've qualified well and we thought we had the car to beat. Then when it comes to race pace, the DPs definitely manage to stretch their fuel and run better in traffic. It is a hard one to take today, but we'll regroup and go to Road America.
"When we run the same top speed as the GT cars, we have to take bigger risks on the brakes to pass them. It's risk the DPs don't have to take because they can pass them in a straight line. It is the nature of the rules and the P2. We have to pass them on the straights and that's been the struggle for us this year. I think today was probably one of the harder ones to take based on the potential we had. If the whole race was green, maybe that would have helped us a little bit. That first long yellow really hurt us."
Johannes van Overbeek
"We were trying to make it on fuel mileage. But we didn't quite save enough and came up a lap short. We went from fourth to seventh on that last pit stop for fuel. It was a tough race, traffic was challenging. The car was very difficult in traffic.
"Both cars finished the race, so that's a step in the right direction. It is still a bit frustrating. To have two cars on the front row and then to finish fifth and seventh is a little bit anticlimactic."
####