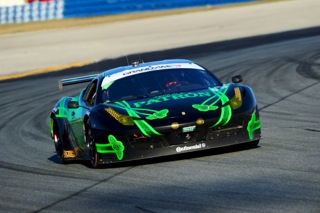 STUART, FL – September 7, 2012 – California racer Mike Hedlund will make his second Extreme Speed Motorsports (ESM) start this weekend aboard the No. 03 Tequila Patrón Ferrari 458 Italia alongside his mentor and ESM regular, Johannes van Overbeek.
The duo will contest the Continental Tire Sports Car Festival at Mazda Raceway Laguna Seca on Sunday, September 9, the 12th race on the 2012 GRAND-AM Rolex Sports Car Series schedule.
Both drivers are based in California. van Overbeek hails from Oakland, while Hedlund's internet company is based in Redwood City. The pair looks to conquer the challenging 2.238-mile, 11-turn road course, and their GT competitors, during the two hour and 45 minute sprint race.
Hedlund and van Overbeek competed at Mazda Raceway Laguna Seca earlier this year, during the six hour American Le Mans Series (ALMS) presented by Tequila Patrón event in June.  Piloting a Porsche in the GTC class, Hedlund qualified second and finished sixth.  In the GT class, van Overbeek and co-driver Scott Sharp qualified the No. 01 Tequila Patrón Ferrari 458 Italia in sixth position and finished in fifth.
Hedlund made his ESM GRAND-AM debut in July's Sahlen's Six Hours of The Glen at Watkins Glen International in upstate New York.  During the race, Hedlund and co-drivers Guy Cosmo and van Overbeek qualified 14th in the GT class and finished the event in fourth position, the best GRAND-AM finish this season for ESM.
van Overbeek isn't just Hedlund's co-driver at ESM, but for more than a year has coached the up-and-coming driver.  The coaching has paid off with performance, especially at Mazda Raceway Laguna Seca, where in 2011, Hedlund won a race, finished second and scored a pole position in two IMSA GT3 races.  Hedlund's career continued to advance to the season opener of the GRAND-AM Rolex Sports Car Series, the 2012 Rolex 24 at Daytona, finishing 23rd in the GT class.
The Continental Tire Sports Car Festival at Mazda Raceway Laguna Seca is a three-day event on the famed Monterey, Calif circuit. The team practices on Friday and Saturday, September 7-8.  Qualifying takes place on Saturday, September 8 at 2:50 p.m. (ET).  Green flag for the race is on Sunday, September 9, at 3 p.m. (ET). Live race coverage will be available starting at 3 p.m. ET on SPEED.
Johannes van Overbeek
"I'm looking forward to running with Mike at Laguna Seca. Both of us are very comfortable with the track and the GRAND-AM race will mark the second time this year that both of us will be racing there in a professional series.
"I expect us both to be quickly up to spec in the ESM/Patrón Ferrari 458 and fighting at the front on Sunday for the win. I can't wait!"
Mike Hedlund
"I'm very excited to be racing at home this weekend. For the last four weeks I've been out testing and racing from Florida to Belgium and it's great to be back home! It'll be fantastic having friends and family at the track supporting us.
"Preparing for my second race with ESM has been the same as my first: a lot of time analyzing data and video and getting as much seat time as possible. At Watkins Glen I felt that I was too conservative in my race stints and it cost us a shot at the podium.
"I'm looking forward to driving as hard as I can all weekend and learning as much as possible. Having Johannes as a co-driver means I'll end the weekend a better driver than I started it!"