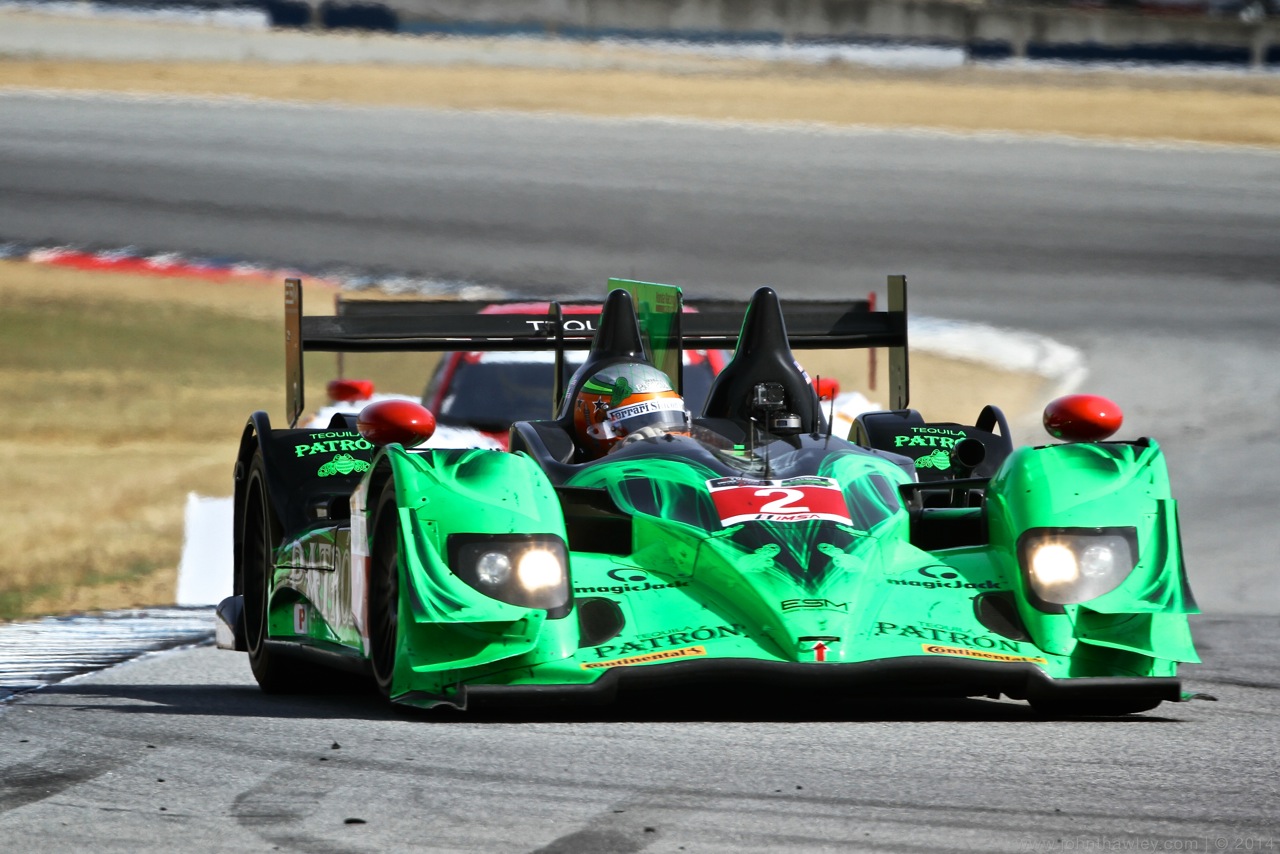 First overall pole for ESM; No. 1 car starts third
MONTEREY, Calif., May 3, 2014 – Extreme Speed Motorsports (ESM) showed its speed on Saturday afternoon at Mazda Raceway Laguna Seca with pole position for Sunday's TUDOR United SportsCar Championship race. Johannes van Overbeek in the No. 2 Tequila Patrón Honda Performance Development ARX-03b was the fastest qualifier in a battle between the two ESM prototypes.
The Oakland, Calif., driver won his first overall pole position with a time of 1:18.561 (102.555 mph), which established a Mazda Raceway Laguna Seca qualifying record for the Prototype category. In addition, it was ESM's first overall TUDOR United SportsCar Championship pole position. Back in 2012, van Overbeek earned a GT class pole at Virginia International Raceway.
During the brief 15-minute qualifying session, van Overbeek and Ryan Dalziel in the No. 1 Tequila Patrón HPD ARX-03b swapped the lead several times. Dalziel eventually qualified with the third-fastest time with a 1:18.788 (102.259 mph) lap around the 2.238-mile, 11-turn circuit.
Ed Brown will start Sunday's race for the No. 2 team and van Overbeek will drive second. Scott Sharp will start in the No. 1 machine and Dalziel will drive second.
The day didn't start as the team planned. Following a traffic-filled opening session, ESM was uncertain about the performance of the prototypes and were fourth and sixth in class. In the second session, both machines shot to the top of the charts. In a preview of what was to come in qualifying, the two black and green machines traded the top spot several times. When the second session was complete, van Overbeek was quickest and Dalziel was third.
Sunday's two-hour Grand Prix of Monterey is the fourth race in the 2014 TUDOR United SportsCar Championship. Green flag is 2:45 p.m. PT.
Live flag-to-flag coverage of the Grand Prix Powered Monterey starts at 5:30 p.m. ET on FOX Sports 1. The race will also stream live on IMSA.com.
Johannes van Overbeek
"It is good to get a pole position here at Mazda Raceway Laguna Seca. The lap was good. It was hard to tell how the laps were going time-wise because the predicted lap timer didn't work. I wasn't sure where we were relative to everyone else – which lap was good or which wasn't.
"It was great and the car was improving with every lap. I think that bodes well for tomorrow's race. I felt confident and comfortable in the car, so tomorrow's race should be fun.
"This is my first pole here. I've come close so many times in endurance sports car series and to get it here at my home track is very rewarding. Starting in the front is always an advantage, and here Mazda Raceway Laguna Seca is no different. You can stay out of trouble running up front.
"The ESM Patrón guys have been hustling all year. We're starting to figure out the Continental tires. The long, fast corners definitely suit this style of car. We're still not as fast on the straightaway but we can make it up in other places."
Ryan Dalziel
"This is a great result for the team with the No. 2 car in P1 and we're P3. This is good for Johannes because this is his home track, so it is always nice to get a pole at your home track.
"We had a couple of small issues in our car but realistically, I think we have the car to win. We're looking forward to the race tomorrow, and it is refreshing to see our cars up front and it looks like we have a fighting chance here at Mazda Raceway Laguna Seca.
"I'm hoping for a good, clean race tomorrow and a good result that will help us get back on track for the championship.
"I think the majority of the race will be green. I don't think there will be many incidents but you can always count on gravel traps causing a yellow. My prediction is a fairly green race, because the longer the race stays green, the better it is for us. We're hoping for a green race."
####