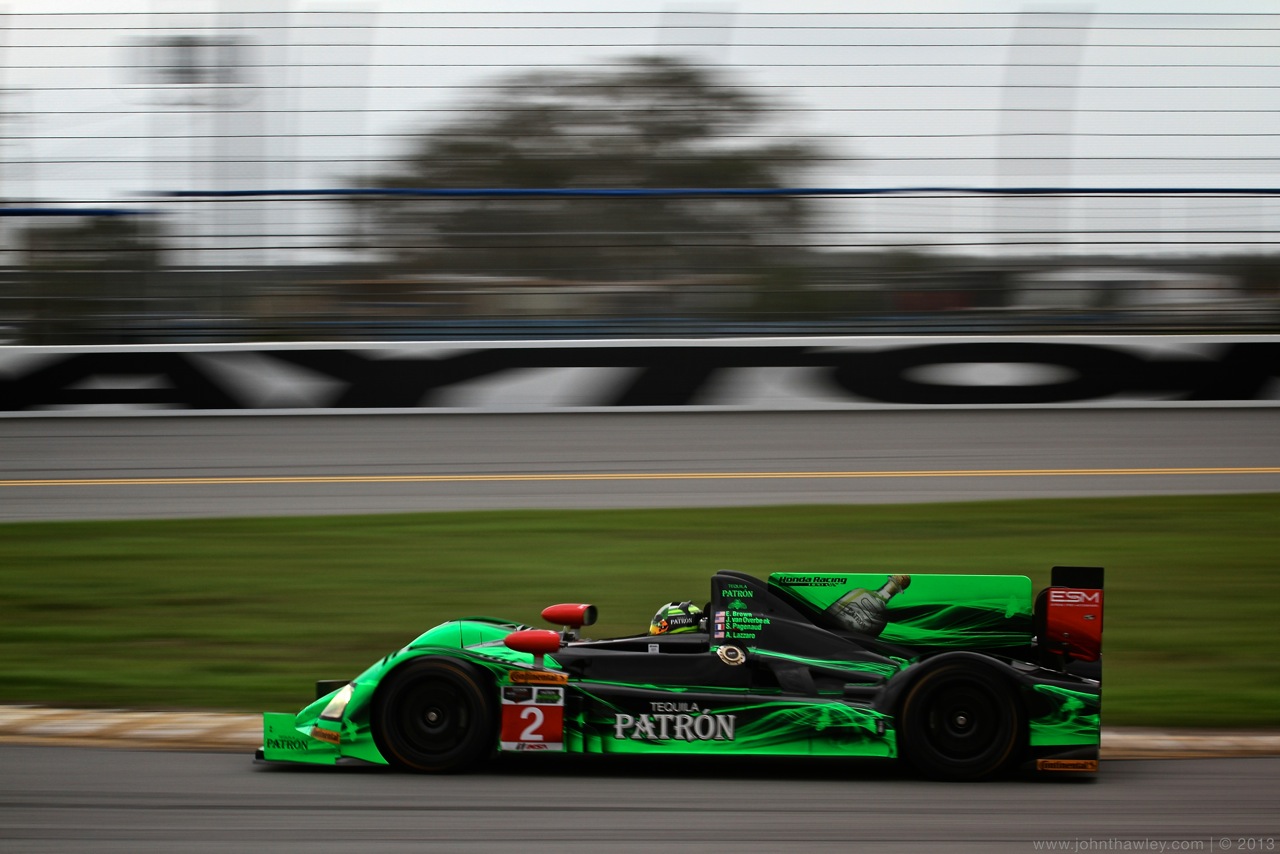 DAYTONA BEACH, Fla. (Jan. 4, 2014) – Ed Brown, co-driver of the No. 2 Tequila Patrón Honda Performance Development (HPD) ARX-03b, turned his first laps of the 2014 TUDOR United SportsCar Championship season today during the Roar Before the Rolex 24 at Daytona International Speedway.
Brown teams with Johannes van Overbeek in the Tequila Patrón-sponsored prototype machine.   The two full-season drivers will be joined by Anthony Lazzaro and Simon Pagenaud for The 52nd Rolex 24 At Daytona on Jan. 25-26, the inaugural race of the TUDOR Championship.
Brown talks about the test session, his outlook on the season and today's official announcement naming Tequila Patrón as the entitlement partner of the four-race North American Endurance Cup and Official Spirits Partner of IMSA and the TUDOR Championship.
Q: TODAY WAS YOUR FIRST TIME IN THE RACE CAR THIS YEAR. HOW WAS IT?
Ed Brown: "It was good.  I'm comfortable here at Daytona.  We had two great sessions today putting laps on the car.  We're making progress and moving in the right direction. This track is pretty straightforward. We have one more day here, and we're making continuous improvements and gains on these race cars.  We'll be in good shape for the race."
Q: WHAT ARE YOU LOOKING FORWARD TO THIS SEASON?
Ed Brown: "We're looking to get podium finishes and wins for both cars.  Johannes and I had a couple of chances to win last year and just missed it.  We earned a few podium finishes and we're looking to build on that this year.  We know where the opportunities are for us to excel and win, and we're going to take the right chances to get those wins.  I'm looking forward to driving with Simon Pagenaud and racing alongside Anthony Lazzaro again.  I think it is going to be a good year for ESM and Tequila Patrón."
TEQUILA PATRÓN CONTINUES ITS INVOLVEMENT WITH SPORTS CAR RACING.
Ed Brown: "Yes, Tequila Patrón will be featured as the entitlement partner for the 'championship within the championship' in the Tequila Patrón North American Endurance Cup.
"It would be fitting to have one of the ESM cars win the North American Endurance Cup because Tequila Patrón is sponsoring it this season.  The key to winning the endurance races is finishing and gaining as many points as possible.  The endurance races are long events and anything can happen.  If we do our jobs as drivers and the team does its job, we should be in good shape not only for the Tequila Patrón North American Endurance Cup, but for the overall championship title."
WHAT ARE YOU GOALS FOR THE 2014 SEASON?
Ed Brown: "My goal is to continuously improve as a driver.  There are many aspects to winning, but it is also being fast every time you get in the car and getting up to speed as quickly as possible.  Those are things I'll work on all year.
"This is going to be an exciting year.  There are an impressive amount of cars entered for Daytona and that's a great way to start the season.  It should be a fun and exciting season for the drivers, teams and spectators."
Testing resumes on Sunday beginning at 10:15 a.m. ET, and includes an afternoon session from 2:30-3:30 p.m.
####