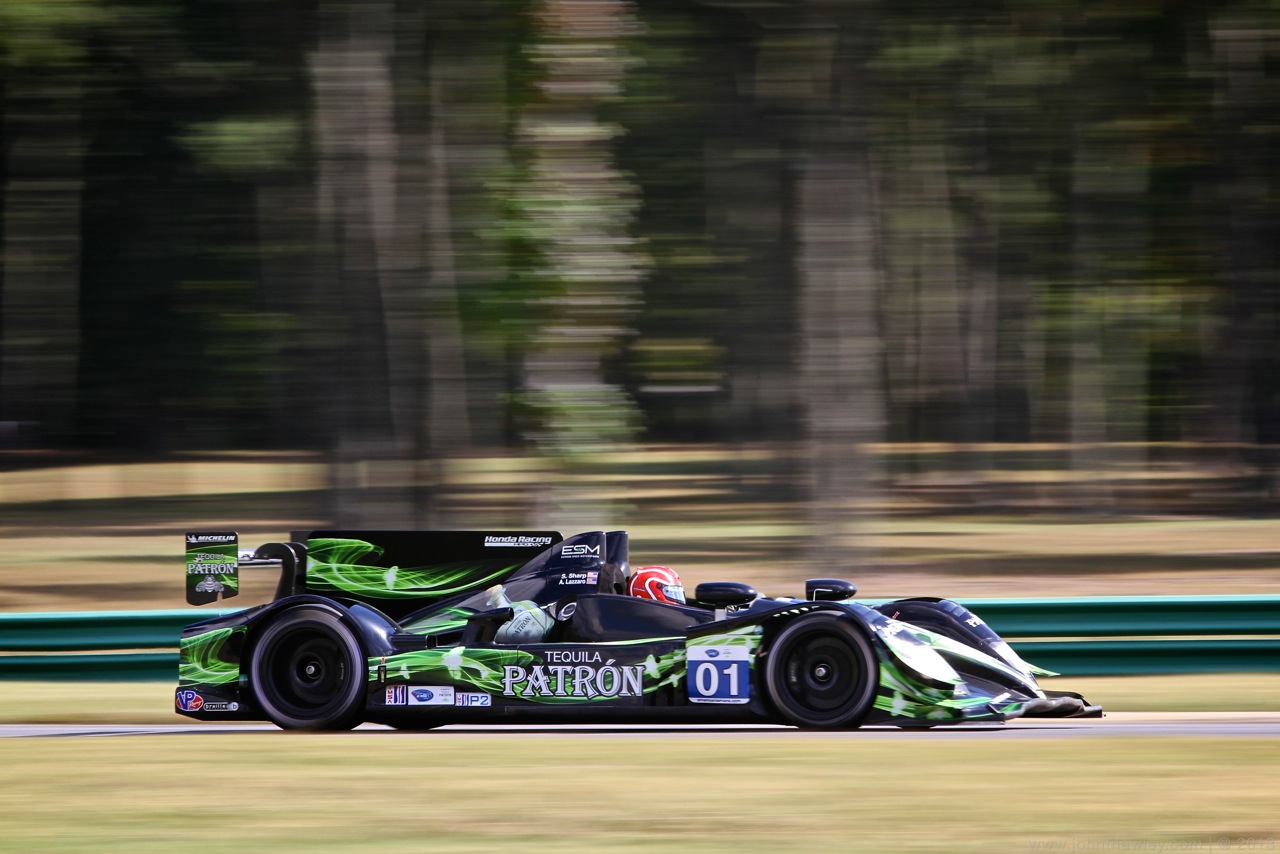 Alton, VA – Oct. 5, 2013 – Extreme Speed Motorsports (ESM) had a rollercoaster day at Virginia International Raceway – that ride culminated with a satisfying second place finish and disappointing fourth place finish caused by a fire that ended the day for the Tequila Patrón-sponsored prototype No. 02 car.
From the fourth position in the P2 class, Anthony Lazzaro, co-driver of the No. 01 Tequila Patrón Honda Performance Development (HPD) ARX-03b, battled traffic in the opening moments of the race.  Lazzaro pitted for fuel during the first full course caution of the race, just 21 minutes into the two-hour, 45-minute event.  A brief 21 minutes later, Lazzaro charged to the lead of the P2 class.  He would lead the class for the balance of his stint, another 30 minutes, before turning the car over to co-driver Scott Sharp.
Sharp battled traffic through his entire stint and managed to maintain the class lead for 20 minutes.  He was shuffled back in the P2 class during yellow flag pit stops. Sharp was running in second place for the balance of his stint, unable to catch eventual P2 class winner Ryan Briscoe because of race traffic.
The opening pit stop strategy with Lazzaro proved beneficial to the No. 01 team.  Team calculations determined the race car had a half liter of fuel at the end of the race.
Ed Brown, co-driver of No. 02 Tequila Patrón Honda Performance Development (HPD) ARX-03b, began the race from the third position in the P2 field.  Brown reached a race-high position of second place in the P2 class through his entire 61-minute stint.
Brown brought the No. 02 machine to pit lane for the scheduled stop including fuel, tires and driver change.  During the pit stop, there was a small fuel spillage during refueling which caused a fire.  Van Overbeek was inside the cockpit during the incident and quickly exited the race car.  The team quickly extinguished the fire, and then van Overbeek climbed back aboard and attempted to rejoin the race.
On his out lap, van Overbeek radioed the crew and informed them he was experiencing issues with the throttle.  With assistance, van Overbeek brought the car back to the Tequila Patrón paddock area where team engineers inspected race car.  Upon further review, the team confirmed the fire ignited under the engine cover and melted the wiring.  The No. 02 officially retired from the race after one hour and 36-minutes were completed.  Brown and van Overbeek were listed fourth in the P2 finishing order.
The American Le Mans Series presented by Tequila Patrón Oak Tree Grand Prix at Virginia International Raceway will be televised at 5:30 p.m. ET on Sunday, Oct. 6 on ESPN2.
Next up for the Extreme Speed Motorsports is the season finale Petit Le Mans at Road Atlanta on Oct. 16-19.
Scott Sharp
"Overall, we made some good improvements to the car.  The team did a great job with the pit stops.  Strategy was as good as we could do it.  I think I had a half liter of fuel left in the car.  It was a great job to Leigh Pettipas and Brian Sakata (team engineers) for that.
"We had a quick car, just not quite as quick as Ryan Briscoe (Level 5).  It seemed like I was just kept getting screwed in traffic.  I would catch the GT or the GTC cars in the corners and he'd get them on the straightaways.  I would watch myself lose a second-and-a-half to two seconds that lap, then the next lap I was in traffic.  Briscoe was able to get lucky with traffic and we weren't.
"It was a great rebound and good points.  We're still in the thick of things. A lot can happen in a 10-hour race.  Overall, I'm pretty happy for the No. 01 team this weekend.
"It is a shame with what happened on the No. 02 side.  Ed drove one of his best stints.  He had the car in a good position before turning it over to Johannes, who probably was going to have a really good stint.  It is a shame with the fuel that went all over the car and started a fire.  They were on a role.  That team is running great and Ed is driving his tail off."
Ed Brown
"I was having another good race.  It is frustrating because everybody works hard.  Anybody that doesn't think this is a team sport doesn't understand that every single person has to do exactly what they have to do to.  If one person doesn't it results sometimes in not being able to finish the race.
"We keep making strides.  Johannes and I are frustrated because we've had two races that we thought we were poised to be able to win or at least get second and we've had issues that put us out.
"The good thing is that we're going to our favorite track next.  This season owes Johannes and I, so hopefully we'll get paid back with a lot of luck at Petit.  That will make up for a lot of the stuff that has happened."
Johannes van Overbeek
"There was a fueling problem and we caught fire.  I wasn't sure how big it was.  So, once I started seeing flames, I got out.  Luckily nobody was hurt.  As a result, the throttle was melted.  I did an out lap and we were out of the race.
"We had a good car – all our practices were strong and qualifying was alright.  Yet another DNF for us, that's unfortunate, but we need to get better for Petit."
Anthony Lazzaro
"The PC cars were fighting me a little too hard at the beginning of the race.  One of the PC cars was making it really difficult for me and moving over.  When I was going by, he hit the rev limiter so his car stopped accelerating. As I was going by I ripped off a piece of his bodywork.
"Other than that, it was tough to get by the Level 5 guys because the DeltaWing was holding us all up, so I was able to take advantage in traffic and get by Scott Tucker finally.  I pulled out a bit of a lead, and then the yellow came.  It was real dicey on the restart through traffic.  I struggled with overall grip.  The qualifying tires were used already and I think a set of stickers would have done the car pretty good.
"Overall, our Patrón P2 car was good. I was running conservative and wanted to make sure I led, didn't make any mistakes and turn it over to Scott in first place, which is what we did.
"Compared to where we started Thursday with practically no track time at all, this is a good result.  Fortunately, Scott had tested here.  This is only the third time I raced at VIR in 11 years, with the last time in 2007.  In 2002, we won our class, so it is nice to be back on the podium this weekend.
"Scott drove a heck of a race.  I'm glad I started because this is his championship and he controls his destiny when he's in the car.  He was battling Briscoe and he got a bad break.  I feel bad for him and the team because we would have had a shot at the win, for sure.  I think he could have held off Briscoe if he was leading because it is tough to pass around.  He put a fight to him.  It was good to see Scott drive like that."