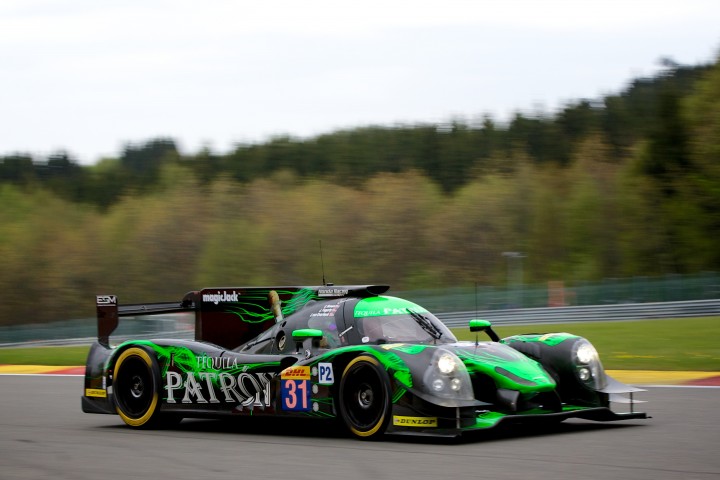 Riviera Beach, Fla., – Aug. 27, 2015 – Tequila Patrón ESM returns to its familiar Patrón green and black-livered Ligier J2 P2 race machines this weekend for the inaugural 6 Hours of Nürburgring, the fourth round of the FIA World Endurance Championship (FIA WEC).
Following two top-10 finishes at the 24 Hours of Le Mans in June, Tequila Patrón ESM drivers Scott Sharp, Ed Brown, Johannes van Overbeek, Ryan Dalziel, Jon Fogarty, and David Heinemeier Hansson are ready to attack the German circuit.
In its debut season in the WEC, Tequila Patrón ESM has experienced plenty of firsts, including competing on most of the international circuits for the first time. But this weekend's race is new for more than just the Tequila Patrón ESM team; this race is the first FIA WEC event in Germany since the series inception in 2012. Famous in its own right, the Nürburgring is host to Formula One and the 24 Hours of Nürburgring.
Tequila Patrón ESM drivers logged their first laps at the 3.199-mile (5.148-kilometer), 16-turn German facility in July. Since that test, the drivers have been mentally driving the circuit and physically preparing for the demanding race.
Feeling optimistic about the venue, the team is also more confident in the Ligier JS P2 Honda-powered machines. In 2015, Tequila Patrón ESM is the only sports car team that has competed with two different chassis in the WEC. Now in its third race with the Ligier JS P2 chassis, the team is targeting its first podium finish of the season.
Tequila Patrón ESM on Track
Friday's two free practice sessions start at noon and 4:30 p.m. Central European Time (6 a.m. and 10:30 a.m. ET.)
Saturday's on-track activity includes the hour-long practice session starting at 9:30 a.m. CET/3:30 a.m. ET.
LMP2 qualifying begins at 2:30 p.m. CET/8:30 a.m. ET on Saturday.
Green flag for the 6 Hours of Nürburgring takes place at 1 p.m. CET/7 a.m. ET on Sunday.
Where to Watch
The 6 Hours of Nürburgring will be televised globally and on the FOX Sports Network of channels.
For U.S. viewers, the 6 Hours of Nürburgring will air on Sunday, August 30:
7-10 a.m. ET — FOX Sports 2
10 a.m.-1 p.m. ET — FOX Sports 1
The race can be viewed via the FIA WEC second screen app or online at www.fiawec.com.
To listen to the 6 Hours of Nürburgring, tune into Radio Le Mans at www.radiolemans.com.
Scott Sharp
"The entire Tequila Patrón ESM team is super excited to resume our season and get the chance to race at the historic and legendary Nürburgring circuit!  We had a strong test there last month and have continued to learn the Ligier chassis.
"The circuit is incredible. It offers a wide combination of high- and low-speed sections, hard braking, multiple elevation changes and many passing spots.
"This is the first time Tequila Patrón ESM enters a WEC race weekend feeling completely prepared and on a level playing field with the other P2 competitors.  We're back to our black and Patrón green colors of Tequila Patrón, in the second most popular tequila market in world – there isn't a better place to go for two podiums!"
Ed Brown
"We are really looking forward to get back racing after the break. It has been a while and we're ready to get back into the Tequila Patrón Ligier-Hondas. We feel very good about the cars after we tested in Germany last month."
Johannes van Overbeek
"I'm expecting Nürburgring to be a good event for Tequila Patrón ESM. We've completed two races with the Ligier and are beginning to understand its likes and dislikes. We also had the opportunity to test at Nürburgring, which was helpful for driver and engineer alike.
"Learning a track for the first time during a race weekend is never an ideal recipe for success. Not having to learn the track this race will only help our chances of success. Ed, Jon and I really enjoyed the layout and left the test feeling comfortable with the track and what is needed to go quick there. The break has been nice but I can't wait to get behind the wheel of the Patrón Ligier-Honda in race conditions."
Ryan Dalziel
"It has been way too long since we raced our Ligier-Honda coupes, but even more so in the Tequila Patrón colors, so I think we are all anxious to shake off the rust and get back to work.
"We had a really good couple days testing at Nürburgring and I have to say the track is awesome. Traffic will be interesting because many parts of the track are pretty narrow, so hopefully some patience on their side so we can get through unscathed.
"This is the first track in our 2015 WEC campaign that we got to test on before the race. We really felt back at Le Mans that we needed to hit the reset button post-Le Mans and start our season off in Germany. Of the five tracks remaining on the schedule we have tested or raced at three of them, so it's 'go team' for Tequila Patrón ESM."
Jon Fogarty
"It's great that be back at the races, the summer break was something I was not used to having.  It's good to be starting the second half of the season with a track where we've tested.  I won't say I know the circuit like I do any of my home tracks in North America, but it's more familiar to me than any of the other tracks we will go to this year.
"Le Mans was a tough event, but the team brought both cars to the checkered flag, so we logged a lot of seat time and did a ton of pit stops, all of things we haven't had the opportunity to work on this year with the different cars.  I'm getting more comfortable with the Ligier, and of course we're all more at home with the Patrón green and black livery. I'm looking forward to great race."
David Heinemeier Hansson
"Nürburgring is a new day, track and chance to start the weekend fully prepared, rested and eager to show what that black and Patrón green beast can really do. We all have lots of hours in the Ligier chassis; we've tested at this track. There is no reason why we shouldn't perform to the peak of our ability this weekend and finish with both cars on the podium."
About Tequila Patrón ESM
Founded in 2010, Tequila Patrón ESM is one of the premier sportscar teams in the world. Tequila Patrón ESM's record includes two GT wins with the Ferrari Italia F458 (Canadian Tire Motorsport Park and Road Atlanta, 2012), two LMP2 wins (Long Beach, 2013 and Mazda Raceway Laguna Seca, 2014) two GT pole positions, four LMP2 pole positions and a combined 22 podium finishes.
For 2015, Tequila Patrón ESM competes in the TUDOR United SportsCar Championship and the FIA World Endurance Championship (WEC) with two Tequila Patrón-sponsored LMP2 prototypes and drivers Scott Sharp, Ed Brown, Johannes van Overbeek, Ryan Dalziel, Jon Fogarty and David Heinemeier Hansson.
####