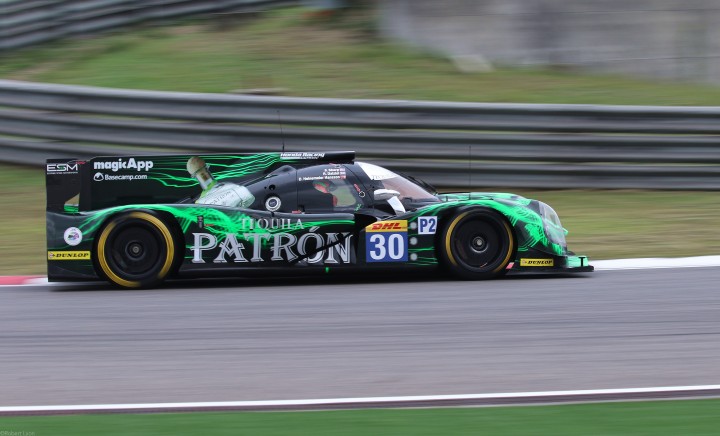 Damaged gearbox halts No. 30 team after leading laps
Riviera Beach, Fla. – Nov. 3, 2015 – Tequila Patrón ESM showed how much it has developed and improved since its debut at Shanghai International Circuit one year ago. Speed, consistency, patience and circuit familiarity proved to pay off for the Florida-based team.
In Sunday's FIA World Endurance Championship (FIA WEC) 6 Hours of Shanghai, Tequila Patrón ESM lead laps and dominated the LMP2 field. Ryan Dalziel started from the sixth position for the No. 30 Tequila Patrón ESM Ligier JS P2 Honda. Logging consistent laps, Dalziel overtook the competition and gained positions from pit strategies. By the three hour mark of the race, Dalziel was leading the LMP2 field.
Dalziel pitted and turned the car over to David Heinemeier Hansson for his stint. Heinemeier Hansson maintained a top-three run until he began experiencing issues with the race car. He pitted and the team found a damaged and unrepairable gearbox. The team was parked with just two hours remaining in the race.
The No. 31 Tequila Patrón ESM team of Ed Brown, Johannes van Overbeek and Jon Fogarty earned a sixth place finish after battling the ever-changing track conditions.
Up next for Tequila Patrón ESM is the FIA WEC season finale race, the 6 Hours of Bahrain on November 21.
For a video recap from the 6 Hours of Shanghai, click here.
Scott Sharp
"The Tequila Patrón ESM team had a fantastic day going. Ryan did a stellar job starting in the rain and putting in a long stint to almost get us to the half way point running in the top three most of the time. David jumped in and immediately got up to speed. But 20 minutes later the gearbox blew and ended our day; very unfortunate. We had a podium for sure and maybe even better.
"At least the 31 car persevered through the difficult conditions and all of the drivers pushed hard to bring the car home in sixth, so it was a good finish for the team."
Ryan Dalziel
"It was a really disappointing end to what was looking to be a great race for us. Team did an amazing job with strategy and we clearly had the car to beat in the difficult conditions. Just wasn't our day and it's been a season of bad luck but Patron ESM have the never give up attitude and we are already looking forward to Bahrain and getting the green machines on the podium."
David Heinemeier Hansson
"It's a real shame that the best pace we've shown in the race since taking delivery of the Ligiers couldn't convert into a podium, or a shot at the win, because of a mechanical failure. We got to lead this race, and I was running second when the gearbox went bust. It was a very frustrating day, but also encouraging that the pace was there. Let's finally make that podium happen in Bahrain!"
###