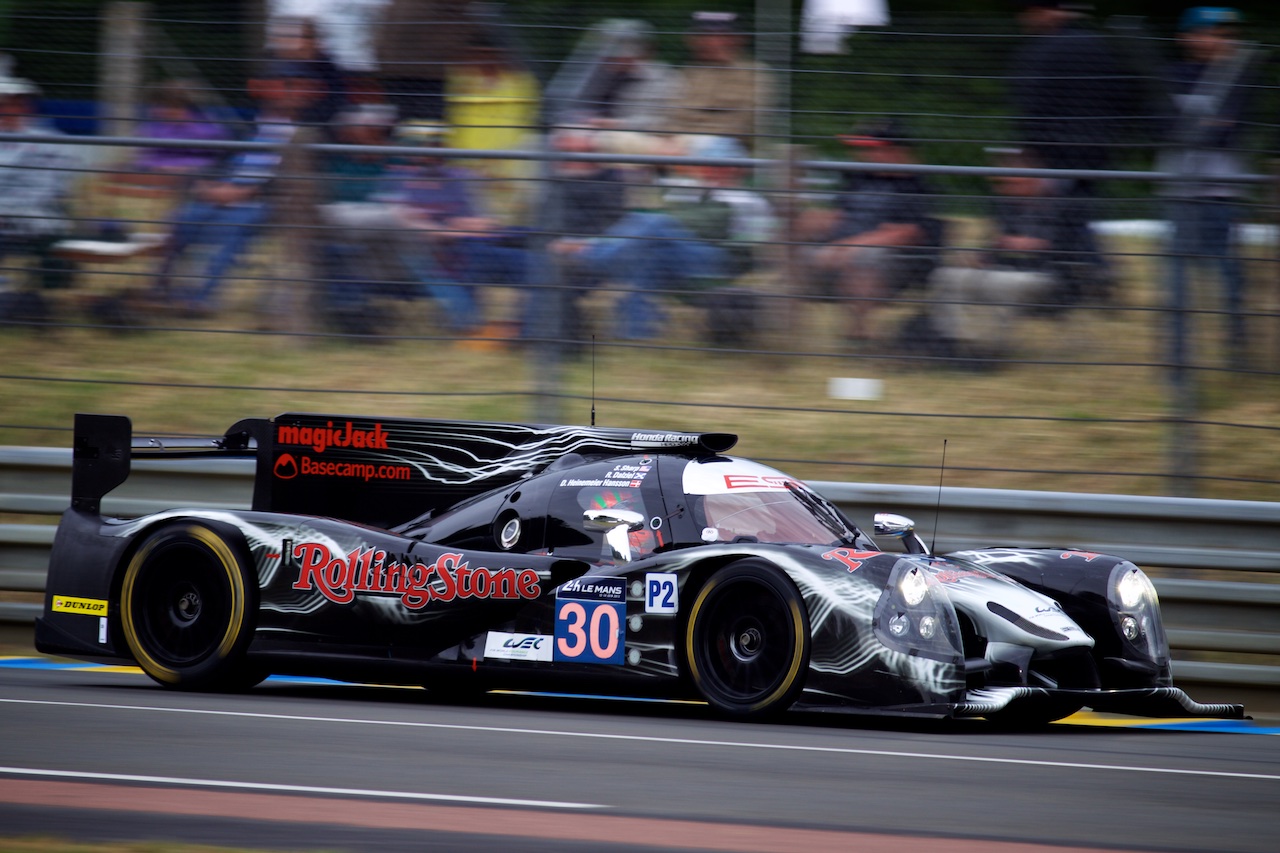 Le Mans, France – June 10, 2015 – Tequila Patron ESM made its race-week debut at the 24 Hours of Le Mans with practice and qualifying Wednesday at the 8.4667-mile (13.6259 km) Circuit de la Sarthe.
In its second race with the Ligier JS P2-Honda and Dunlop-shoed race car, Tequila Patrón ESM made additional strides in performance and development of the new racing machine since the FIA World Endurance Championship's (FIA WEC) 6 Hours of Spa in May. Less than six weeks ago, the team accepted delivery of the Ligier JS P2 machines, raced at Spa-Francorchamps and is now competing in one of the longest and most challenging endurance races in the world.
Mixed weather conditions during the four-hour free practice Wednesday afternoon was a major factor in speed and choices of wet or dry Dunlop tires. Then the evening qualifying session was cool and dry, but red flags and race traffic halted the team's pace.
Scott Sharp, Ryan Dalziel and David Heinemeier Hansson, co-drivers of the No. 30 Rolling Stone Ligier JS P2 Honda, were 15th quickest in the LMP2. Of the three pilots, Dalziel's fastest qualifying practice lap 3:44.675 (218.4 kph) is the first Le Mans qualifying time set for the team.
Ed Brown, Johannes van Overbeek and Jon Fogarty, co-drivers of the No. 31 Rolling Stone Ligier JS P2 Honda, were 18th quickest of the LMP2 class. Fogarty's lap of 3:46.165 (216.9 kph) is the first official qualifying laps set by the No. 31 team at Le Mans.
Per Automobile Club de l'Ouest (ACO) rules, qualifying sessions began with Wednesday's two-hour night session. The team has two more qualifying sessions on Thursday to improve its starting position for the 83rd 24 Hours of Le Mans.
Of the 56-entrant field, Tequila Patrón ESM is the only two-car American team in the LMP2 class.
Tequila Patrón ESM returns the Circuit de la Sarthe on Thursday afternoon for two final qualifying sessions at 7 p.m. and 10 p.m. Central European Time (1 p.m. and 4 p.m. ET).
Green flag for the 83rd 24 Hours of Le Mans is Saturday, June 13, at 3 p.m.
Ride along with Tequila Patrón ESM and Rolling Stone
Viewers will be able to watch qualifying and the race from the on-board camera mounted to the No. 31 Rolling Stone Ligier JS P2 via the FIA WEC second screen app or online at www.fiawec.com.
Where to Watch
The 24 Hours of Le Mans will be televised globally and on the FOX Sports Network of channels.
For U.S. viewers, the 24 Hours of Le Mans will air on Saturday and Sunday, June 13-14:
Fox Sports 2
June 13 – 8:30 a.m. – noon and 11 p.m. – 12:30 a.m.
June 14 – 7:30 a.m. – 9 a.m.
Fox Sports 1
June 13 – 7-8 p.m.
June 14 – 3:30 a.m. – 7:30 a.m. and 9 a.m. – 9:30 a.m.
FOX Sports GO
Flag-to-flag coverage begins Saturday, June 13 at 8:30 a.m. until Sunday, June 14 at 9:30 a.m.
The race can be viewed via the FIA WEC second screen app or online at www.fiawec.com. In addition, viewers can download the 24H Le Mans application which will provide live coverage throughout the race. Download the app at 24h-lemans.com
To listen to the 24 Hours of Le Mans, tune into Radio Le Mans at www.radiolemans.com.
Scott Sharp
"Tonight's session was good. It was our first opportunity to run at night, and you have to get used to the darkness. Every lap around this place is awesome. I'm more comfortable in the Ligier with every session. Ryan set a pretty good time earlier tonight and we were hoping to go a little faster toward the end. We're all learning and moving in the right direction.
"It is so exciting to finally bring Tequila Patrón ESM to Le Mans. We've wanted to race here since we started the team in 2010. We're super excited to be here. I'm pleased with the progress we're making. I love the car; the Ligier is fantastic. I think we have a great package. Earlier in practice, we came out with a good, strong baseline set-up and we just need to keep improving and execute a great strategy."
Ed Brown
"We haven't had many laps in the dry here, so it is difficult because usually you have muscle memory of which way the track goes. It was good. The headlight needed some adjustment, but the team will work on those and we'll see what happens.
"I love the track. I'd like to get more dry laps and find a little more speed. We'll be good for the race. We're thrilled to be here and can't want for Saturday."
Johannes van Overbeek
"Tonight was the first time I've driven the Ligier in the dry at Le Mans; this is a big learning experience. I have a lot to learn with the car and how to drive it to its potential. I'm pleased with where we are and we just need to hope the weather holds out so we get more dry running in tomorrow.
"The Ligier is comfortable to drive in the wet, but we need to get used to the visibility. It would be nice to have a dry race, but anything can happen. Whatever the weather does, it will be the same for everybody. The car looks great and is running great. We have a lot to do before the green flag on Saturday."
Ryan Dalziel
"It was a good day. The weather was intermediate – dry into wet and wet into dry, which is something we'll see in 24 hours. We learned a lot about the car. In the first practice, we were definitely close on the times and I think we missed it a little bit in qualifying trim. It was a combination of traffic and we changed the car a little. A lot of teams were out there getting a qualifying run in because it is probably going to rain tomorrow.
"All in all, the team has done a great job with the short amount of time with the Ligier. We're learning a lot. Hopefully tomorrow we can get a little bit of dry running in and the wet will be good as well because the race is looking pretty rough right now. It was a great job by everybody. I think we made some good gains in tonight's session. Hopefully, we can verify it tomorrow and if not, we have a pretty good car for the race in the dry. We were good on intermediate tires in the wet early, so either way, I think we feel pretty good right now. This has been one of the easier days for the team since we started the season and worked with three different chassis. It was nice to see everybody calm and cool."
Jon Fogarty
"I'm trying to find my way around Le Mans a bit still. Tonight's session will mostly like be our fastest session and probably set our grid position. We were pushing hard. I was still learning on my first few laps of the session. We need to find some pace. We've had a limited amount of time to run and we're working on everything. We have a plan and I think it is the right one to get us where we need to be."
David Heinemeier Hansson
"I like the night racing at Le Mans, even though I take a little longer to adjust to it. I always find that the first night practice was tough because it is dark at Le Mans. This car has decent lighting, compared to what I've driven before, but you still have to get acclimated and I can't do that in a couple laps; I need more than that. I usually love the dark and night once I've been out for a full stint.
"The car is comfortable but it is too comfortable, so we have to get closer to something that's a bit faster. We need to find a little more speed and get clean runs in. We didn't get clean runs today and the time sheets don't reflect what we're able to do. We're hoping to get some dry laps tomorrow and we'll move up the sheets. This race is about longevity and speed."
####