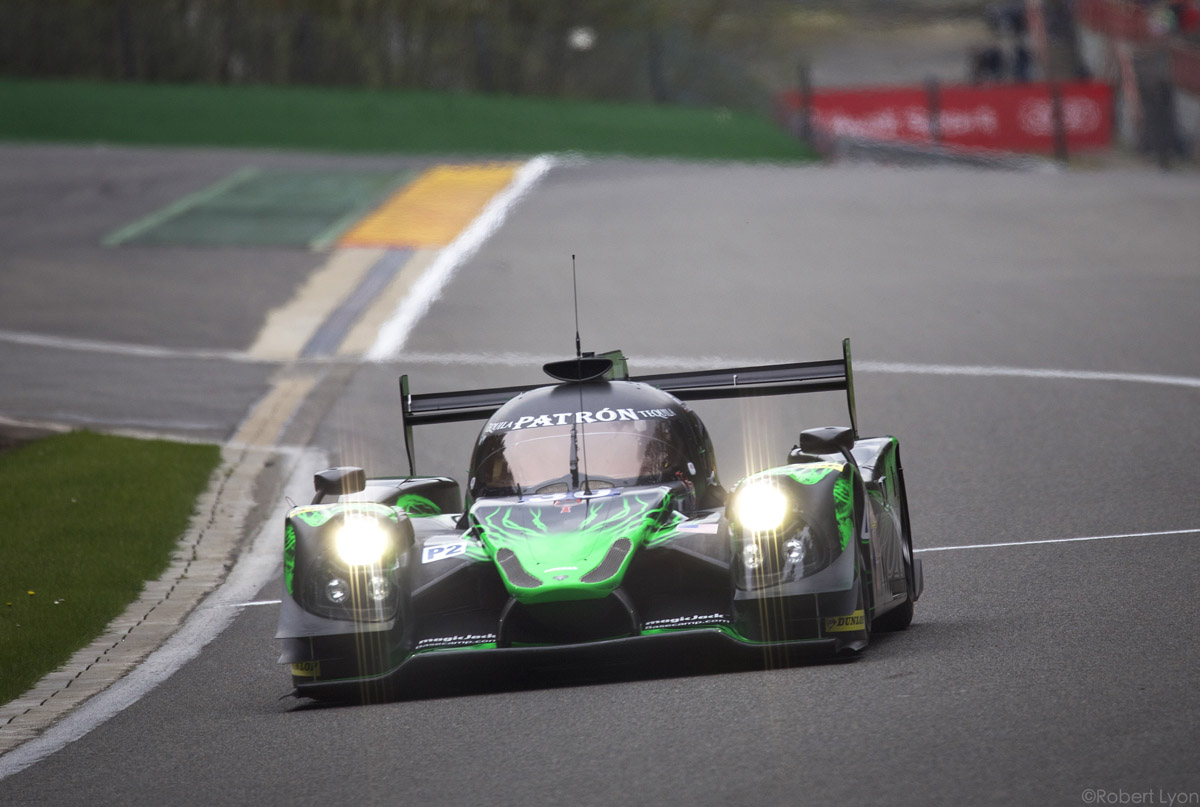 Francorchamps, Belgium, – May 1, 2015 – Tequila Patrón ESM continued its progress with the Ligier JS P2 prototype machines today during qualifying for the FIA World Endurance Championship's (FIA WEC) 6 Hours of Spa Francorchamps. Since taking possession of the race cars on Monday, Tequila Patrón ESM has tested in the rain at Magny-Cours, transported the cars to Belgium, practiced in the rain and dry, and then qualified seventh and ninth for Saturday's second round of the FIA WEC.
Today's qualifying effort continues Tequila Patrón ESM's streak of new for 2015. Tequila Patrón ESM is breaking new ground in the LMP2 class as the first team to run a Ligier JS P2 Honda with Dunlop tires at Spa-Francorchamps.
Per the FIA WEC rules, the quickest lap time from each team's two qualifying drivers are averaged in order to determine the starting position.
Ryan Dalziel and David Heinemeier Hansson qualified the No. 30 Tequila Patrón ESM Ligier JS Honda. The average lap time of the No. 30 team was 2:09.989, resulting in a seventh-place start in the LMP2 class. Dalziel and Heinemeier Hansson are co-driving with Tequila Patrón ESM driver/owner Scott Sharp during the six-hour endurance challenge on Saturday.
Ed Brown and Johannes van Overbeek qualified the No. 31 Tequila Patrón ESM Ligier JS Honda. The average lap time of the No. 31 team was 2:16.721, resulting in a ninth-place start in the LMP2 class. Brown and van Overbeek are co-driving with Jon Fogarty for Saturday's main event.
Green flag for the 6 Hours of Spa-Francorchamps takes place at 2:30 p.m. CET/8:30 a.m. ET on Saturday.
Where to Watch
The 6 Hours of Spa-Francorchamps will be televised globally and on the FOX Sports Network of channels.
For U.S. viewers, the 6 Hours of Spa-Francorchamps will air on Saturday, May 2:
8:30 – 11 a.m. ET — FOX Sports 1
11 a.m. – 1 p.m. ET — FOX Sports 2
1 – 2:30 p.m. ET — FOX Sports 1
The race can be viewed via the FIA WEC second screen app or online at www.fiawec.com. To listen to the 6 Hours of Spa-Francorchamps, tune into Radio Le Mans at www.radiolemans.com.
Ed Brown
"Trying to learn a car and track on the same weekend is ultra-complicated, especially around a circuit like Spa. We learned with every lap, but we still have a lot more to learn.
"Spa has plenty of nuances, and you have to be smart and fast to be successful here. Realistically, the most important item for both cars is that all the drivers leave Spa really comfortable in this car. We plan to run a smart race, get as many points as we can and go to Le Mans. To think we can jump in car the first week, be super-fast and race against guys that have been driving them for a year is not going to happen. We've made huge gains since Monday's shakedown. The car is fantastic. It is only going to get better."
Johannes van Overbeek
"This is our first event at Spa and today was the first day we drove the car in the dry. It is like drinking out of a firehose at the moment. I'm trying to learn the car and the track and doing it all in five laps is really tough. I'm inching up on both.
"We have a long race tomorrow to get more comfortable in the car and on the track. I wanted to go quicker, but you have a certain trajectory you have to follow. We'll be better tomorrow in the race. The car feels really good. I just need to sleep on it, do some homework tonight and hit it tomorrow."
Ryan Dalziel
"Every time we start the cars and roll them out of the garage, we're learning a little bit more. The car has been flawless; the reliability has been great. We've improved our times every session and I think there is another second in me. I'm trying to understand the car. Onroak has never been here with the Ligier and haven't made any runs with this motor on this tire. It is a learning process for everyone. The Tequila Patrón ESM guys have done an amazing job getting these cars ready to go at every session. Hopefully, we'll have a good safe race tomorrow.
'We're confident we made some decent changes from practice to qualifying. Each driver had a handful of laps in each practice and the rain yesterday didn't help. You can tell the car has massive potential. We're not disappointed in our pace today."
David Heinemeier Hansson
"Today was the first time we had a chance to run the car in the dry, which is the only way to learn a new car, you have to pull the Gs. We only just got to pull the Gs a couple of hours ago. I'm really happy with the progress we made in an incredibly short amount of time. This is the first time we could do proper set-up work in conditions similar to what we'll see tomorrow for the race.
"Our mission remains the same this weekend – to learn more about the car, so we can head to Le Mans more prepared and fight for the win there."
####