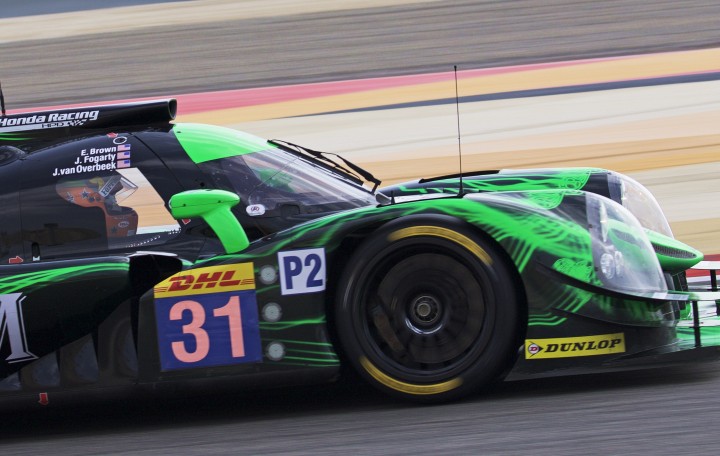 Sakhir, Bahrain – Nov. 20, 2015 – Tequila Patrón ESM qualified sixth and ninth for Saturday night's FIA World Endurance Championship's (FIA WEC) season finale, the 6 Hours of Bahrain.
Per the FIA WEC rules, the quickest lap time from each team's two qualifying drivers are averaged in order to determine the starting position.
Ryan Dalziel and David Heinemeier Hansson qualified the No. 30 Tequila Patrón ESM Ligier JS Honda sixth with an average lap time of 1:51.610. Dalziel and Heinemeier Hansson are co-driving with Tequila Patrón ESM driver/owner Scott Sharp during the six-hour endurance challenge on Saturday.
"Qualifying told the same story we've been telling all year: We just do not have the peak pace in this package," said Heinemeier Hansson. "We had a nicely balanced car that I hope will be good on tires. I personally felt I got as much out of qualifying as I've gotten all year, which is an odd feeling when you're two seconds off the pace, but at least driving around here is a pleasure."
Ed Brown and Johannes van Overbeek qualified the No. 31 Tequila Patrón ESM Ligier JS Honda ninth with an average lap time of 1:55.472. Brown and van Overbeek are co-driving with Jon Fogarty for Saturday's race.
"The team has done a great job all week and we were close to a really good setup, said Brown. "We should be good for the race. The track is very cool and has great flow, but extremely abrasive on tires. This race will be about managing the tires."
Green flag for the 6 Hours of Bahrain takes place at 3 p.m. AST on Saturday, November 21 / 7 a.m. EST on Saturday.
Where to Watch
The 6 Hours of Bahrain will be televised globally and on the FOX Sports Network of channels.
For U.S. viewers, the first five hours of the 6 Hours of Bahrain will air live on FOX Sports 1 on
Saturday, November 21, at 7 a.m. (EST), then on FOX Sports 2 will air the final hour of the race.
The race can be viewed via the FIA WEC second screen app or online at www.fiawec.com.
To listen to the 6 Hours of Bahrain, tune into Radio Le Mans at www.radiolemans.com.
####