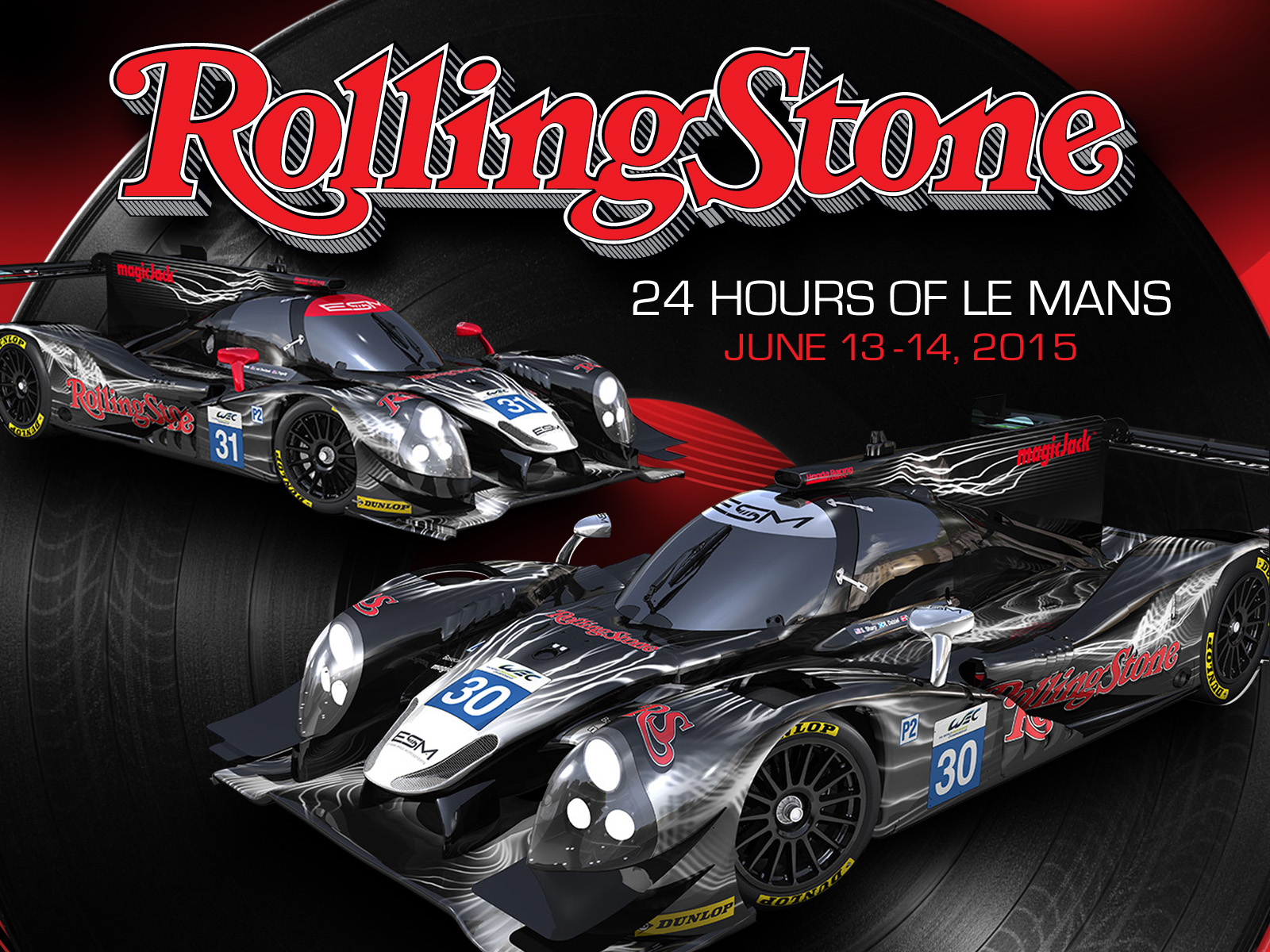 Two-car American LMP2 team set for Le Mans debut
Le Mans, France, – June 8, 2015 – In 1967, John Lennon was the cover story for the debut issue of Rolling Stone. This week, Rolling Stone is the cover story for Tequila Patrón ESM as it makes its first appearance at the 83rd 24 Hours of Le Mans. The 24 Hours of Le Mans is the fourth race of the eight-race FIA World Endurance Championship (FIA WEC).
As Tequila Patrón ESM makes its Le Mans debut, it does so as the only two-car American LMP2 team. This week, the Florida-based crew trades in its familiar black and Patrón green livery for the black, white and Rolling Stone red. The No. 30 and No. 31 Ligier JS P2-Hondas feature liveries depicting the legendary popular culture magazine Rolling Stone. The No. 30 machine features a silver roof and mirrors while the No. 31 will have a red roof and mirrors.
In March 2015, Patrón Spirits International, the lead sponsor of Tequila Patrón ESM, announced the partnership with Rolling Stone in both brands' first involvement in this world famous racing event. Tequila Patrón ESM will also appear in a short film and accompanying story for RollingStone.com and Rolling Stone magazine.
Known as the world's oldest active endurance race, the 24 Hours of Le Mans is one of the most prestigious events in sportscar racing. It is the ultimate test of man and machine as the 56-entrant field takes to the 8.4667-mile (13.6259 km) circuit, a combination of closed public roads and permanent racing track, known as the Circuit de la Sarthe.
Even though the Tequila Patrón ESM team and sponsor Rolling Stone are making their Le Mans debuts this weekend, four of the six drivers have competed at Le Mans and two of those drivers have earned class victories.
Scott Sharp, Ryan Dalziel and David Heinemeier Hansson, co-drivers of the No. 30 Rolling Stone Ligier JS P2 machine, all have experience at Le Mans. Tequila Patrón ESM team owner Sharp first turned laps at La Sarthe in 1996, in the then-World Sports Car class aboard a Riley and Scott Oldsmobile Aurora with Wayne Taylor and Jim Pace. Dalziel was the 2012 LMP2 winner with Starworks Motorsport in the Honda Performance Development ARX-03b machine. Before earning that 2012 win, Dalziel also competed in 2010 and 2013. In three attempts at Le Mans, Heinemeier Hansson continuously improved his finishing position. In 2012, while in the LMP2 class, he finished third and then second in 2013. Last year, Heinemeier Hansson earned his first Le Mans victory with Aston Martin Racing in the LMGTE-AM class.
In addition to earning the title "24 Hours of Le Mans champion", the race winners receive double championship points. The 24 Hours of Le Mans awards 50 points to the class winner. In the years that Dalziel and Heinemeier Hansson won at Le Mans, they both went on to win World Championships in their respective classes.
Johannes van Overbeek is the only driver of the No. 31 Rolling Stone Ligier JS P2 that has competed at Le Mans. He shares season-long driving duties with Ed Brown and Jon Fogarty. In four previous GT2 class appearances, van Overbeek finished third, fourth and sixth.
Now in its second race with the Ligier JS P2-Honda race cars, Tequila Patrón ESM seeks another win for Honda. The last Honda LMP2 win was in 2012 with Starworks Motorsport racing the ARX-03b machine co-driven by Dalziel. The other Honda win took place in 2010 at the hands of Strakka Racing team in the HPD ARX-01c.
Ride along with Tequila Patrón ESM and Rolling Stone
Viewers will be able to watch qualifying and the race from the on-board camera mounted to the No. 31 Rolling Stone Ligier JS P2 via the FIA WEC second screen app or online at www.fiawec.com
Tequila Patrón ESM on Track
Wednesday, June 10
Free practice – 4 p.m. CET – Central European Time (10 a.m. ET)
Qualifying practice – 10 p.m. CET (4 p.m.)
Thursday, June 11
Qualifying practice – 7 p.m. and 10 p.m. CET (1 p.m. and 4 p.m. ET)
Saturday, July 13
Warm-Up – 9 a.m. (3 a.m. ET)
Race – 3 p.m. (9 a.m. ET)
Where to Watch
The 24 Hours of Le Mans will be televised globally and on the FOX Sports Network of channels.
For U.S. viewers, the 24 Hours of Le Mans will air on Saturday and Sunday, June 13-14:
Fox Sports 2
June 13 – 8:30 a.m. – noon and 11 p.m. – 12:30 a.m.
June 14 – 7:30 a.m. – 9 a.m.
Fox Sports 1
June 13 – 7-8 p.m.
June 14 – 3:30 a.m. – 7:30 a.m. and 9 a.m. – 9:30 a.m.
FOX Sports GO
Flag-to-flag coverage begins Saturday, June 13 at 8:30 a.m. until Sunday, June 14 at 9:30 a.m.
The race can be viewed via the FIA WEC second screen app or online at www.fiawec.com. In addition, viewers can download the 24H Le Mans application which will provide live coverage throughout the race. Download the app at 24h-lemans.com
To listen to the 24 Hours of Le Mans, tune into Radio Le Mans at www.radiolemans.com.
Scott Sharp
"It is hard for me to quantify what it means for ESM to finally have the chance to come and challenge at Le Mans. The history, track, speed, tradition, atmosphere, 300,000 spectators, millions more viewing from around the world – these are some of the elements that help to create the Le Mans 24 as one of the biggest events in the world and it is a privilege to be a part of it.
"While we would love to carry the Tequila Patrón colors that have become synonymous with ESM and continue to help Patrón's global growth, it is an honor to welcome Rolling Stone magazine. Rolling Stone is such an iconic and classic U.S. brand that fits perfectly with our two U.S. entries in the LMP2 class."
Ed Brown
"I'm so excited to finally race at Le Mans, this is something Tequila Patrón ESM has been looking forward to for many years. Le Mans is the pinnacle of sportscar racing – the circuit, history, competition and spectators. We made a change to the livery for Le Mans from Tequila Patrón to Rolling Stone. We're looking forward to running the Rolling Stone colors this weekend. Tequila Patrón and Rolling Stone have a great relationship and we're excited to get these Ligiers on track this week.
"I'm really looking forward to the race; I think both cars will be very strong. The key to a successful Le Mans race is not to make any mistakes and spend the least amount of time in the pits! It's going to awesome."
Johannes van Overbeek
"It's great to be back. Le Mans gets under your skin and every driver wants to race here and win. Even though I was last here in 2008, it feels like yesterday. The test threw some challenges at us with the weather; it didn't stay the same in the wet or dry. I was able to log a few laps and felt decent in the car, but more laps would be welcome; such is the case for most people at Le Mans. I'm looking forward to the race and the adventure that it always brings.
"Le Mans is an endurance event of the first order. It's overwhelming if you think about it in its entirety. The team is in good spirits and the cars are quick. Jon and Ed are still learning the track and have done their homework since the test. I'm learning it for the first time in a prototype car. I'm looking forward to the challenge and making it to the end of the 24 unscathed. If we do, I think we'll be in a good position for a result at the conclusion of the race in our Rolling Stone hot rod."
Ryan Dalziel
"Saying I am excited about racing in Le Mans is an understatement. For me there is no other race that comes close to it. It has not been an easy season for Tequila Patrón ESM, but we had a great first outing at Spa with our new Ligier-Hondas followed by the Le Mans test, so I feel like we are well prepared. The team has done an outstanding job over the past couple of races and hopefully we can reward each and every one of the Patrón crew members with a podium. I won the race in 2012, so I know what it takes to do it. I'm pumped!"
Jon Fogarty
"It was great to finally turn some laps at Le Mans at the test and that was a great opportunity to get to know the track ahead of time and let the experience sink in before the race. The history of sportscars and endurance racing at Le Mans make it an incredibly special place. I was fortunate to get a handful of dry laps and a few in mixed conditions as well. I'm really looking forward to getting back for the race."
David Heinemeier Hansson
"Being back at Le Mans reminds us why we race.
"We've been waiting for this week all season. We would have loved to have had more track time during the test a few weeks ago, but we worked through our checklist; it was the start to an amazing month at Le Mans.
"It was a treat to be at the Le Mans test in LMP2 with the new Ligier. The new car is a substantial set forward from when I drove the Morgan there in 2012 and 2013. This week we really need to get hunkered down and show what we got. This is the biggest stage in motorsports and it is time for this team to shine for the entire world to see."
####