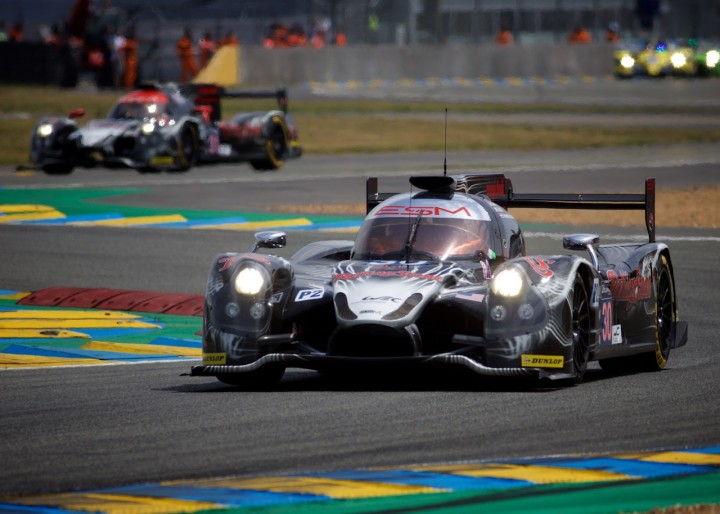 Le Mans, France – June 13, 2015 – In the first half of the 83rd 24 Hours of Le Mans, Tequila Patrón ESM overcame several challenges but remain strong heading into Sunday.
The No. 30 Rolling Stone JS P2 started from the 11th position on the LMP2 grid. Ryan Dalziel ran for an hour and pitted early to take advantage of a caution flag, which resulted in a driver change to Scott Sharp. By the second hour of competition, Sharp was hit by a fellow LMP2 competitor that resulted in cosmetic damage to the race car, but that did not halt the team's progress. Sharp completed his stint with a driver change to David Heinemeier Hansson.
Midway through the fifth hour of competition, the No. 30 team began experience issues with the oil pressure. The team inspected the race machine and determined it had an oil tank failure. The team attempted to repair the damaged piece several times and the final fix worked, however it resulted in a loss of valuable track time and position. Following the quarter-distance repair, the No. 30 began running consistent laps and working through the driver rotation. At the mid-race point, the No. 30 team was running 15th in the LMP2 class.
The No. 31 team of Ed Brown, Johannes van Overbeek and Jon Fogarty started 17th in class and experienced issues in the first half of the race as well. Brown pitted for fuel and tires after spinning in Indianapolis which damaged the back of the race car. The No. 31 replaced the entire rear of the vehicle, changed drivers to van Overbeek and continued.  After midnight, and in his second stint of the race, Fogarty made contact with the wall at the Porsche Curve and damaged the nose of the race car. He was able to drive the car back to the pits where the team replaced the nose, inspected for additional damage and send Fogarty back on track. The No. 31 was running 11th in class.
David Heinemeier Hansson
"It feels like we've done 30 hours already. We're out of contention but logging a bunch of good miles and getting more comfortable with the Ligier. It is in good shape. You can do three stints on the Dunlop tires; we just wish the car weighed 20 kilos less because the magic of the car happens in the last five laps of fuel and especially the last lap of fuel. If we could have a car like that the entire race, that would be great. But, nonetheless, Le Mans is amazing. There's tons of action and beautiful at night. We can enjoy this even though we aren't racing for anything except to finish."
Jon Fogarty
"We're coming along. We're not in contention, but we are running. We'd like to move forward on our pace and understanding of the Ligier. There are a couple cars in front of us and we might have the opportunity to move forward. I had an incident in the Porsche Curves but knew if I could get it back to the pit, get the nose change, we wouldn't lose too much time. It is unfortunate. I'm not sure what happened but the car is back together and running well now. We'll log more laps, keep our fingers crossed and see what happens in the next 12 hours."