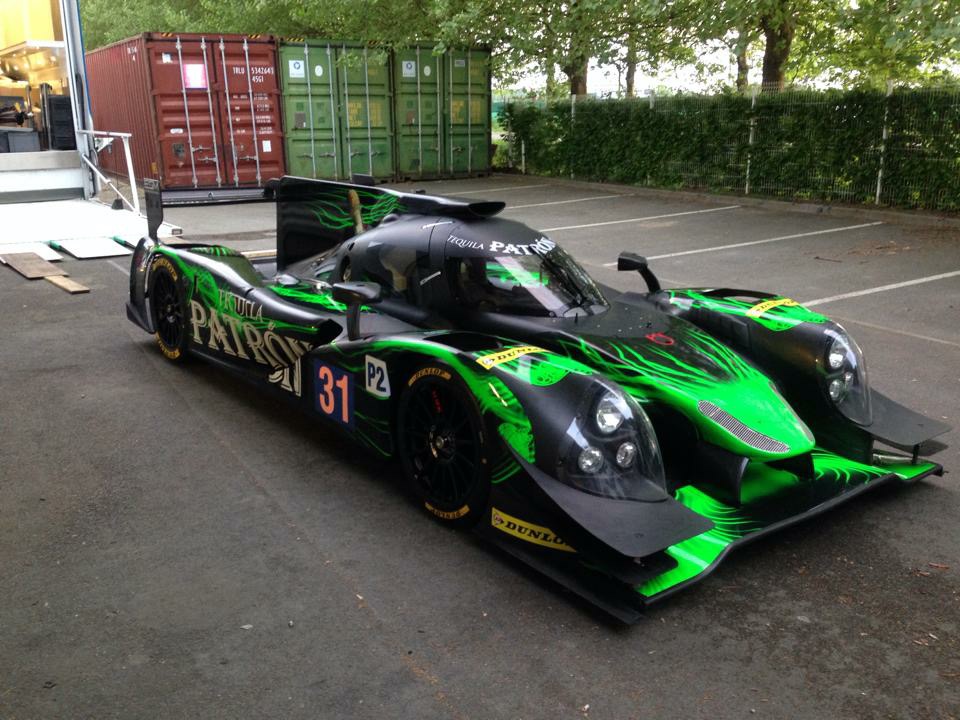 Riviera Beach, Fla., – April 27, 2015 – In a season of firsts, Tequila Patrón ESM added another to that list today – first laps in the Onroak Automotive Ligier JS P2 prototype race cars.
Tequila Patrón ESM brought the brand new racing machines to the Magny-Cours in central France today to conduct its first official shakedown and laps with the Ligiers. Today's test kicks off a week of on-track action that concludes with Round 2 of the FIA World Endurance Championship (FIA WEC) 6 Hours of Spa-Francorchamps in Belgium on Saturday.
The No. 30 and No. 31 Tequila Patrón Ligier JS P2 prototypes are powered by Honda HR28TT V6 engines, the same powertrain the team used for the 2013 and 2014 seasons of the TUDOR United SportsCar Championship, the first two rounds of the 2015 Tequila Patrón North American Endurance Cup (Rolex 24 at Daytona, 12 Hours of Sebring) and at the WEC season-opening 6 Hours of Silverstone on April 12.
"It was cold and rainy in Magny-Cours today but that didn't dampen Tequila Patrón ESM's shakedown of our new Ligiers one bit!" said Scott Sharp, driver/owner of Tequila Patrón ESM. "The entire team is impressed with the build and finish on the Ligier. All of the drivers remarked how confidence-building, even in the wet, the car was! It's a very refined and balanced piece. We can't wait to take it to Spa his weekend!"
Before heading to Belgium, Tequila Patrón ESM completed the one-day shakedown to ensure all systems are functioning properly. The all-new Tequila Patrón-sponsored, Honda-powered Tequila Patrón ESM Ligier JS P2 prototypes will make its public debut at Spa.
Tequila Patrón ESM team principals Sharp and Ed Brown turned laps in the Ligier for the first time during The Prologue preseason test at Paul Ricard in March. Sharp, Brown and fellow Tequila Patrón ESM drivers Ryan Dalziel, Johannes van Overbeek, Jon Fogarty and David Heinemeier Hansson participated in today's shakedown test at Magny-Cours.
"The car was really good. All drivers had positive things to say today at Magny-Cours," said Brown, president and chief executive officer, Patrón Spirits International. "We drove in the rain all day so we really couldn't do a whole lot with speed, but if a car is that good in the wet it will be good in dry conditions. We ended early so the guys can head to Belgium. We're excited to see what the future holds with the Ligier, Honda and Tequila Patrón ESM."
Onroak Automotive's Philippe Dumas was pleased with today's test session.
"The Tequila Patrón ESM Onroak Automotive adventure started only six weeks ago and we are already on track together!" said Dumas. "I can't wait to see those two beautiful Ligier JS P2 Hondas this weekend at Spa, for the second round of the FIA WEC. I am sure it will be successful! Thank you to Scott Sharp, Ed Brown and all the guys involved in the Tequila Patrón ESM team for their trust in us. Everything went well today for the shakedown. The Onroak Automotive crews did a great job last past weeks!"
####