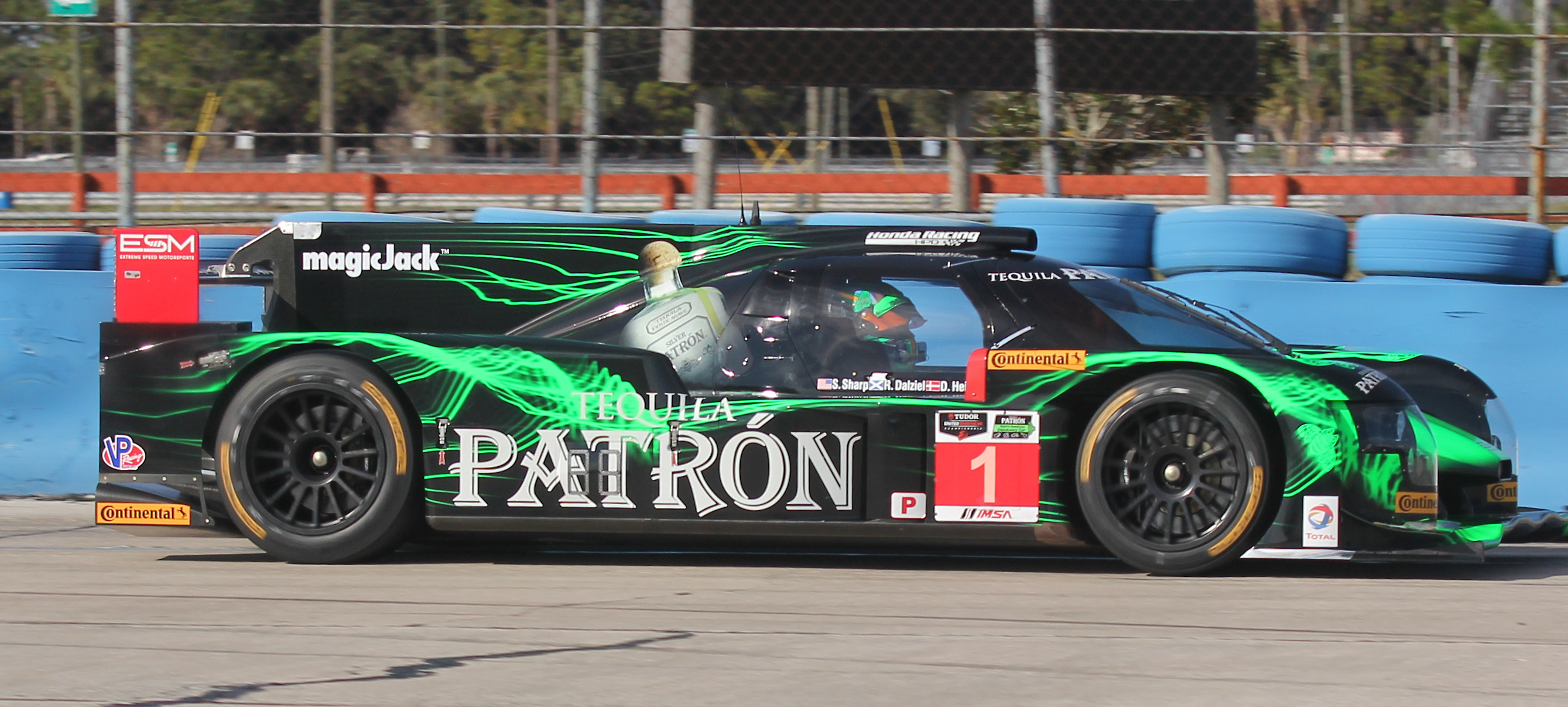 Seeks win at opening round of Tequila Patrón North American Endurance Cup
Riviera Beach, Fla., Jan. 21, 2015 – Tequila Patrón ESM begins a new motorsports chapter this weekend. Set to compete in the FIA World Endurance Championship (FIA WEC) and the Tequila Patrón North American Endurance Cup races of the TUDOR United SportsCar Championship, Tequila Patrón ESM kicks off its 2015 season in its home state during the 53rd Annual Rolex 24 At Daytona.
Tequila Patrón ESM is headquartered approximately three hours south of the famed Daytona International Speedway. The twice-around-the-clock endurance race is the season-opening TUDOR Championship event and opening round of the four-race Tequila Patrón North American Endurance Cup.
This weekend marks the competition debut of the two Tequila Patrón-sponsored Honda Performance Development (HPD) ARX-04b coupes. The Florida-based team has worked non-stop assembling and testing the new machinery since the close of the 2014 season. Armed with six drivers, two coupes and new liveries, Tequila Patrón ESM is ready to race in one of the most prestigious events on the motorsports calendar.
Tequila Patrón ESM seeks its first overall win at the Rolex 24 At Daytona. The team's best finish came in 2014 with an eighth-place run for the No. 2 team. In addition to attempting for its first overall team win, Tequila Patrón ESM will attempt to drive its Honda-powered prototypes to the engine manufacturer's first overall win at Daytona.
Two Tequila Patrón ESM drivers have won the endurance classic. Owner/driver Scott Sharp won in 1996, and has two runner-up finishes (2002, 2003). Co-driver Ryan Dalziel was the 2010 champion and earned runner-up honors twice (2007, 2012). Sharp, Dalziel and Tequila Patrón ESM newcomer David Heinemeier Hansson will share driving duties of the No. 1 Tequila Patrón HPD.
Last year, Ed Brown and Johannes van Overbeek were half of the No. 2 Tequila Patrón ESM team that finished eighth. Van Overbeek has started the Rolex 24 from the pole twice (2004, 2011), has four podium finishes (2003, 2004, 2007, 2010) and seeks his first overall win this year. Two-time sportscar champion Jon Fogarty brings one Rolex 24 pole (2007) and podium finish (2008) to the team as he joins Brown and van Overbeek behind the wheel of the No. 2 coupe.
The four-race Tequila Patrón North American Endurance Cup events include the Rolex 24 At Daytona at the end of January, the Mobil 1 Twelve Hours of Sebring in March, Sahlen's Six Hours of The Glen in June and Petit Le Mans in October to close the TUDOR Championship season.
The season opening Rolex 24 takes place on the 3.56-mile road course at Daytona International Speedway on Jan. 24-25. The 12-turn circuit utilizes portions of the track's tri-oval and infield road course, and is the first round of the TUDOR Championship. Qualifying for prototype cars is scheduled for 5:15 p.m. ET on Thursday, Jan. 22.
The FOX family of channels will provide complete live coverage of the Rolex 24 At Daytona.
Saturday, Jan. 24
2-4 p.m. ET FOX Network
4-8 p.m. ET FOX Sports 2
8-10 p.m. ET FOX Sports 1
Overnight (Jan. 24-25)
10 p.m. – 7 a.m. ET IMSA TV on IMSA.com
Sunday, Jan. 25
7 a.m. – 2:30 p.m. ET FOX Sports 1
For audio coverage of the race, internet listeners can tune into IMSA Radio commentary throughout the race at www.imsa.com.
Scott Sharp
"It's with huge anticipation that Tequila Patrón ESM heads into Daytona this week! After months of planning and work on the new cars, adding new faces and changing our name all lead up to the start of an incredible 2015 schedule for us!
"We are all excited to debut our new Honda coupes at the first Tequila Patrón North American Endurance Cup event. The Rolex 24 At Daytona has always been one of my favorite events because of the huge field of cars, great drivers from all disciplines of the sport and a challenging 24 hours to persevere through. There is nothing quite like jumping in the car at three or four in the morning!  It's electric!
"Our cars are brand new – the No. 1 was just finished over the weekend. The non-stop intense effort of the last few months by each member of Tequila Patrón ESM, HPD and Wirth Research crews is unparalleled. I cannot thank this amazing group enough for pulling out all the stops in getting us ready for 2015. We hope to thank everyone with a top finish!"
Ed Brown
"I cannot believe that it's race week for the Rolex 24 At Daytona! I'm super excited to start the 2015 season in the new HPD coupe with Johannes and our new teammate Jon.
"The Tequila Patrón ESM team has worked non-stop since we took delivery of the first HPD coupe. I'm so proud and grateful for all the work they have done!
"The new car is fantastic, but we've done very little testing in the car, so I don't know what we can expect for the race. We need to keep the car clean and hopefully still running at the 23 hour mark to challenge for the win. There's nothing more I'd love to do but get Tequila Patrón, Honda, the No. 2 crew and me our first win at Daytona!"
Johannes van Overbeek
"What a way to kick off the new year! We have a promising new coupe. We're driving with old friends in Jon and Ed and representing Tequila Patrón, the ultra-premium spirits brand in the world at the Rolex 24 At Daytona.
"The Tequila Patrón ESM crew has done an incredible job getting the new coupes prepared and ready for the event. We, collectively, have our work cut out for us but everyone is looking forward to seeing the Patrón coupe on the high banks this weekend. We're hoping for 24 hours of non-stop running and if we're lucky, a good result at the end of it all. I can't wait to get started."
Ryan Dalziel
"Daytona is going to be a huge weekend for us – new car and new teammates, so we are really excited to show everyone what our new HPD can do. We haven't had the No. 1 car for very long and the crew has worked ridiculous hours to get us ready for the Rolex 24 At Daytona.
"Going back with a closed cockpit car shouldn't change things too much, but the obvious stuff will be a new learning curve, like visibility and driver changes. Scott and I are starting our second year together as teammates and we really have things very connected between us and so far David has slipped into his role perfectly.
"The Rolex 24 is the first round of the Patrón Endurance Cup and we really want a strong showing for all the Patrón racing fans."
Jon Fogarty
"The adjustment from the DP to the Honda coupe is not a big change for me. I am pleasantly surprised about how good the visibility is, I thought that the narrower cockpit and large A-pillars would limit visibility out the sides, but it is quite good.
"I think the strength of the coupe over an open cockpit is the serene environment inside.  The Honda engine is very quiet, and being shielded from the elements such as wind and rain make for a nice driving environment.  Over the course of 24 hours this should help the drivers remain a little fresher and less worn out following driving stints.
"We're really trying to win the Rolex 24 not only for the team, but for Honda.  It is never easy to go racing flat out for 24 hours, and Daytona with its combination of the wide-open high RPM stretches along with long acceleration pulls of several low speed corners really tests a motor.  A victory would really showcase what Honda is capable of in both durability and speed.
"When you compete at Daytona the race season kicks off early. It always feels that way to me, but I can't imagine what the Tequila Patrón ESM crew guys feel like.  They have been nose to grindstone during the entire 'offseason' to make these new cars race ready.  Bringing home a good result for those guys and their families would be really special."
David Heinemeier Hansson
"I can't wait to run the new Honda coupe in anger at Daytona. We had a very promising Roar test, which surprised us in just how polished this brand new machine already is. It's clear that this isn't HPD's or ESM's first crack at this rodeo!
"We're optimistic but our expectations are tempered heading into the first serious outing for the new car. It would be wonderful if it turns out that we'll be able to mingle it with the top runners, but it's incredibly rare that a brand new car just hits the track on pace and on reliability – especially for a virgin voyage as tough as the 24 Hours At Daytona.
"The most important thing for me at the Rolex is to dial-in to this new car in adjusting to a how the closed-top LMP2 car deals with visibility in traffic, how comfortable can we make it for the long runs, how does it react when fighting for position in a draft. Many unanswered questions, but that's what makes it so exciting. We have plenty of new and exciting challenges ahead of us this weekend!"
####