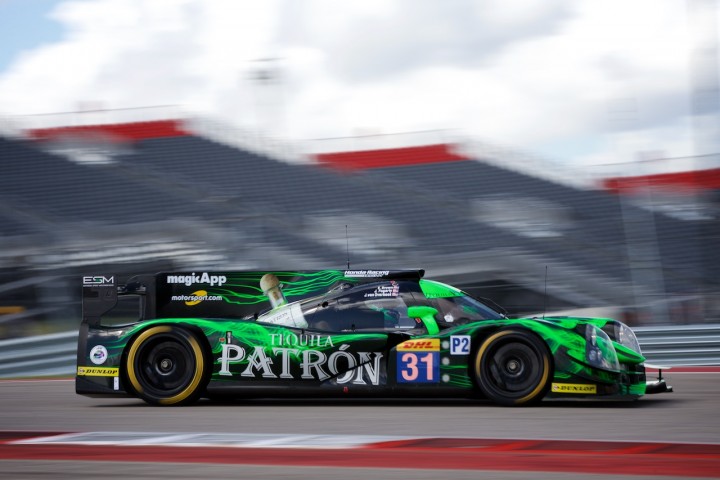 Riviera Beach, Fla., – Oct. 7, 2015 – Fresh off a season-best finish of its debut season in the FIA World Endurance Championship (FIA WEC), Tequila Patrón ESM seeks to build on that momentum as it heads to Japan and the 6 Hours of Fuji.
Tequila Patrón ESM's fourth-place finish in front of the home crowd and venue provide ample boosts to the team as it races the next two rounds in Asia before heading to the season finale in Bahrain.
Scott Sharp, Ryan Dalziel and David Heinemeier Hansson, co-drivers of the No. 30 Tequila Patrón ESM Ligier JS P2 Honda, nearly reached the podium at COTA, which makes the trio even more determined heading into this weekend's race. Although Fuji International Speedway is new to the Florida-based team, Dalziel and Heinemeier Hansson have combined three previous starts and three top-five finishes at the Japanese circuit. In 2012, Dalziel finished second in the LMP2 class. In 2013, Heinemeier Hansson finished fourth in LMP2 and won the LMGTE AM race in 2014.
The No. 31 Tequila Patrón ESM Ligier JS P2 Honda of Ed Brown, Johannes van Overbeek and Jon Fogarty underwent some repairs following the COTA race. Now back and ready for battle the No. 31 drivers will compete for the first time at Fuji. The trio will leverage the knowledge of their teammates to ensure the No. 31 is right alongside the No. 30 machine on the podium at the end of the six-hour event.
As the sixth venue on the eight-race 2015 WEC schedule, Fuji International Speedway rests in the foothills of Mount Fuji. The Japanese venue is famous for having one of the longest straightaways in motorsports at nearly one mile (0.93 miles/1.5 kilometers). The 16-turn, 2.835-mile (4.563 kilometer) track has hosted Formula 1, Asian Le Mans Series, Super GT, Super Formula and Super Taikyu, the largest endurance race series in Japan.
Tequila Patrón ESM on Track
Friday's two free practice sessions start at 11:15 a.m. (Thursday at 10:15 p.m. ET) and 3:30 p.m. China Standard Time CST (2:30 a.m. ET).
Saturday's on-track activity includes the hour-long practice session starting at 9:50 a.m. CST/8:50 p.m. ET(Friday).
LMP2 qualifying begins at 2:10 p.m. CST/1:10 a.m. ET on Saturday.
Green flag for the 6 Hours of Fuji takes place at 11 a.m. CET on Sunday, October 11 / 10 p.m. ET on Saturday.
Where to Watch
The 6 Hours of Fuji will be televised globally and on the FOX Sports Network of channels.
For U.S. viewers, the 6 Hours of Fuji will air live on FOX Sports 2 on Saturday, October 10, at 10 p.m. until Sunday, October 11 at 4 a.m.
The race can be viewed via the FIA WEC second screen app or online at www.fiawec.com.
To listen to the 6 Hours of Fuji, tune into Radio Le Mans at www.radiolemans.com.
Scott Sharp
"Fuji is the next stop for Tequila Patrón ESM after our best finish of year with the new Ligier chassis at the COTA race. We are excited to keep building on that result and put in a really stellar performance. Asia is a huge market for Tequila Patrón and we look forward to showcasing the black and Patrón green in front of the many Japanese fans."
Ed Brown
"I'm looking forward to racing in Japan! It is another new track we have to learn this year but that's just the way it is this year. Japan is a beautiful country and to be able to race in Fuji is a privilege. The fans will be fantastic in Japan and I really look forward to introducing new consumers to Patrón. We've been selling in Japan for a few years but there's nothing like bringing the black and Patrón green machines to create new awareness."
Johannes van Overbeek
"I'm excited to return to Japan. It's been years since I tagged along on a business trip with my father, but I have very fond memories of the country and the food. We are looking at another iconic track to learn. I'm looking forward to the challenge of learning and racing on another iconic track. I'm sure Ed, Jon and I will get the most out of our Patrón ESM Ligier-Honda this weekend."
Ryan Dalziel
"Japan is such a gorgeous country and the Fuji track has some awesome scenery. On top of that it is a really fun track with a nice mix of really quick and some technical areas. I had a great race there in 2012 with Starworks, so it's nice that I already know the track pretty well. David and I have both raced there, so we'll be able to get Scott up to speed fairly quick. COTA was a great event for us, finally starting to understand the Ligier and more importantly enjoying it. I can't wait to get to Japan and get out Tequila Patrón ESM machines on that podium."
Jon Fogarty
"I'm excited to be heading into the Asia rounds of the WEC. It will be another new circuit, so as always, it will be a challenge learning the circuit on a race weekend. This is been our story with a first-year program with the Ligier, but luckily we have quite a bit of information from our partners at Onroak which will help speed the learning process.  We had a competitive car at COTA which was reflected in both lap times and finishing place for the No. 30 car. We plan on carrying that momentum into Fuji and I have confidence that we will again have a competitive car. Personally, I am looking forward to Japan; I visited about 15 years ago and have always wanted to return. Now I get the chance as professional racing driver which is pretty awesome!"
David Heinemeier Hansson
"We had great progress at COTA and I hope we can build on and improve on that result at Fuji. I've won and been on the podium before, so I know what it takes to succeed at Fuji. We have our sights set on that podium this weekend."
About Tequila Patrón ESM
Founded in 2010, Tequila Patrón ESM is one of the premier sportscar teams in the world. Tequila Patrón ESM's record includes two GT wins with the Ferrari Italia F458 (Canadian Tire Motorsport Park and Road Atlanta, 2012), two LMP2 wins (Long Beach, 2013 and Mazda Raceway Laguna Seca, 2014) two GT pole positions, four LMP2 pole positions and a combined 22 podium finishes.
For 2015, Tequila Patrón ESM competes in the TUDOR United SportsCar Championship and the FIA World Endurance Championship (WEC) with two Tequila Patrón-sponsored LMP2 prototypes and drivers Scott Sharp, Ed Brown, Johannes van Overbeek, Ryan Dalziel, Jon Fogarty and David Heinemeier Hansson.
####