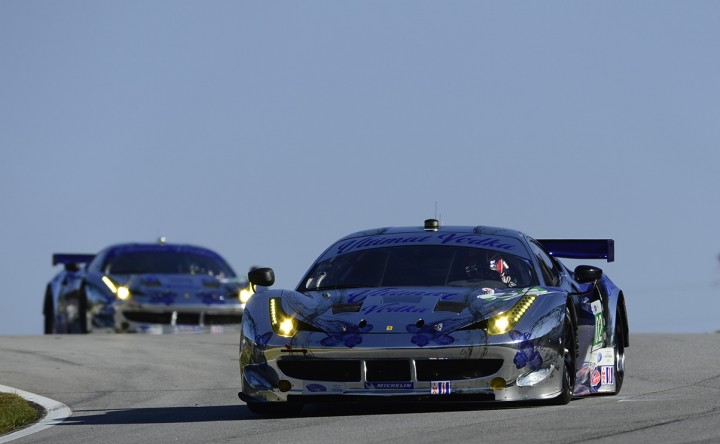 BRASELTON, GA – October 19, 2012 – The Extreme Speed Motorsports Ferraris dominated Friday's qualifying session at Petit Le Mans – qualifying 1-2 and locking in the front row for tomorrow's season finale at Road Atlanta.
Setting new records for the team and race circuit, Guy Cosmo, co-driver of the No. 02 Ultimat Vodka Ferrari 458 Italia, earned his first career pole position, the second consecutive pole for ESM, and set a new qualifying track record for Road Atlanta for the season finale of the American Le Mans Series (ALMS) presented by Tequila Patrón.
In the brief 15-minute session, the chrome and blue Ultimat Vodka-livered Ferraris were fixtures atop the charts. At the conclusion of the session, Cosmo and Toni Vilander, co-driver of the No. 01 Ultimat Vodka Ferrari 458 Italia, were listed as the front row starters for the 15th Annual Petit Le Mans powered by Mazda on Saturday.
The 1-2 qualifying effort is the first time team history that the Ferraris will start side-by-side from the start of the highly competitive GT class.
Cosmo earned his first career ALMS pole on Friday afternoon by lapping the No. 02 Ferrari around then 2.54-mile, 12-turn circuit in 1:18.677 (116.222 mph).  Cosmo will pilot the No. 02 with season-long teammate Ed Brown, and Atlanta native Anthony Lazzaro.
Vilander qualified the No. 01 car less than a tenth of a second behind Cosmo with a best lap of 1:18.729 (116.145 mph). Vilander, a factory Ferrari driver, joins season-long regulars Scott Sharp and Johannes van Overbeek.
During the Petit Le Mans race week, ESM, The Patrón Spirits Company and Ultimat Vodka launched the 2012 campaign "Race to Erace" hunger throughout the world.  As part of the special livery at Petit Le Mans, fans can contribute to Action Against Hunger at www.actionagainsthunger.org/ultimat.  The online fundraising campaign supporting Action Against Hunger, will run through the end of the year. A donation of just $45 can save a life by providing one malnourished child with treatment.
The final race of the 2012 American Le Mans Series presented by Tequila Patrón is Petit Le Mans powered by Mazda. The 1,000-mile/10-hour race from Road Atlanta is scheduled for 11:30 a.m. ET on Saturday, Oct 20. Full, live coverage starts at 11:15 a.m. ET on ESPN3.ABC's broadcast begins at 1 p.m. ET on Sunday, Oct. 21.
Guy Cosmo
"It was great session but we knew it was going to take a little while to build temperature in our Michelins.  Lap after lap I was trying to work them in and I knew that I wasn't going to turn my quick time until later in my run.  I was just trying to get everything right, warmed up properly and executed just the right way to put in that lap towards the end.
"The car was definitely the best it has been all weekend.  It was a solid improvement and we're in great shape for the race tomorrow.
"This is my first pole in ALMS and I'm loving it.  Qualifying is one of those things that as a driver you love – you go all out – light fuel, new tires, you've got the best of everything at that point.  It is really satisfying to finally pull one off, but also, equally as satisfying to have our sister car next to us on the front row.  It was really a great team effort.  I'm looking forward to the race tomorrow.
"This is a great way for ESM to kick-off Petit Le Mans.  The team has put in an enormous amount of work since its inception three years ago.  We have the special livery this weekend to promote Ultimat Vodka and Action Against Hunger.  Just in case the livery wasn't quite bright enough, we wanted to ensure that everybody saw them, so we put both cars on the front row."
Toni Vilander
"I'm very happy.  It is good to be here with ESM.  I've been enjoying the whole week.  This is amazing – qualifying 1-2.  I can't wait for the race to start.
"I think we are in good shape for the race.  The Ferrari feels really good.
"I'm really happy with the performance of the team.  It has been good all year but I maybe we even made a step forward this week."
Scott Sharp
"I'm super thrilled.  This is a continuation of all the hard work from the entire team.  It might be a little hard for someone on the outside to see that, but this team has worked tirelessly to get us to where we are now, especially from the engineering staff.  They've been continuously trying to improve our cars.
"We've had a pretty good week.  There were a couple of practice sessions where we didn't know where we sat.  It all sort of came together last night and this morning.  Guy and his engineer Jim Malicki did a great job and made changes between the last session and qualifying and obviously hit it spot on.
"Toni did a great job.  He got everything out of the car that we could get.  The cars are qualified 1-2, and you can't get much better than that.  But, that's not why we are here.  We are here for tomorrow and 10 hours is way different than who is fastest over one lap."