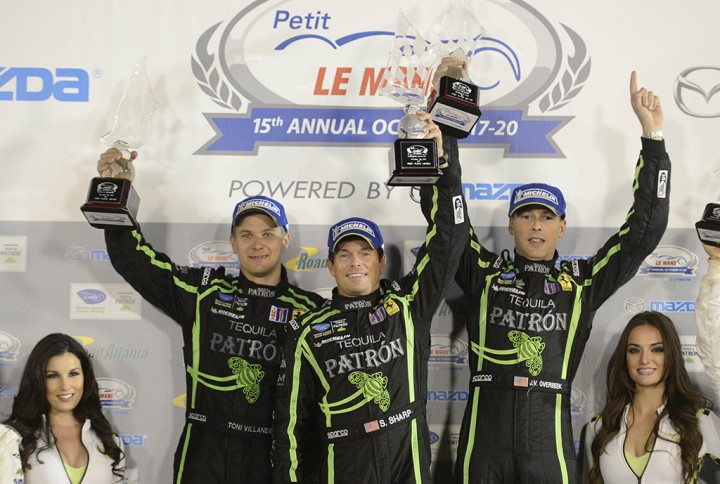 BRASELTON, GA – October 20, 2012 – Extreme Speed Motorsports (ESM) conquered the GT field during Saturday's American Le Mans Series (ALMS) presented by Tequila Patrón season finale during the 10 hour/1,000-mile Petit Le Mans race at Road Atlanta by leading the majority of the GT class laps en route to victory by nearly 30 seconds.
The No. 01 Ultimat Vodka/Action Against Hunger Ferrari 458 Italia co-driven by Scott Sharp, Johannes van Overbeek and Toni Vilander started from the GT pole and was the dominant race car to beat during the endurance event.  In his closing stint, Vilander had a 42 second lead with eight laps remaining in the race, but as the race came to a close, fuel strategy became an issue.
Vilander responded to the challenge and claimed his decisive win with only two liters of fuel remaining in the Ferrari's tank.
The overall finishing position for the No. 01 Ferrari was 12th overall, out of 42 total entrants.
Today's win marks the second win for the No. 01 this season, with the other in July for Sharp and van Overbeek at Canadian Tire Motorsports Park.
This season, the No. 01 team has earned five third place finishes (Long Beach, Lime Rock, Road America, Baltimore, VIR) and two wins (Canadian Tire Motorsports Park and Road Atlanta).  Based on this strong showing, Sharp and van Overbeek are ranked second in the very challenging ALMS GT driver's championship.
The accolades continued at Road Atlanta with the No. 01 receiving the Michelin Green X Challenge Award for being the cleanest, fastest and most efficient race car in the GT class.  ESM received the award during at Long Beach in April and at Virginia International Raceway in September.
On the other side of the ESM paddock, Ed Brown, Guy Cosmo and Anthony Lazzaro co-drivers of the No. 02 Ultimat Vodka/Action Against Hunger Ferrari 458 Italia. Cosmo initially qualified the No. 02 machine on the pole, but was forced to the back of the field at the start of the race after ALMS officials deemed to the No. 02 too low in ride height (by millimeters), thus failing post qualifying technical inspection.  The low ride height was a result of a broken splitter that occurred during Friday's qualifying session.
Cosmo wheeled the Ferrari and charged through and was running fourth before handing the Ferrari over to Brown.  Unfortunately, time was lost in a driver change due to a problem with seatbelt adjustment, as well as an on-track penalty for Cosmo for "avoidable contact" with another competitor.  Due to the time lost, the No. 2 finished the race in ninth place in the GT class.
A two hour recap of the 15th Annual Petit Le Mans, the final race of the 2012 American Le Mans Series presented by Tequila Patrón season, will air this Sunday, October 21, at 1 p.m., on ABC.
Scott Sharp
"This is a win you dream about all year.  Winning a big race like Petit is huge.
"Over the last three years, we've been close on a few of these and had a few slip away.  We felt we had other races we thought we were going to win and had things happen to us.  It is just great for it to all come together.
"I don't think there is a scratch on the car.  The pit stops were incredible.  Leigh [Pettipas, No. 01 team engineer] was just on the strategy and that's what won us the race at the end.
"Toni and Johannes both did a great job.  That's what it takes to win a 10 hour race – an entire team effort."
Ed Brown
"Both of our Ferraris were probably the fastest cars all week.  The team has really matured this year.
"Everybody said to me at the podium tonight that I can't change the scheme because the Ultimat Vodka livery was a good luck charm, but I can promise you the black and green will be back for Sebring.
"This team has worked so hard.  It will probably set in tomorrow and we'll really feel what it is about.  My hat is off to the team, they did an unbelievable job.
"It was a frustrating race for the No. 02.  I think we had good pace all day.  This was the best race for me and things just seem to happen.
"Tonight's win really makes us look forward to the new season and what that will bring. I've said it all year, to beat the factory teams is one of the hardest things to do.  For the No. 01 car to not only win the race, but to wrap up second in points in the championship against five or six factory cars, that's one of those things that don't generally get done."
Johannes van Overbeek
"I'm so happy for Scott, Ed, Tequila Patrón, Ultimat Vodka and everyone at ESM that made this win possible.  We couldn't have done it without Toni's help.  He did a great job all week.
"This was my second Petit Le Mans win and this one is just all the sweeter because we had such a build up all year and every race we just got better.  It is great to end the season with a victory after all the hard work and podiums.
"I'm happy we're here on the podium tonight to celebrate as a team."
Guy Cosmo
"We had a great car and we knew we had a really fast car.  Both of the ESM Ultimat Ferraris were the cars to beat this weekend.  I did the best that I could, got up towards the front and handed it off to Ed.
"Then Ed drove like he's never driven before – an amazing race.  He had the stint of his life when he first got in today.  He drove really well.  We're proud of him.  He made a lot of progress this season and this weekend.  His performance this weekend was a testament to his dedication and motivation to perform for this event.
"Then Anthony Lazzaro was an iron man and brought it home for us.
"If it weren't for a few minor mishaps we would have had a podium car just like our sister Ferrari, who rightfully decimated the competition and won this race.  Congratulations to Scott, Johannes and Toni on their well-deserved victory tonight."
Toni Vilander
"I enjoyed working with the ESM team this week.  I went to the shop last Friday, traveled to Atlanta on Sunday and everything was great.  It couldn't have gone any better.  Everything was arranged so it was easy for me.
"I found a very professional team.  The team was very hungry to win and I think we shared the same passion.  Hard work and the fact we never gave up and believing we can win and we did it – we won the race.  We had strong and hard rivals, but we showed that when we do things the right way, we can compete with the best in the world.
"The Ferrari ran good.  If you know some history, two years ago I ran out of fuel going through turn 10a.  On my last stint today, the main issue was to save fuel.  I tried to use my best knowledge on it and we were out of the fuel window and then suddenly we were in.  Once the engineer said we were good with fuel that was the best thing you can hear from the radio.  Then I heard the countdown, eight laps to go, seven, six, and then the white flag.
"The last lap was quite a bit of emotion.  I'm happy for myself, happy for the team, happy for Ferrari and everything that happened for this race.  It was a very positive week and result."
Anthony Lazzaro
"I made a mistake in the beginning on the seatbelts and that cost us a lot of time in the pits.  We had a couple of little mishaps on track and got behind but after that everything was pretty good. The car drove really well at night and we were pretty competitive.  I'm very happy to see the No. 01 team on top of the podium tonight."